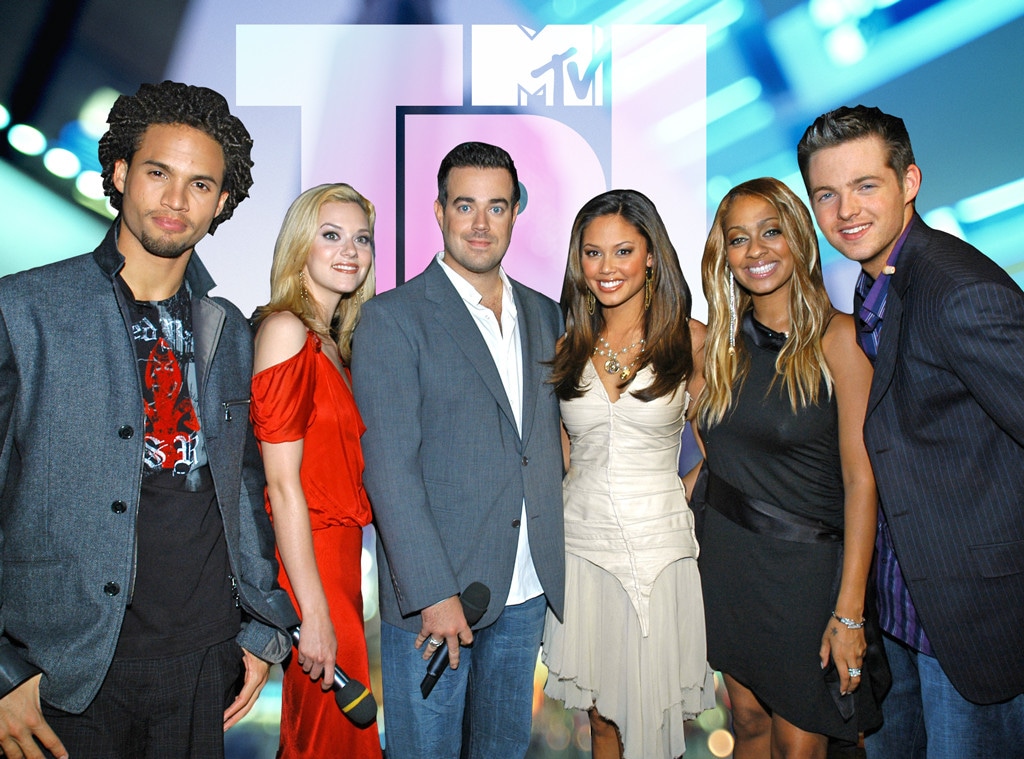 Getty Images/E! Illustration
Once upon a time, music mattered most at MTV.
Sure, it's become something of a hack cliche to complain about the way the cable network has changed over the years, but cliches exist for a reason: Because they're true. And for a music fans of a generation, there is no bigger or better example of the channel's musical prowess than its beloved flagship series: Total Request Live. 
The iconic series, itself the lovechild of MTV Live (a live series that featured celebrity interviews and performances, but didn't focus on music videos) and Total Request (an interactive video countdown hosted by Carson Daly developed in response to criticism that MTV had already begun to turn its back on music videos, filmed on an empty set), became the weekday destination for music lovers, regularly shut down Times Square thanks to the hordes of fans hoping to catch a glimpse of their favorite artist, and launched careers of hosts and musicians alike. It also just celebrated its 20th birthday. Feeling old yet?
Watch:
Carson Daly Reflects on "TRL" 20 Years Later
Premiering on September 14, 2008, TRL began as most things do: Modestly. For the first year, there wasn't even a studio audience. But what it did have going for it was its interactive countdown aspect and its insider access, two things that attracted young music fans hungry for connection to their favorite artists like catnip. And when that audience component was factored in, what started out as a cult favorite morphed into a full-blown phenomenon. With Daly at the helm, the show gave up-and-coming artists like Britney Spears, Christina Aguilera, Eminem, 'NSYNC, Backstreet Boys, 98 Degrees, and Destiny's Child a place to not only show off their latest music and premiere their new music videos, but connect with their screaming, adoring fans like never before.
"Over time, as the show became more well known, and word spread that people outside could be selected to come and be part of the in-studio experience, and that even being outside gave fans a chance to participate and interact with the show, the crowds started getting larger and more creative," original co-creator Tony DiSanto  told E! News last year.  "Sometimes it would get so crazy outside that we would have to shut the windows to calm everyone down for safety reasons. I could hear the crowds cheering outside hours before the shows even started, and my office was on the 25th floor at the time!"
Of course, the fans weren't the only ones causing uncontrollable craziness. Case in point? Mariah Carey's unforgettable 2001 surprise appearance, pushing an ice cream cart straight into MTV Studios. "That's a great moment, you know, when Mariah [Carey] came with the ice cream unannounced, reading poetry. Of course, as David Letterman would describe, I thought, so poignantly, it was a pop star unraveling on live TV," Daly, now host of The Voice and a fixture on the Today show, told E! News. "She actually ended up going to the hospital for all sorts of things. That was a big moment. That's what I get the most from the public, the Mariah moment."
For Daly, who remained with the show until 2003 before moving on to focus on his NBC late-night series Last Call, there was a very specific goal during his tenure. "I left because MTV, you know, really made a decision to stop focusing on music and that's why I was there. So, in my time, I'll always cherish it for the artists that we were able to break," he told us. "We took 'My Name Is,' the Eminem video, pretty much away from the music department and TRL owned it and we stood behind Eminem who we felt like was going to be an important artist when even MTV wouldn't. Those moments, those sorts of things are things that I'm really proud. And also just having so many genres to have a place, have a home. I always wanted TRL to feel like my home. Even if it was videos that MTV wasn't playing, I always wanted to make sure the artists knew that TRL was their home. And it had that feel. And then I stopped watching."
Daly may have stopped watching, but the show certainly had to go on without him. And deciding how to fill that Carson-sized hole was difficult, as DiSanto explained. "When Carson left the show, I was reluctant to replace him because I thought no matter how good any host was, stepping in to that role would invite immediate comparisons, and knowing that it takes a while for a host to get into a rhythm on a show like this, I didn't want undue negative attention to derail that process," he said. "The show of course had to go on, so what I decided then was to not replace Carson with a host, but rather, have TRL reconfigured to be hosted by an ensemble, each bringing something to the table."
Enter: Damien Fahey, Hilarie Burton, Vanessa Lachey (then known as Vanessa Minnillo), Quddus, La La Anthony (then La La Vasquez), and Susie Castillo. Some, like Burton, had already been making regular appearances as a VJ, filling in for Daly every now and then, and some, like Fahey, were new to the scene and making waves.
Watch:
Damien Fahey Didn't Date Vanessa Lachey or Any "TRL" Cohosts
"I think there was an unspoken competetiveness, especially when I came in beause I was seen, I think, by other people as: 'Carson's leaving. This new white guy that's the exact same height as Carson, has the exact same amount of stubble as Carson, is going to be the next Carson,'" Fahey told us, before quickly quashing any ideas about dramatic in-fighting amongst TRL's new generation. So I think there was a little  bit of healthy competitiveness that was unspoken between the VJs, but other than that, there were no epic fights or anything like that. If anything, there was a little complaining in the make-up room about each other, that kind of stuff. But it was always very small."
In fact, despite never developing any romantic entanglements with any of his fellow VJs—"Anyone I worked with, I shut off the possibility of any attraction whatsoever"—Fahey admitted that he developed close relationships with the females. "But oddly enough, I was better friends with the female VJs on the show than the male VJs. Like, I hung out in LaLa's hotel room in Atlanta and watched Coming to America for my first time with her and her family. And then Hilarie Burton, I really connected with her and thought she was great. SuChin Pak, who I still see around in LA and we always love catching up. I didn't date anybody though."
But that doesn't mean he didn't make any love connections on the show. "I remember interviewing Vanessa Carlton outside at the beach house, so it was super, super intimidating and there were just tons of girls in bikinis and guys in swimsuits and they were screaming and chanting your name. It was just absolutely wild," Fahey told us, reminiscing about one of his earliest interviews as a VJ. "I thought it went pretty well and then one of the producers was like 'Hey, um, are you on AOL Instant Messenger? Vanessa Carlton wants your AIM screen name.' So I would chat with Vanessa Carlton over AOL Instant Messenger. I thought that was the coolest thing. Like celebrities already wanna talk to me."
When Lachey joined the show in 2003, her first day threw her for quite a loop. "I remember my first day they put me in these jeans that were wide leg bottom, boot-cut and they had pink splatter and I had a yellow tank on and a black crop leather jacket. It was the very first day," the host of Universal Kids' Top Chef Junior recounted during a recent sit-down with E! News' Erin Lim. "I had a silver bracelet and silver hoops and I was just bright-eyed and bushy-tailed interviewing Chingy. And I remember we came off set and the execs said 'This is not her look.'"
Of course, they found her look and she remained with the show for four years, during which she experienced one of TRL's most surprising moments during a 2004 appearance from Mark Wahlberg. 
Watch:
Vanessa Lachey Explains Celebrity Life Before Social Media
"So all of the sudden, I'm interviewing Mark Wahlberg…and you hear this thump and both of us look to the left and she had jumped out of the bleachers and she's— in my mind, it's slow motion," Lachey explained, mimicking slow-motion running. "And I run behind Mark Wahlberg. Later on, everyone made fun of me. They said 'It's your show, you should protect him.' I'm like 'He's Marky Mark… the guy has a 30-pack and muscles. What am I gonna do to protect him?' So I ran behind him. She jumps up and hockey checks me out of the way and then just bear hugs him. And again he's Mark Wahlberg, but he couldn't pull her grip off of him. I was like 'We're going for a short break. We'll be back. Bye.'"
Security had to step in and pry the overzealous fan off the actor, who graciously declined to press charges. As Wahlberg later admitted during his final TRL appearance in 2008, he wasn't bothered by the encounter save for one minor detail. "The only thing that was disturbing was she had a pin on that said, 'God is not real,'" he said. "I still pray for her."
Watch:
Damien Fahey Reflects on "TRL" 20 Years Later
While Fahey never had an experience quite that intense during his tenure on TRL, he did cop to an extremely nerve-wracking moment with Madonna that didn't end quite the way we expected. "She requests Carson every single time… And if it wasn't Carson, he wasn't there at the time, it had to be John Norris or Kurt Loder. She had worked with them in the 80s and everything. So they said, 'They're not here either. It's this new guy, Damien.' And she was very against it. They had to convince her to let me interview her," he said. 
"Backstage, she comes back with her 10-person entourage. There is a person employed on her entourage and their only job appeared to be just to hold a bottle of champagne and to pour champagne into champagne flutes just before she goes on television. So I went up to her and I just broke the ice and said 'Hi, I'm Damien. It's an honor to get to do this. I'm really, really nervous just to let you know off the bat.' And she said 'I'm really nervous too. I get so nervous doing these things and that's why the champagne… Do you want a glass of champagne?' I said 'From your champagne person? Yeah, sure.' And so I was backstage and I drank a glass of champagne with Madonna before I went out. "
Not that it helped his nerves, mind you. "I had a mic in one hand and cue cards in another and I remember my arm was shaking so much on air that I put my hand underneath my armpit to make it stop shaking," Fahey admitted.
As the years went on and the internet gave birth to social media and YouTube, TRL's relevance diminished considerably. A little over 10 years after its auspicious debut, the show aired its final episodes, with Fahey and co-host Lyndsey Rodrigues presiding over The All-American Rejects complete destruction of the iconic set, shutting the lights off for the last time. 
Despite MTV's move to revive the series last year, to middling results, it's abundantly clear that those 10 years that TRL existed were, perhaps, the only 10 years it could've thrived the way it did. "The secret sauce was connection with artists, I think. Nowadays, there's Instagram. You can watch Cardi B do a live Instastory. You can watch any of your favorite artists capture mundane portions of their life on their phone, you can watch it at any given moment, 24 hours a day," Fahey lamented. "Watch any music video on YouTube. Back in the day, we didn't have that. TRL was getting as close as possible to your favorite stars. And that was it."
Watch:
Vanessa Lachey Tells How She Landed "TRL"
Lachey agreed with her former co-host's assessment. "There's this industry of social media, which I understand," she said. "Back then, there was none of that, so it was really freeing and I think liberating for these amazing musicians who have done so much in their lives to come into a comfort zone and literally know that we're all just here having a conversation. And you're safe here. No one is backstage with an iPhone or whatever other kind of phone, trying to post something or do something. You were present. I looked at you, had a conversation with you. We talked about music. We talked about movies. We talked about life."
"That's the thing about TRL back in the day is that it was truly an experience," she added. "It was a true interaction."
And as is the case with all good and true things, there's just no way of easy replicating them. But we'll always have the music and the memories of 10 very crazy years in Times Square. And you know what? That's more than enough.
For more from Daly, Lachey and Fahey, be sure to check out the videos above.