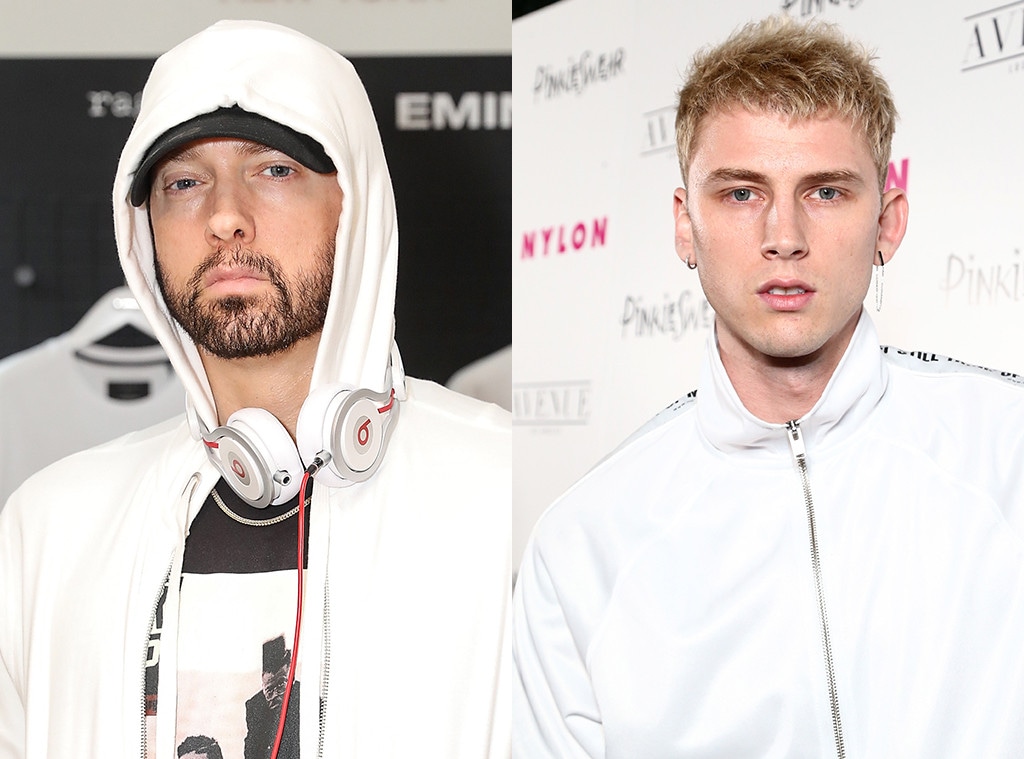 David M. Benett/Dave Benett/Getty Images for Rag & Bone, Tommaso Boddi/Getty Images for NYLON
Machine Gun Kelly took aim at Eminem again in a recent radio interview, addressing their six-year feud.
The rappers reignited their beef in recent weeks with a few diss tracks. When asked if he would be open to talking things out with Eminem, Kelly said on Power 105.1 radio show The Breakfast Club on Thursday, "He doesn't want to have a conversation...F—k you. You blew it. You blew it. It's cool 'til it ain't. I wish he would shut the f—k up."
"Use what I've done with this Em situation as an example to the youth," he said. "Let's be clear, stand up to people that are f--king with you and stand up with a purpose."
The rappers' beef dates back to 2012, when Kelly saw a photo of Eminem's then-teenage daughter Hailie Jade Scott and tweeted that she "is hot as f--k, in the most respectful way possible cuz Em is king."
Kelly, 28, said on The Breakfast Club that he spoke with Eminem's manager six years ago and "handled" the situation with the 45-year-old rapper behind-the-scenes.
"It all started with the daughter thing," he said. "I didn't know how old she was. I made a comment, I didn't feel like it was disrespectful but I'm a father, I have a 9-year-old daughter, I get it, 100 percent and man to man, I'll tell you, I apologize, can I take the tweet down? Sure. But public apology? Come on...We're talking about the same guy who s--ts on dead people."
"It was a silly comment to have started all of this," he said. "It's something silly to trip on. I get it if it was like, you know, gruesome words were used or like, there was, you know, sexual implications in it. [I just said] she's hot."
Eminem fired back at Kelly over his 2012 comments about Hailie on his track "Not Alike," released in August, rapping, "And I'm talkin' to you, but you already know who the f--k you are, Kelly / I don't use sublims and sure as f--k don't sneak-diss / But keep commenting on my daughter Hailie."
Days later, Kelly released "Rap Devil," in which he attacked the rapper and claimed he blackballed him from his radio channel, Shade 45. Eminem then released "KILLSHOT," which contains the lyrics, "Realized I forgot to call you back / Here's that autograph for your daughter, I wrote it on a Starter cap / Stan, Stan, son, listen, man, dad isn't mad / But how you gonna name yourself after a damn gun and have a man bun?" and "So what good is a f--kin' machine gun when it's out of ammo / Had enough of this tatted-up mumble rapper."
Kelly then posted photos of himself on stage as an opening act for Fall Out Boy, showing him wearing a T-shirt with "KILLSHOT" cover art while holding up his middle fingers in the shape of guns.
"He missed," Kelly captioned the pics. "#legshot #rapdevilstillNUMBERONE #letstalkaboutit."
He also included a phone screenshot showing that "Rap Devil" is No. 1 on the iTunes song chart. 
"I honestly don't think my daughter would want [the autograph]," Kelly said on The Breakfast Club. "She texted me when that 'KILLSHOT' came out and was like, 'Eh.' At 9 years old. You can't even offend a 9-year-old?
"You want to talk about man buns?" he also said. "You want to talk about a hairstyle I wore for a movie, a blockbuster movie, shout-out Nerve, and a 10-episode Showtime series called Roadies? I'm an actor, homie. How disconnected are you?"
Kelly also took offense at being called a "mumble rapper."
"You called me a 'mumble rapper'? Can we just pour some out for this old dumbass?" Kelly said, pouring out liquid from a cup onto the floor. "I can't even."
Kelly said he "had a clip ready" as a response to "KILLSHOT."
"I'm on tour opening up for like, a rock band, and a completely different mind state than this. Thank you though for bringing me back to this thing 'cause I'm like, my energy is so up," he said.
When asked about getting older himself, Kelly said, "Oh, absolutely, but the thing is, I'm not a hypocrite. I'm also not gonna be doing what Eminem's doing when I'm his age...I will never be still bitter after everybody is showing respect and I don't plan on stopping until I get my respect. There's going to be a point when my face is on movie screens...it's going to get to the point where there's so many songs...it's going to get to a point where you can only try and hold me so many times that I continuously overcome that s--t...I'm a fighter man."
Last week, Eminem said in an interview with Sway Calloway, "The reason that I dissed [Kelly] is because he got on—first what he said 'I'm the greatest rapper alive since my favorite rapper banned me from Shade 45' or whatever he said, right? Like I'm trying to hinder his career. I don't give a f--k about your career. You think I actually f--king think about you? You know how many f--king rappers are better than you? You're not even in the f--king conversation."
"He had to produce and hire his own interview and still couldn't unst-t-t-tutter his way. He sounded like a b-b-bitch, man, I dunno wanna hear nothing about it," Kelly said on The Breakfast Club in response to Eminem's comments. "I'm already over it."
Despite the public disses, some fans think Kelly and Eminem's feud is fake and a publicity stunt, as both are signed to the same record company, Interscope Records.
"Oh man, that'd be great," Kelly said. "That'd be a big help."
During his interview, on The Breakfast Club, Kelly was also asked if he really "smashed" G-Eazy's girl.
"Yes, many of them," he said, confirming that Halsey was "absolutely" among them, adding, "That was when she and I were rocking."
In July, Kelly was photographed hanging out with Halsey before she announced that she and G-Eazy split. She's seemingly responded to the rapper's interview, tweeting, "How *absolutely* pathetic."
In late August, Kelly rapped in a freestyle session to Funkmaster Flex on Hot 97,"Only Eazy I f--k with is E / I seen he dyed his hair and got a hanging earring / I f--ked his girl now he look like me, this s--t is overbearing."
At the same time, Halsey and G-Eazy showed PDA onstage more than a month later, signaling a reconciliation. G-Eazy later dropped a Kelly diss track called "Bad Boy," rapping, "'Him & I's on, mad you're listening to Halsey sing to me" and "Disrespect her again, I'll smack you, I'm not a boy."
Halsey and G-Eazy have not commented on Kelly's latest remarks.