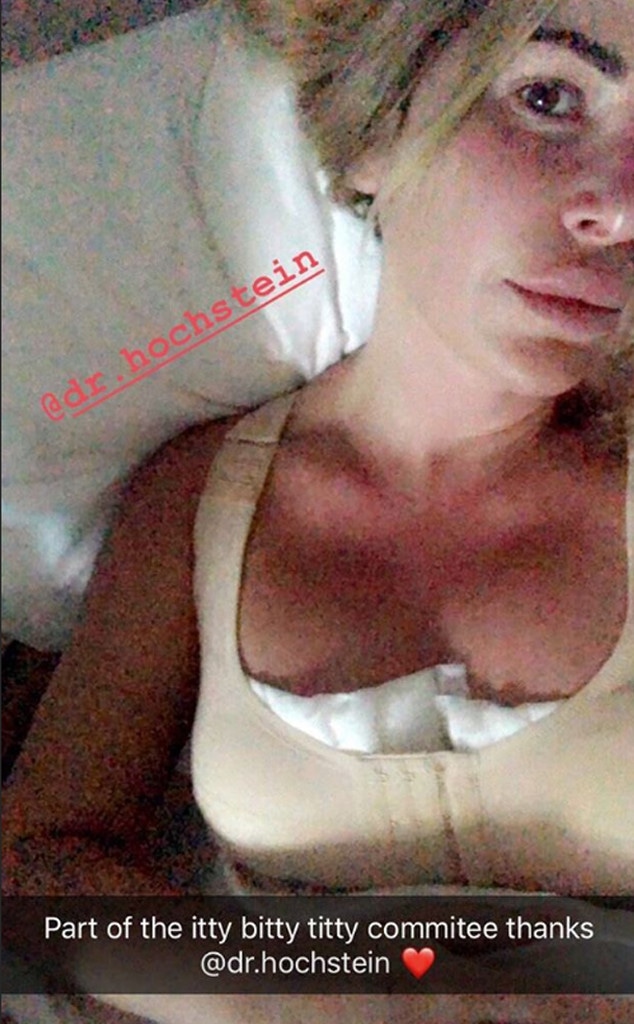 Instagram
Kim Zolciak-Biermann is now a "part of the itty bitty titty committee." 
The reality star revealed the results of a breast reduction on her Instagram Story on Wednesday, when she thanked Dr. Leonard Hochstein for his help. 
Kim has long spoken about her desire to undergo the procedure due to her belief that the implants were taking a slight toll on her body. "I have the largest implants they actually make, but it doesn't look that big on my body, because of just the way I'm built," she revealed on her podcast in July. "I already called Dr. Hochstein, who did my boobs and tummy a few years ago—he did my hernia repair and my tummy tuck after that...and I said, 'I feel like I should get my boobs reduced, they're heavy, my posture is terrible, I'm getting older.'"
And before that, the Don't Be Tardy star let her fans in on the action by asking them to vote on which size she should go down to. 
"I had a lift and I have like the nicest boobs ever. I did breastfeed all of my kids, so ladies, let's be honest, they were stretched out, loss of volume, pancake nipples. So he gave me back my 18-year-old chest, which was amazing. He's the best for that, you guys," she said on her Instagram story previously. "So anyways, let me know. I'm thinking like a C, a full C."
And while health and fitness were always an incentive for the procedure, the mom is also excited to be able to wear clothes and not have them tailored. Kim said, "I have to buy a size 6 in everything when I could wear a size 2 in tops, because of my boobs, and then have everything altered, so it'd be nice to just be able to wear something."
Meanwhile, Dr. Hochstein tells E! News, "Kim's surgery went beautifully. Any time that a patient wishes to downsize their implants it is not as simple as replacing one implant for another. There is typically a excess of skin and a pocket that is made to accommodate a larger implant. To properly preform the operation, both of these have to be addressed. The pocket itself needs to be reduced in size and the skin envelope needs to be tightened as well."
Looks like she is going to be in need a shopping trip once she has enough rest!