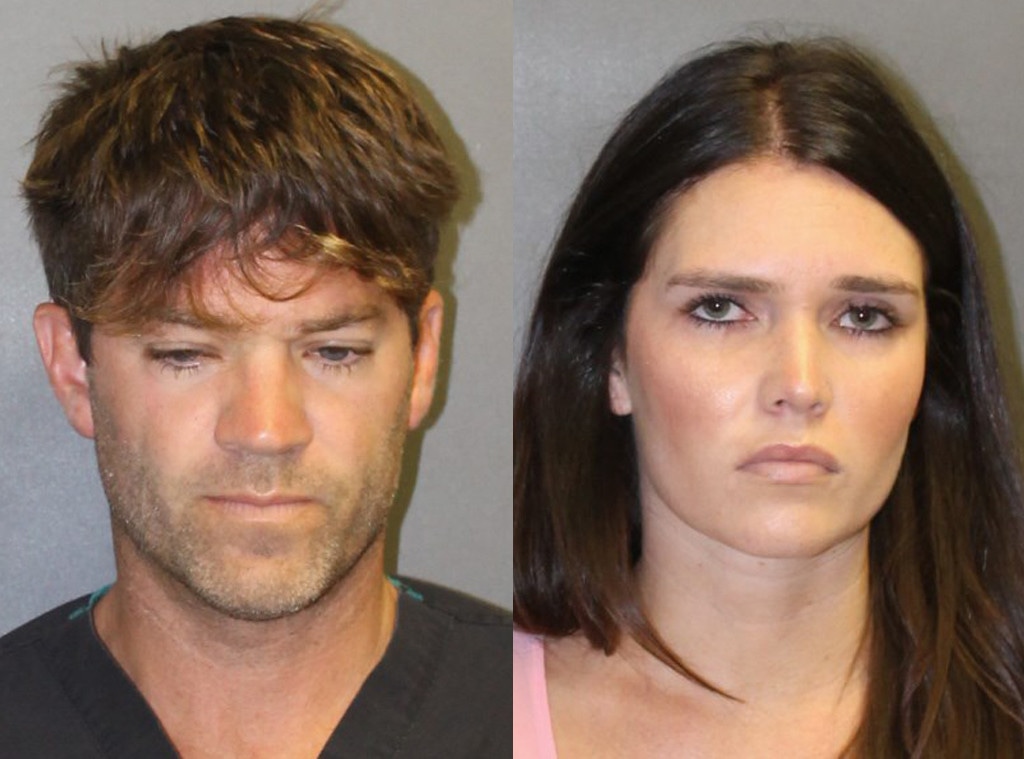 Orange County District Attorney's Office
Grant Robicheaux, a Southern California orthopedic surgeon who appeared on a Bravo reality show, and his girlfriend Cerissa Riley are facing charges of allegedly drugging and sexually assaulting two women in 2016.
The two deny allegations of non-consensual sex. Police arrested Robicheaux, who appeared on an episode of the short-lived 2014 series Online Dating Rituals of the American Male, and Riley last week. They were later freed after posting bail.
Prosecutors say that in April 2016, the two met a woman at a restaurant in Newport Beach, invited her to a party and later went to Robicheaux's apartment once she was intoxicated. They say the 38-year-old surgeon and his 31-year-old girlfriend gave her multiple drugs and then raped her "while she was prevented from resisting due to intoxicating and controlled substances and they should have reasonably known of her condition." Prosecutors say that a day later, she went to police and tested positive for multiple drugs.
Prosecutors also say that in October 2016, another woman drank alcohol with Robicheaux and Riley at a bar and lost consciousness. They say the two brought her to his apartment and sexually assaulted her with intent to rape her, and that she woke up and screamed for help until a neighbor called 911.
"There are thousands and thousands of videos and images on Robicheaux's phone," Orange County District Attorney Tony Rackauckas told reporters on Tuesday. "The women in the videos appear to be highly intoxicated beyond the ability to consent or resist. And they're barely responsive to the defendant's sexual advances."
Police say that in January of this year, they found in Robicheaux's apartment large quantities of illegal drugs, two illegal and unregistered assault rifles, four other firearms and several large capacity magazines.
Robicheaux and Riley were charged on September 11 of rape by use of drugs, oral copulation by anesthesia or controlled substance, assault with intent to commit sexual offense and possession of a controlled substance for sale. Robicheaux was also charged with possession of an assault weapon. He faces a maximum sentence of 40 years in state prison, while she faces 30 years and eight months. The two are set to be arraigned on October 24.
"All allegations of non-consensual sex are unequivocally denied by Grant Robicheaux and his girlfriend Cerissa Riley," the pair's attorneys said in a statement. "They have been aware of these accusations for a number of months, and each of them will formally deny the truth of these allegations at their first opportunity in court. Dr. Robicheaux and Ms. Riley believe that such allegations do a disservice to, and dangerously undermine, the true victims of sexual assault, and they are eager to have the proper spotlight shed on this case in a public trial."
"It must be noted that none of the allegations in this matter relate to or concern Dr. Robicheaux's medical practice or patients in any way," the statement continued. "They both thank their families and friends for their continued support."
Meanwhile, Robicheaux's medical license is under review by the Medical Board of California.
Prosecutors say Robicheaux and Riley may have traveled together to various festivals and locations since 2015, including Burning Man, the Dirtybird Campout festival and the Splash House festival in Palm Springs.
"We don't know how many victims there might be out there," Rackauckas said. "We don't want this to happen to any other women."