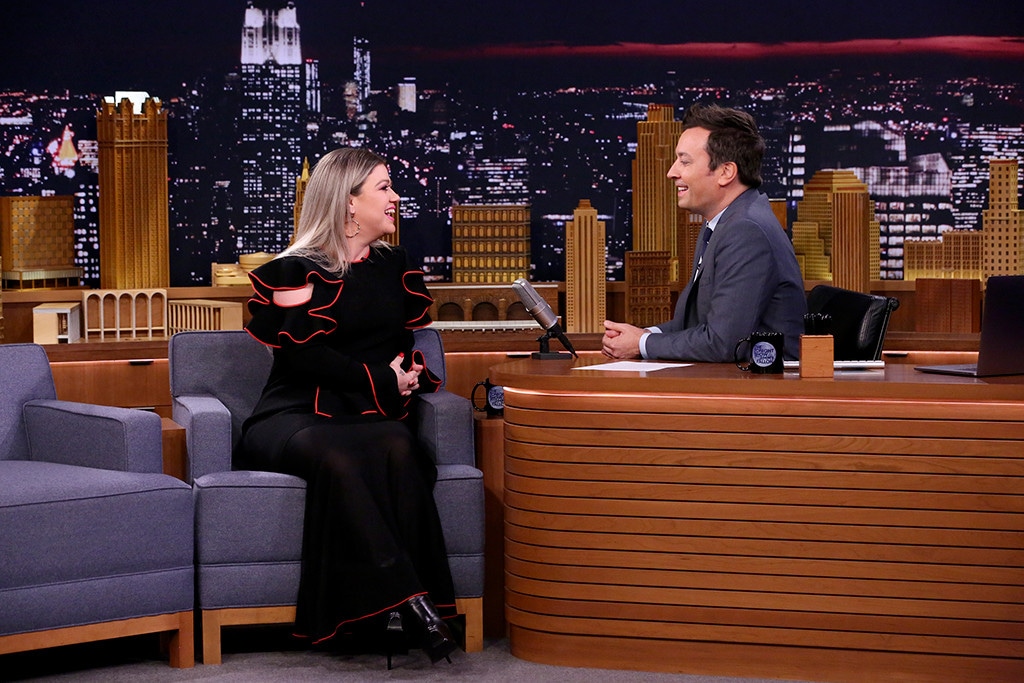 Set your DVRs now!
Last month, multiple outlets reported Kelly Clarkson had filmed a pilot for her very own daytime talk show—and on The Tonight Show Tuesday, she nonchalantly confirmed it's true! Clarkson was talking to Jimmy Fallon about her return to NBC's The Voice, and explained she will be bringing last season's winner, Brynn Cartelli, on tour with her next year. "She's opening, and Kelsea Ballerini. We're starting in January," the "Love So Soft" singer said. "I'm doing this thing to kind of prep for my talk show that's gonna be next year, but we're doing a live segment during my show, so every night on tour we're going live online...I've got a lot of jobs, Jimmy!"
Surprised, Fallon said, "This is a big announcement because this has not been announced yet..."
"Well, it's been leaked!" Clarkson replied. "I'm very excited."
"Are we going head-to-head at 11:30?" Fallon asked, joking, "How dare you take my job!"
Clarkson's series will air before The Ellen DeGeneres Show as part of a new programming block. "I didn't think I'd ever do it, but we shot the pilot. I love talking; it's like my favorite pastime," she said with a laugh. "It's hard for me to shut up, though. You have to listen to people who come on your show, and I just keep talking. That's the only thing I've got to work on: listening." The singer promised her show will "be a little different" than anything that's ever been on TV. "We sing every day on the show and do this fan request thing. It's fun. In the pilot, I got people to sing with me and do little skits," she added. "It's very musical; it would be weird if it wasn't!"
During her Tonight Show appearance, Clarkson also spoke about her 4-year-old River Rose Blackstock's obsession with Coldplay's Chris Martin. "I try to get my youngest daughter to steer away from Kelly Clarkson music," she said. "It's like she doesn't know any other artist exists. I try to put on Prince and she's like, 'No, 'Heartbeat Song'!' I'm like, 'Really?!' I like it too, but..." However, Blackstock makes an exception for Coldplay's 2000 hit "Yellow," as she watches the video before bed every night. "It's weird—like, scary foreshadowing," Clarkson said, imitating her mini-me preening for Martin. "While she's watching, it's as if, 'He's singing to me.'"
Clarkson hopes her daughter never meets Martin, though.
"When I say 'obsessed,' I mean the boy from the video—not Chris Martin now. She doesn't understand that he's not the boy in the 'Yellow' video, like when he first came out years ago," Clarkson said. "She's going to be slightly disappointed if she ever meets him because he's, you know, older than the boy in the video." Fallon argued the 41-year-old singer doesn't look that different, which prompted Clarkson to clarify herself. "He's attractive! I don't mean that. He's just not the boy in the video," the singer said, apologetically. "Did I just insult Chris Martin? He's a very sexy man! I didn't mean to insult Chris Martin. I just mean she's confused with the ages."
(E! and NBC are both members of the NBCUniversal family.)