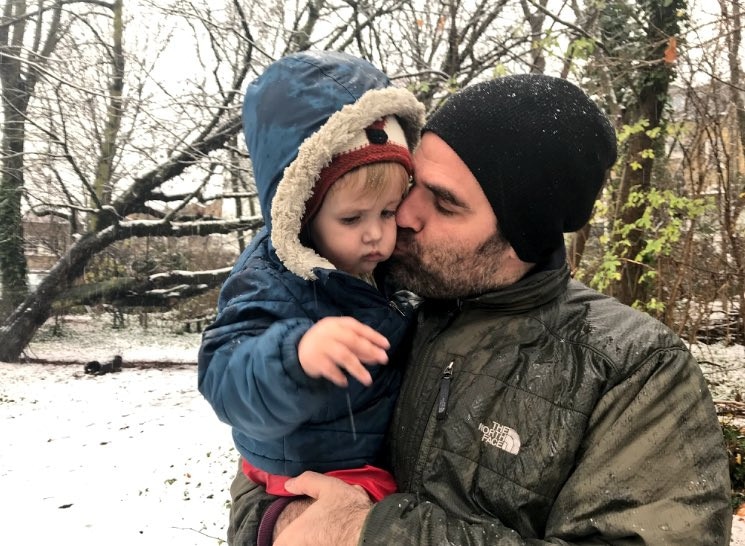 Twitter
Rob Delaney is offering a heart-wrenching glimpse into life as the parent of a sick child. 
Eights months after his 2-year-old son Henry passed away following a battle with brain cancer, the actor published an excerpt from a book proposal he began writing following his diagnosis in 2016. When doctors said Henry had only months to live, Delaney pressed pause on the project to spend time with his baby boy, wife Leah and their two older sons. 
Posted on Tuesday, Delaney, who lives in the U.K., said he wants to remind fellow mothers and fathers of very ill little ones that "someone understood and cared" about their struggle. 
In the emotional essay, the 41-year-old Catastrophe star recalled several trips to the hospital and doctor's offices both before and after Henry underwent surgery to remove an ependymoma, a tumor that arises in the central nervous system. After initially linking Henry's frequent vomiting and weight loss to a urinary tract infection or gastrointestinal issue, another medical professional suggested his son get an MRI on his brain. 
What followed was any parent's worst nightmare. The tumor, which wrapped around Henry's posterior fossa, was removed but caused cranial nerve damage that left him with facial paralysis and hearing loss in one ear. A tracheotomy tube was inserted in Henry's throat to keep saliva from infecting his lungs, which prevented him from speaking. 
"My wife recently walked in on me crying and listening to recordings of him babbling, from before his diagnosis and surgery," Delaney wrote. "I'd recorded his brothers doing Alan Partridge impressions and Henry was in the background, probably playing with the dishwasher, and just talking to himself, in fluent baby. F--king music, oh my God I want to hear him again." 
But even the emotional and physical toll of caring for a sick child didn't damper Delaney's spirit and his unconditional love for the toddler. As he recalled, "I may wish Henry wasn't in the hospital and it may make me f--king sick that my kids haven't lived under the same roof for over a year. But I'm always, always happy to enter the hospital every morning and see him. It's exciting every day to walk into his room and see him and see him see me."
"When he smiles," Delaney added, "forget about it. A regular baby's smile is wonderful enough. When a sick baby with partial facial paralysis smiles, it's golden. Especially if it's my baby."
Henry's brain tumor would ultimately return in the fall of 2017, and in January 2018 he passed away.
In announcing his son's death, Delaney described, "Henry was a joy. He was smart, funny, and mischievous and we had so many wonderful adventures together, particularly after he'd moved home following fifteen months living in hospitals."
Five months after the tragedy, Delaney revealed his wife was pregnant with their fourth child.