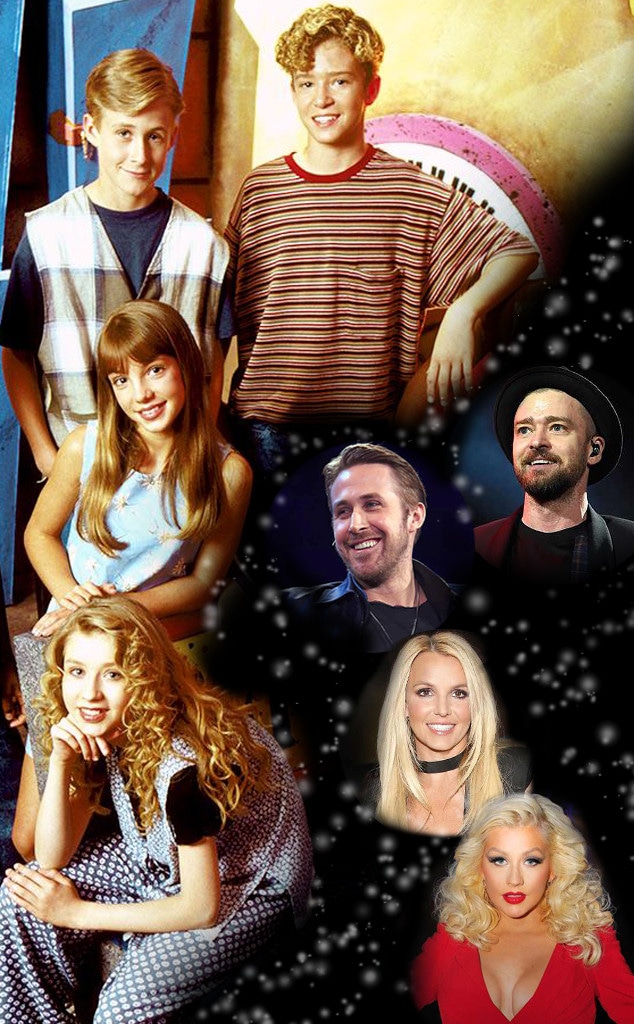 Disney; AP; Getty
If there was ever any doubt about the magic of Disney, just look at who the Mouse House launched into stardom 25 years ago.
It was 1993 when young Britney Spears, Justin Timberlake, Christina Aguilera and Ryan Gosling joined The All-New Mickey Mouse Club in its sixth season on the Disney Channel, and these four future superstars really were brand new to the world of showbiz.
Sure, Justin, Britney and Christina had been on Star Search, but they were all eliminated before the final rounds. Not even little Ryan had Barney-equivalent acting experience on par with what Demi Lovato and Selena Gomez would bring to the table in the early 2000s—and not one of these tween-aged Mouseketeers came from a famous family à la Miley Cyrus.
Justin, Britney and Christina made their way to the Walt Disney World lot in Orlando after impressing casting directors at open auditions all across the U.S.—and in Ryan's case, in Montreal. According to Sarah Elgart, the producer and co-choreographer of the MMC's musical numbers, Disney held auditions in cities other than just New York and Los Angeles searching for "salt of the earth, bread and butter all-American kids." (Happily, they made an exception for Canadian cutie Gosling.)
Disney/Kobal/Shutterstock
What they found were fresh-faced Mouseketeers who "weren't really agent and Hollywood savvy," Elgart tells E! News, but what these kids lacked in experience, they made up for with raw talent.
Christina, who was 12 when she made her MMC debut, stood out from the get-go. Nikki DeLoach, who also joined the All-New reboot of the 1950s-era classic (not to be confused with the 1977 revival The New Micky Mouse Club) for its sixth season, remembers watching young Xtina sing as being "almost like witnessing something divine."
"You have to think about the fact that back then, she was maybe 70 pounds dripping wet," the Awkward actress tells E! News. "I mean, she was so tiny…and then she would open her mouth, and this voice—the same voice you hear now, would come out of her mouth…It was the most incredible thing to see this tiny little person with such an incredible voice."
Britney, who was just 11 when she got her Mouseketeer ears, impressed everyone with her dance moves. Tony Lucca, who was 17 at the time, remembers how even the older kids "would always ask Britney how the [dance] combinations went, because she was really great at committing them to memory."
Elgart says that Britney and Justin, who was 12 when he joined the show, both had "a natural talent and an honesty" when it came to dancing. "They both worked really hard, and they seemed to appreciate the moment."
Ryan, on the other hand, "wasn't much of a singer or a dancer" when he joined the cast at age 12, Elgart recalls. "But he was a kind of a magic talent on the screen. He was very funny."
The eventual La La Land star recalled to Britain's Telegraph in 2011 that he "wasn't nearly as talented as some of the other kids" on the show, but Elgart recognized he had an appeal all his own.
"I remember he had to sing and dance a Michael Jackson number for his final audition, and he couldn't really deliver it on the musical level that was expected of him, you know, or dance on the level that was expected of him," she says, "and he took it, and he turned it into something entirely other than what was expected, which was really funny. And no one really quite knew how to take that or to go with it, and I remember saying, 'You know, I think I can work with that.'"
And that she did. While Christina brought the big vocals and Britney and Justin had all the right moves, it was young Ryan who had the onscreen charisma. Tony remembers the future Golden Globe winner as "hilarious, just because he looked like this little mini-salesman kind of guy—schmaltzy and charming and super cute."
"I think he surprised everyone the most in terms of going on to become this Oscar [nominated] thespian," adds the singer. And Elgart would agree, calling Ryan "the least predictable of all the kids"—particularly when it comes to his musicianship.
"I personally think his music is stellar now," says Elgart, who recently reviewed Werewolf Heart, a short dance film set to the music of Gosling's band, Dead Man's Bones. "I think he's an amazing talent, and I don't think I could've predicted that from what he had to do within the context of the show and what the show provided as a vehicle."
As for Justin, Britney and Christina—whatever happened to them?
Their continued mega-success doesn't come as a shock to fellow former Mouseketeer Jennifer McGill. "Every single one of them had a special power that really set them apart," she tells E! News. "They were all so talented and so excited to be there."
Disney Channel/Image Group LA
Just being part of The All-New Mickey Mouse Club "really was a dream come true," says Nikki, and it was "like going to a graduate school for the arts at a really young age." The Mouseketeers learned the ins and the outs of the business on the job, but it wasn't all about work.
"It was regular school, too," says Dale Godboldo, who was 18 when Justin, Britney, Christina and Ryan joined the show. "We had all of the same, you know, fun and issues that teenagers have when you're growing up in that age group, and we just experienced all that together."
Matt Baron/REX/Shutterstock
And that, of course, included some young romance. Nikki dated fellow Mouseketeer (and Justin's future 'N Sync bandmate) J.C. Chasez. Tony and Keri Russell were a couple for several years. And when Tony competed on The Voice in 2012, Christina revealed that "Britney had the biggest crush on you!"
Disney/Kobal/Shutterstock
Tony got a kick out of that, but as he now says with a laugh, "I don't think it was so much that she had a crush on me as much as it is that she just admired everything about Keri—including Keri's boyfriend."
Then, if memory serves, Britney may have had a thing with Justin...
There "was a lot of young love" in the Club, says Tony, "but I think there were also a lot of just friendships. You know, really bona fide great platonic friendships that have sustained to this day."
He's not exaggerating on that count, either. After their All-New Mickey Mouse Club run ended in 1994, Tony opened for 'N Sync, going on a world tour with his pals Justin and J.C. In 2010, Justin had Tony star in a commercial he directed for his premium liquor line, 901 Silver Tequila.
And—though Christina wasn't too thrilled about it—Justin was a big supporter of Tony when he competed on The Voice (but that had much more to do with Tony being on Adam Levine's team and not hers).
Nikki remains "really good friends" with Justin and keeps in touch with many fellow Mouseketeers. She and Dale, who runs the MMC alumni and fan group Always in the Club, are among the former Disney stars planning a reunion in the spring.
Exact details about this Mickey Mouse Club get-together are still under wraps, but it's taking place in Orlando, and everyone's invited. A portion of the proceeds will benefit the Always In The Club Foundation, which is a nonprofit founded by Dale with support from other former Mouseketeers to help meet the United Nation's Global Goal of Quality Education through youth mentoring and the arts.
"Most of what I do today—in philanthropy, in socially conscious business, in acting…is a direct result of the mentorship and the experiences and the training that I had on the Mouse Club," says Dale. And he credits the MMC for helping him and his fellow Mouseketeers to develop an incredible work ethic early on.
Kevin Winter/Getty Images
"I think there's a reason that Britney and Ryan and Christina and Justin and Rhona [Bennett] and Tony and Nikki are so successful today," says Dale. "I think when you got that kind of sustained support and learning and teaching and mentorship that—not only are you rewarded for hard work every day, you know, you see the fruits of that labor every day, and so it's embedded in you, working hard equals success."
And there's no denying that many Mouseketeers—Britney, Justin, Christina and Ryan included—have gone on to be very successful. But no matter how big their careers may get, they never forget about those early days with Disney.
"It was a really good time," Britney recently told Entertainment Tonight. "It was a great time. It was probably one of the most special times in my life, The Mickey Mouse Club."
But would she be up for a reunion? "Well, they would have to plan it, the mother of two said, but "I would definitely show up. I would go, definitely."