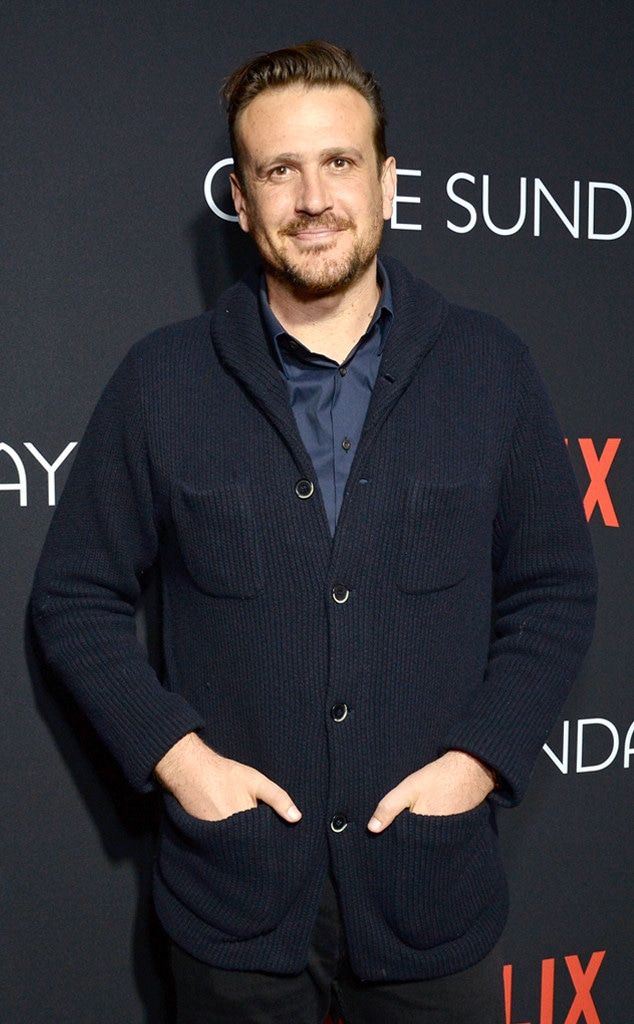 Michael Kovac/Getty Images for Netflix
It is not often that stars are able to elude the public eye after starring in a major film or TV series, but some A-lister's manage to maintain the utmost privacy in the year's following their success.
Case in point, is none other than Jason Segel, who became a much sought after star in Hollywood because of his role in How I Met Your Mother. The CBS show premiered exactly 13-years-ago and quickly became a cult classic over the years.
And in the time since the show bid adieu to it's faithful viewers after nine seasons in 2014, Segel has mastered the ability to fly under the radar.
How the talented actor managed to escape the sometimes harsh spotlight is relatively simple. His strategy appears to include being selective with roles and living a relatively solitary life with his girlfriend on an orange grove in Ojai, Calif.
In keeping with these new lifestyle changes, the star has managed to limit his presence on social media as a way of removing the chaos from his life "to some extent." In a rare interview with Ryan Seacrest in 2017, the actor said, "It's really interesting how much chaos and confusion goes way when you turn off the internet—even for an hour."
Josh Hartnett is likely able to understand the sentiments shared by Segel as he experienced the same chaos that inevitably follows fame. In a 2014 interview, he revealed he couldn't cope with the overwhelming nature of the public eye. "I was on the cover of every magazine," the former teen heartthrob, told Details magazine. "I couldn't really go anywhere. I didn't feel comfortable in my own skin. I was alone. I didn't trust anyone." 
Similar to the Forgetting Marshall star, he instead chose to act in indie films, despite being offered major roles in movies like Spider-man and Batman. " I somehow knew those roles had potential to define me, and I didn't want that. I didn't want to be labeled as Superman for the rest of my career. I was maybe 22, but I saw the danger," he recalled.
SEBASTIEN NOGIER/EPA-EFE/REX/Shutterstock
Nowadays, the father-of-two has to "fight" for his roles, but he wouldn't have it any other way. For him, the thrill of nabbing the job is "actually more rewarding." 
In the years following the interview, he starred on Showtime's Penny Dreadful, alongside Eva Green, for two years.
When he isn't acting, he spends his days at home in the U.K. with wife Tamsin Egerton and their two children.
Then there is Chris Tucker, who seemed to vanish off the face of the earth after starring in Rush Hour 3 in 2007, only to reappear in Silver Linings Playbook in 2012. The star basically disappeared at the height of his career, when he reportedly made $25 million for starring in the film. 
The comedian was prone to going off the radar, only resurfacing for interviews and red carpet appearances ahead of the release of a new Rush Hour film. Otherwise, he was gone, touring Africa with Bill Clinton or criss-crossing through Australia, Asia and other countries for comedy tours.
Again, selectivity about choosing roles seems to be a theme in one's ability to lay low, much like Hartnett and Segel. In his words, though, it isn't necessarily about being selective but about waiting for the "special stuff."
"I want to get better. I want to do something that excites me, that is different and fun," he told The Los Angeles Times in 2015, just before the release of a Netflix special.
Justin Long, much like Tucker, has also learned to wait for the "special stuff" and instead savor the time when he wasn't constantly working. "For a while, I was so thrilled to be able to act for a living that I would kind of take whatever came around," he said in an interview with The Huffington Post. "My mom was an actress, so I grew up with the mentality that you just go where the jobs are; you just take the jobs that come along. So I wasn't turning down a lot of things, for better or for worse. I ended up doing a lot of movies, one after the other, just because I love to work. [But] for the last couple of years, my personal time has been more precious to me."
He continued, "You know, the older you get, the more precious time becomes and so I've consciously been not taking everything."
Tim P. Whitby/Getty Images for BFI
In a similar vein is Joseph Gordon-Levitt, who left Hollywood to follow dreams different from the one he had been living since the age of ten. Since 2016, the star has taken to working behind the camera instead of starring front and center. Although his family life may have played a bigger role in the career switch.
The actor married Tasha McCauley in December 2014 and eventually welcomed two children in the years following, but his private life remains very private. And contrary to his home life, his work life is very public and is meant to be that way, as he founded an online collaborative production company named HitRecord.