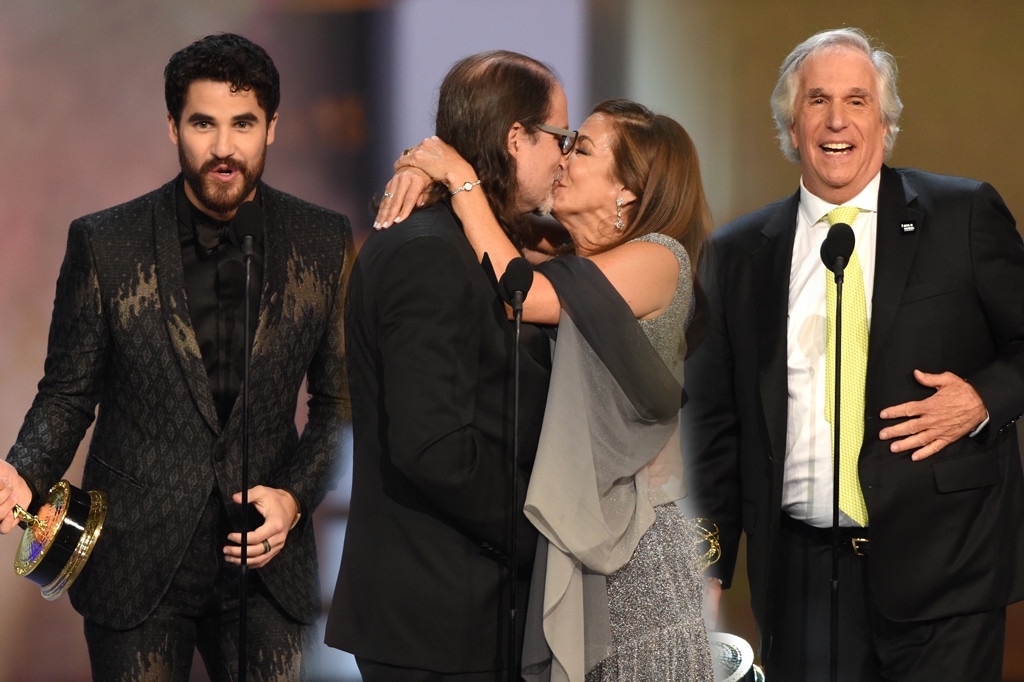 Phil McCarten/Invision for the Television Academy/AP Images
TV's biggest night has had its work cut out for it for some time now, what with the Netflix, then the Hulu, then the Amazon Prime Video...and now the phones and the Snapchat, and the interactive Facebook shows...
In fact, 2018 marked the first year that Netflix edged HBO in nominations, 112 to 108, and—lest anyone forgot—this was the first Emmys ceremony since the #MeToo movement took hold in Hollywood, forever altering the entertainment-world landscape, and tricky topics aplenty potentially lay in wait for hosts Michael Che and Colin Jost. (Who ultimately did just fine, despite some concerns that they might be a little too snide for school. Hats off to Reparations Emmys and the acknowledgment that nothing has been solved.)
But as it turns out, there's still nothing quite like a deserving, well-crafted show (with epic battles, mordant wit, nudity and dragons—or at least oodles of wit)—no matter the size of the screen you watch it on, live or streaming—to bring people together to enjoy, laugh, cry, scream at, argue about, poke holes in and otherwise dissect for must-analyze parts. 
And better yet, just when the Emmys needed it most, there was a romantic twist that nobody saw coming!
Kevin Winter/Getty Images
1. The Proposal: For at least one minute last night, every single person in the room, win, lose or overlooked, was really, truly happy. Glenn Weiss, the winner for Outstanding Directing for a Variety Special for helming the 2018 Oscars, used the opportunity first to pay tribute to his late mother—and then to propose to his girlfriend, Jan Svendsen! We admittedly saw it coming for about 15 seconds (if not, he was really punking her), but that didn't dull the glee that rippled through the room, and over the airwaves, in the slightest. Jan made her way to the stage through a throng of wildly applauding A-listers, where Weiss got down on one knee and presented her with his beloved mom's engagement ring, with his dad's blessing. 
Now he can switch it up to "my wife, Jan" ASAP.
Kevin Winter/Getty Images
2. The Happiest Day: Sometimes nice guys win first. The Emmys definitively did not jump the shark by finally making Henry Winkler a winner with his seventh overall nomination. The enthusiastic standing ovation for the 72-year-old's win for Outstanding Supporting Actor in a Comedy Series, the first award given out, for playing an enthusiastic acting coach on HBO's dark showbiz satire Barry said it all. "I wrote this 43 years ago," quipped the perennial optimist, who's a welcome presence everywhere he goes, onscreen or off.
Ayyy...
Phil McCarten/Invision for the Television Academy/AP Images
3. Barry'd Treasure: Four of the first six awards handed out went to the Marvelous Mrs. Maisel, and the other two went to Barry. Bill Hader looked as shocked as anybody to be accepting the Emmy for Best Lead Actor in a Comedy Series for his role as a burned-out hitman who's trying his hand at acting, which prevented Donald Glover from picking up his second statue in a row for Atlanta. But, there's always an upset somewhere. This just happened to be the biggest one of the night.
"I did not think this was going to happen," were the first words out of Hader's mouth. (Interestingly, he shared an Emmy win in 2009 as a producer on South Park, that year's Outstanding Animated Program (for Programming Less Than One Hour), so now he has two.)
It was fitting, though, that he broke through on a night that saw Hader's old stomping grounds, Saturday Night Live, repeat in the Outstanding Variety Sketch Series category—and on a night when SNL executive producer Lorne Michaels was producing the entire Emmys, and current "Weekend Update" hosts Che and Jost—Stefan's best buddies—were hosting the Emmys! It was really their big ol' reunion, and we were just hoping it would be over within the promised three hours.
Kevin Winter/Getty Images; Phil McCarten/Invision for the Television Academy/AP Images
4. Parting Is Such Sweet Sorrow: No disrespect to the great Margo Martindale, a two-time winner for guest-acting on The Americans, but finally a member of the main cast won! Matthew Rhys took home his first Emmy in four tries for his role as a conflicted Russian spy in the FX drama, which ended this year after six nail-biting, teeth-grinding (and other tooth horrors) seasons. Joel Fields and Joseph Weisberg also shared a win for Outstanding Writing for a Drama Series for, fittingly, the finale episode "Start."
And while The Crown will go on, Claire Foy's time playing Queen Elizabeth II is over. She passes the torch to Oliva Colman, but gets to keep the Emmy for Outstanding Lead Actress in a Drama Series, to go with the Golden Globe and SAG Award she also earned during her reign.
Phil McCarten/Invision for the Television Academy/AP Image
5. Joke's on Them: Hannah Gadsby, where have you been all our lives? The Australian comedian, whose Nanette was the most talked-about stand-up (or is it?) special of the year, made her Emmys debut as a presenter for Outstanding Director in a Drama Series (Stephen Daldry, The Crown, marvelous) and—much like Glenn Weiss—used the moment to say something that had to be said. In her case, that was to politely mock the male comedians (and mostly guys in general) who've questioned whether Nanette really qualifies as stand-up, because some of what she talks about—sexuality, sexual abuse, identity and self-acceptance—is technically no laughing matter. (Even though Neal Brennan's 3 Mics has a similar joke-joke-joke-deadly serious topic-joke-joke conceit and you didn't really hear anyone quibble with Netflix presenting that as a stand-up special...)
"This is," Gadsby paused slightly, noting the prime-time stage she found herself on, "not normal. The world's gone a bit crazy. I mean, for somebody like me, a nobody from nowhere, gets this sweet gig, free suit, new boots, just 'cause I don't like men…That's a joke, of course—just jokes, fellas, calm down. Hashtag-NotAllMen—but a lot of 'em. No, it is just jokes, but what are jokes these days? We don't know, nobody...Nobody knows what jokes are, especially not men! Am I right, fellas?! That's why I'm presenting alone. There is a winner."
She also quipped that Daldry wasn't there to accept in person because of her, either. The jokes came through loud and clear on our end.
Phil McCarten/Invision for the Television Academy/AP Images
6. A Stand-Up Gal: Fittingly, The Marvelous Mrs. Maisel single-handedly won Amazon five Emmys last night, and eight overall this season. Rachel Brosnahan book-ended her Golden Globe with the win for Outstanding Lead Actress in a Comedy for her role as a jilted 1950s housewife who discovers she has a flair for stand-up comedy, Alexis Borstein was Outstanding Supporting Actress in the truest sense of the word, series creator Amy Sherman-Palladino won for writing and directing, and Amy and husband Daniel Palladino returned to the stage to accept for Outstanding Comedy Series.
Phil McCarten/Invision for the Television Academy/AP Images
7. Fabulous and Steady Wins the Race: In 1993, a magnetic drag queen named RuPaul had a cult hit with the dance club anthem "Supermodel (You Better Work)." Twenty-five years later, RuPaul is a three-time Emmy winner for Outstanding Host for a Reality or Reality Competition Program and this year RuPaul's Drag Race finally won for Outstanding Reality Competition Program, for a total of five Emmys in 2018.
RuPaul may have been a mainstream pop culture figure for a long time now, but he remains a trailblazer, an inspiration and a beacon of hope to all who long to express themselves or are looking for their place in this world. He thanked a litany of people "on behalf of the 140 drag queens we have released into the wild" and reminded "all of the dreamers out there, listen: If you can't love yourself, how in the hell else you gonna love somebody else—can I get an amen up in here?! Now let the music plaaaaay!"
Phil McCarten/Invision for the Television Academy/AP Images
8. Murphy's Raw: Amid the pulpy, gory American Horror Story, the polished grit of the oft-effervescent Pose and the cheap, enjoyable thrills of 911, Ryan Murphy's American Crime Story anthology once again provided us with a must-watch treatment of a socially and culturally significant bloody moment in our nation's twisted history. The Assassination of Gianni Versace, anchored by Darren Criss' chilling—and first-time Emmy-winning!—performance as spree killer Andrew Cunanan, was rewarded for its nightmare-inducing efforts with three Emmys last night, including Outstanding Limited Series, and seven overall, including technical categories.
9. How the Westeros Was Won: The world hasn't gone that crazy. After all, after one year off, Game of Thrones was back on top at the end of the night for a third time, easily taking back the territory—Outstanding Drama Series—it only temporarily ceded to The Handmaid's Tale. With Peter Dinklage's third win for Outstanding Supporting Actor in a Drama, that made nine Emmys overall this year for HBO's flagship show, a reminder that the premium cable network, despite some vague directional shift that's poising it to compete with the content churner-outer that is Netflix, is still for now the not-TV-it's-HBO we all know and love.
Winter is coming, but it's not here just yet.