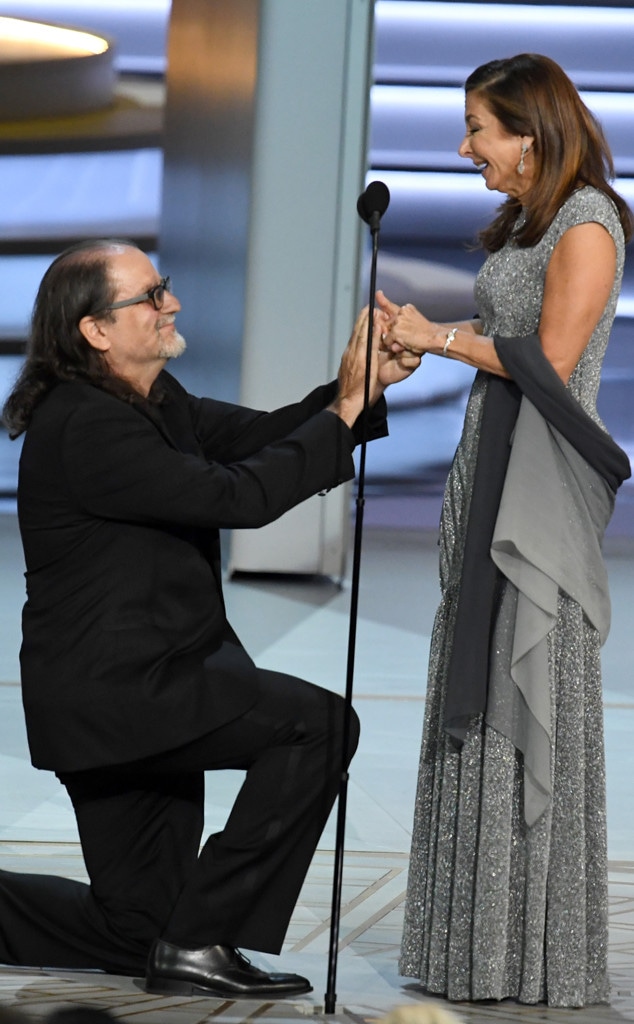 Kevin Winter/Getty Images
Love wins at the 2018 Emmys!
Just when we though the 70th Annual Emmy Awards was well on its way to snooze-ville, Glenn Weiss (and our #ManCrushMonday, TBH) just reinvigorated the whole ceremony with an onstage proposal. 
While accepting the award for Outstanding Directing for a Variety Special for last year's Oscars, Weiss surprised everyone inside L.A.'s Microsoft Theater by asking Jan Svendsen to marry him. Yes, you read that right! 
Weiss dedicated the honor to his mother, who he revealed passed away only weeks prior. "Mom always believed in finding the sunshine in things and she adored my girlfriend Jan," he shared. "Jan, you are the sunshine in my life. And mom was right, don't ever let go of your sunshine. You wonder why I don't like to call you my girlfriend? Because I want to call you my wife."
No surprise here, Jan burst into tears as stars like Leslie Jones, Benedict Cumberbatch and more led a standing ovation for the bride-to-be. 
Without a moment to waste, Jan then took the stage for the proper proposal. (We're not crying—you are!) 
"This is the ring that my dad put on my mom's finger 67 years ago," he shared before turning to the camera and quipping, "And to my sisters and brothers, I didn't swipe it. Dad knows I have it, okay?"
"Jan," he continued,  "I want to put this ring that my mom wore on your finger in front of all these people and in front of my mom and your parents watching from above. Will you marry me?"
Yes! A million times yes!
Congratulations, lovebirds! Consider this our official petition to get Glenn and Jan tie the knot during next year's ceremony.