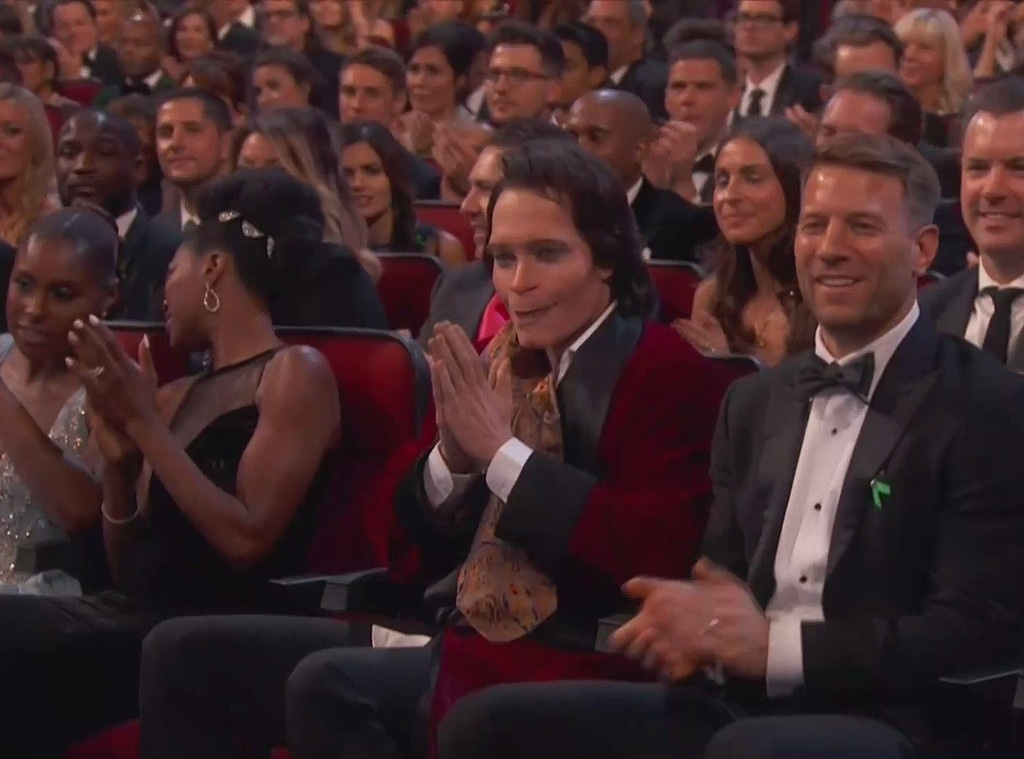 NBC
Wondering why it took a while to find Donald Glover at the Emmys tonight? 
It appears that Glover himself was late, but instead gave his ticket to Teddy Perkins, the creepy centerpiece of the Atlanta episode titled "Teddy Perkins." Perkins (who was rumored but never truly confirmed to be played by Glover) is a slightly frightening older recluse with an eccentric sense of fashion.
Glover wrote the season two episode in which Darius (Lakeith Stanfield) goes to a mansion to pick up a free piano, only to find himself in the presence of a strange man claiming to have a photosensitive skin condition, and to be the caretaker of a mysterious brother named Benny. 
The episode goes in some wild and unexpected directions, with Darius and Benny eventually plotting to murder Teddy only for that plan to go awry, but the main, most obvious takeaway is that Teddy Perkins is terrifying. 
At the Emmys, Teddy could most easily be spotted after Bill Hader won the Lead Actor in a Comedy award, for which Glover/Teddy Perkins was also nominated. He made sure to give Teddy a hug just before he made it to the stage. 
A few categories later, Glover had taken Teddy's place in the front row, making us all wonder once again whether Glover was actually Perkins, or if Perkins was ever actually there at all. 
As much as we love Bill Hader and Barry, we will always wonder what would have happened if the name on that card had read Donald Glover. 
UPDATE: Glover was apparently not in costume as Teddy, and neither was costar Lakeith Stanfield. An eyewitness saw and snapped a pic of Glover, Stanfield, and Perkins chatting together during some downtime. The mystery of who is actually behind Perkins at the Emmys remains unsolved, though for the record, Glover did submit "Teddy Perkins" as his Atlanta episode for acting.
We will be sure to keep you updated on any developments in this case, so stay tuned to E! News throughout the night! 
UPDATE #2: A source tells E! News that comedian and former SNL star Jay Pharoah is the man behind the creepy mask/makeup, so the mystery may have been solved!
Atlanta airs on FX.