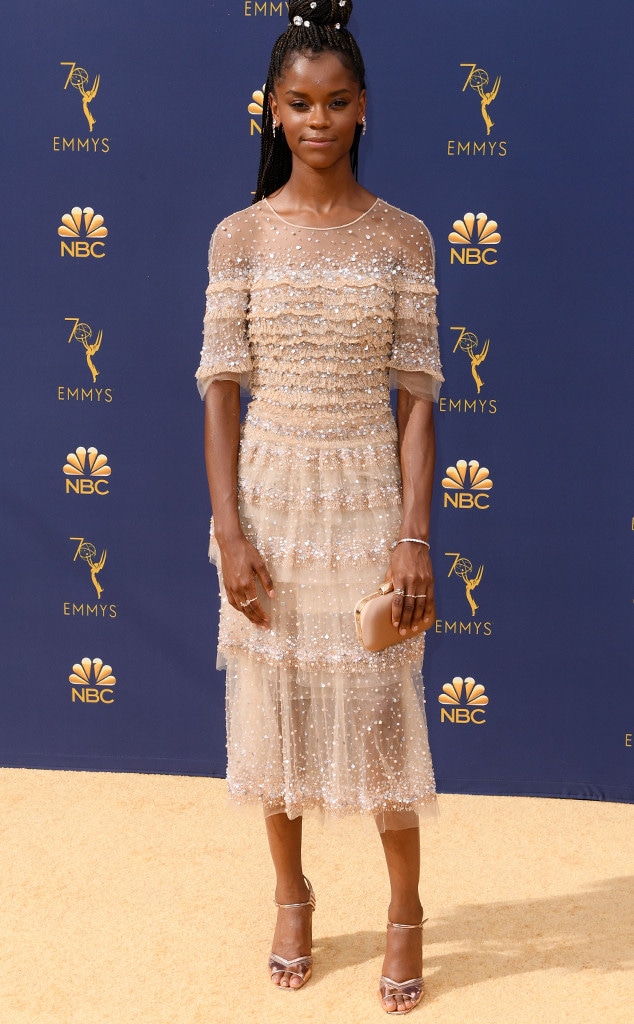 David Fisher/REX/Shutterstock
Not only was Letitia Wright in one of the biggest movies of the year, but tonight, she's an Emmy nominee!
The 24 year-old Black Panther actress is nominated at the 2018 Emmys for Supporting Actress in a Limited Series for her work in an episode of Netflix' Black Mirror, and as her stardom in the U.S. has quickly risen, so has the number of fan encounters she deals with.
"Some are good, some are fun, some people just ride on their bikes or walk past and be like, "Wakanda forever," and they put it down, and some are a little bit more...rawr...than others," she told E!'s Jason Kennedy on the red carpet. 
"'Rawr' is just I need this picture right now," she explained. "I'm just trying to teach everybody that just as much as you see us on the red carpet and you see us in films, we're still human beings too, and we still have a level of privacy that needs to be respected. ... I'm just a young person trying to live my dreams and at the same time, keep everything normal and relatable, and not get above myself." 
As for the fan interactions Wright is happy to have, she said she loves a "How are you?" or a "Having a nice day?" but "you don't need to force me to take a picture." 
Speaking of relatability, Wright just finally became a licensed driver, and is excited to go home to the UK to get the actual license. 
"When I come back, I'm gonna be whippin'." 
Wright is nominated in her category alongside Adina Porter for AHS: Cult, Merritt Wever for Godless, Sara Bareilles for Jesus Christ Superstar Live, and Penelope Cruz and Judith Light from The Assassination of Gianni Versace: American Crime Story.