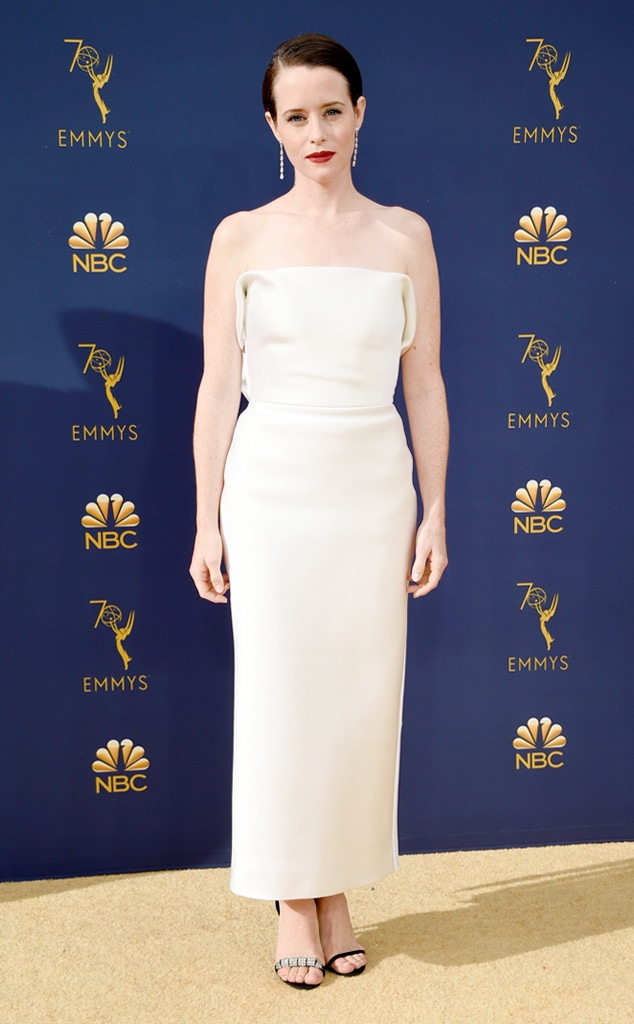 VALERIE MACON/AFP/Getty Images
All hail the Queen!
Claire Foy just took home the win for Lead Actress in a Drama at the 2018 Emmys and dedicated her award to both her costar Matt Smith and to the incoming cast of the Netflix series The Crown. Olivia Colman and Tobias Menzies will replace Foy and Smith in upcoming seasons as Elizabeth and Phillip age, meaning this was Foy's last chance to score an Emmy for her incredible work on the show. 
"This wasn't supposed to happen!" she gushed as she got on stage. "I just felt so proud then of being in the company of such extraordinary performances. I know everyone's talking at the moment about women in the industry, but if that's anything to go by, bloody hell! And that's technically not swearing." 
Foy gave a shoutout to Killing Eve and fellow nominee Sandra Oh saying, "Sandra Oh, I just love ya!" and willed herself not to cry as she talked about how proud she was that The Crown will go on.
"I dedicate this to the next cast, the next generation, and I also dedicate this to Matt Smith," she said. 
Foy was one of three nominees honored for their final seasons of their shows. Keri Russell never won for any of The Americans' six seasons, despite being nominated three times. Tatiana Maslany was nominated three times and won in 2016 for Orphan Black. 
The Handmaid's Tale star Elisabeth Moss, who won last year, and Westworld's Evan Rachel Wood were also nominated.