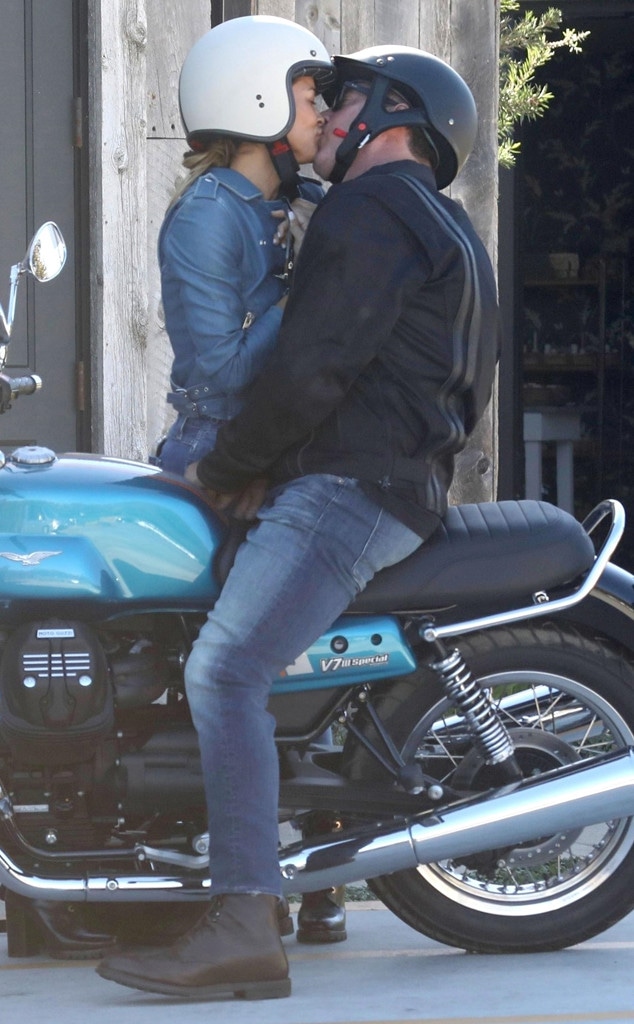 RMBI / DOBN / BACKGRID
Does Brooke Burke have a new man in her life?
The TV star was spotted locking lips with a mystery man in Malibu, Calif. this weekend. According to an insider, the pair left the American eatery Kristy's between 5:00 p.m. and 5:30 p.m. on Sunday. They also weren't afraid to pack on some PDA.
"They were really cute," an insider told E! News. "She's obviously smitten." 
Before hopping onto her new man's motorcycle, Burke shared a little laugh and sweet smile with her date. The mystery man also went in for a quick kiss.
"The entire time she was laughing and they couldn't take their eyes off of each other," the source continued. "He leaned in at one point to kiss her. It was quick, but they seem really into each other. She was smiling the entire time, [and] they looked really happy."
After the peck, Burke mounted the bike and tightly held onto her man's waist. The two then rode off together.
The outing came about five months after the Dancing With the Stars alumna filed for divorce from David Charvet. The actress filed in April 2018 after more than six years of marriage. She requested joint custody of their two children, Heaven Rain (a.k.a Rain) and Shaya, and listed their date of separation as Jan. 23, 2018. Charvet filed a response in May. 
Burke also has two other children, Neriah and Sierra Sky, whom she shares with her former husband Garth Fisher. 
Burke opened up about the prospect of dating during a May episode of Steve. When asked if she would date someone before a divorce was finalized, Burke suggested it depended on the situation. 
"It really depends because getting divorced can take a long time," she explained. "People can have filed for divorce and it can take years, and a lot of people separate with the intention of never getting back together but there are other legal complications. I'm more concerned about the emotional separation and the emotional divorce than the legal document requiring a signature."
Overall, it looks like Burke and Charvet ended things on pretty amicable terms. In a blog post, Burke claimed "there was nothing sensational that caused this divorce and nothing scandalous will surface." Similarly, the Baywatch star told his social media followers "she has done nothing wrong" and asked them to refrain from posting any negative comments. 
Still, the split hasn't been completely easy for the duo.
"I mean, you know I just recently filed for divorce so this is all very fresh and vulnerable for me," she said during an April episode of Steve. "But my goal and my prayer is to move forward with an open heart and to take the beautiful memories and to learn from the challenges that I faced and not to bring all the baggage, which is mine, and pass it on to someone else whenever that day comes."