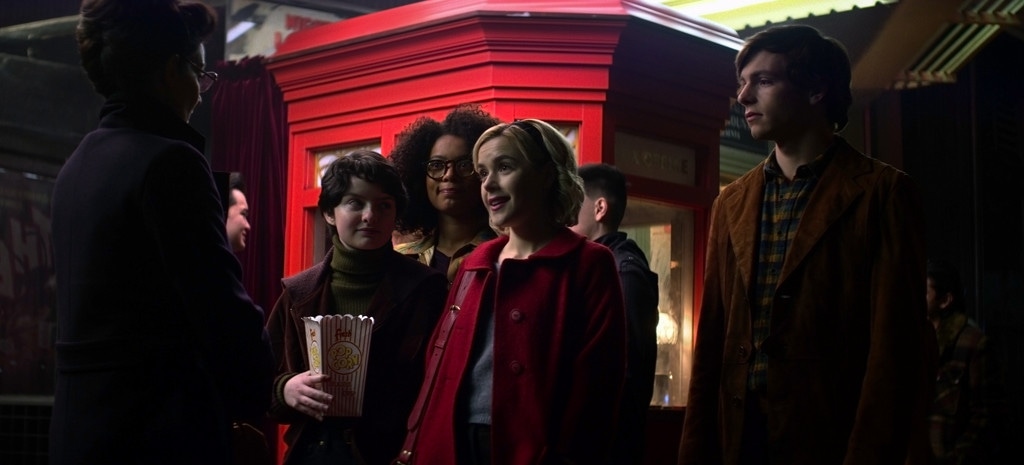 Netflix
Ready, witches? 
There's just over a month left before you finally get to see Chilling Adventures of Sabrina, but today we've got a visual treat for anyone who's been itching to meet Sabrina, Harvey, and the rest of the gang. In the gallery below, you'll find brand new pics, exclusive to E! News, featuring each of the main characters of the upcoming series, along with their character bios, which contain some very fun clues about what you're in for when the show debuts on October 26, just in time for Halloween. 
Up first, obviously, we have the woman herself. Half-witch, half-mortal Sabrina Spellman is played by Kiernan Shipka. It's just about to be her 16th birthday, which means things are about to get extra witchy and extra complicated for the high school sophomore. Her boyfriend Harvey is played by Ross Lynch, and he's a nice guy who's got no idea what's actually going on in Greendale. Sabrina's friends are Rosalind (Jaz Sinclair) and Susie (Lachlan Watson), and they're all in the process of starting the cheekily named WICCA club. 
Sabrina's aunts Zelda and Hilda are played by Miranda Otto and Lucy Davis, and they're about as different as can be. Sabrina lives with them in a large funeral home, along with her English cousin Ambrose (Chance Perdomo), a mischievous warlock under house arrest. 
Michelle Gomez plays Sabrina's favorite teacher Ms. Wardell, who is also sometimes possessed by Madam Satan, and Richard Coyle appears as Father Lockwood, the high priest of the Church of Night. 
Sabrina's relationship with Harvey sounds like it may be threatened by a boy named Nicholas Scratch (Gavin Leatherwood), a young warlock at the Academy of the Unseen Arts who has "sparks" with Sabrina. And then of course, last but not least, there are the Weird Sisters, because even a magic high school has bullies. Agatha (Adeline Rudolph), Prudence (Tati Gabrielle) and Dorcas (Abigail Cowen) look down on Sabrina's half witch status. 
For the full character descriptions and chilling new pics, check out the full gallery! 
Chilling Adventures of Sabrina debuts Friday, October 26 on Netflix.