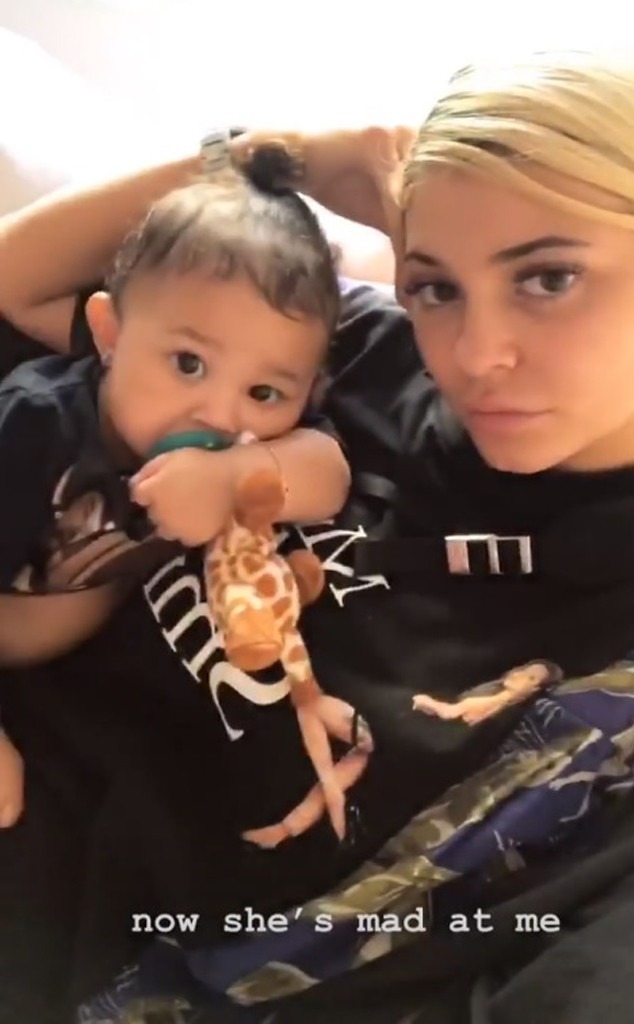 Instagram
Everyone needs their beauty sleep.
Stormi Webster's peaceful slumber was disturbed, and she apparently isn't very happy with her mom Kylie Jenner.
The Kylie Cosmetics creator shared photos on her Instagram story, revealing a before-and-after look at her daughter's nap. The first picture shows Stormi asleep in her car seat with stuffed animals in her lap. Kylie wrote, "I don't wanna wake her up."
She had to do it anyway. The next video shows Kylie and Stormi Webster sitting and posing together. "Now she's mad at me," the entrepreneur captioned it.
Last week, Stormi and her cousin Chicago West—the youngest child of big sister Kim Kardashian and Kanye West—enjoyed a slumber party together where they wore matching pink pajamas and snuggled on a cozy blanket. "My babies!!!!" Kim commented on Kylie's photo.
Stormi has been extremely present in her mom's Instagram stories recently. On Sept. 5, the mother-daughter duo hung out together while Kylie was getting pampered with foundation and makeup. "Holding onto my hair is the new thing," Kylie told the camera.
Last week, the reality star got candid during an interview with Glamour U.K. about having a baby and how it changed her. "Pregnancy completely changed my body at a super young age," she said. "But I really don't care."
In August, Kylie shared a video of herself on Snapchat showing off her toned core. "Abs making a comeback!!!!" she exclaimed.
The Keeping Up With the Kardashians star talked earlier in the summer about her body and getting adjusted to clothes fitting her differently. "It was such a great pregnancy and birth and like, I'm so happy and I would have done the same thing over again but like, you know, my boobs are definitely like, three times the size, which bothers me...I have like, stretch marks on my boobs. I feel like, you know, my stomach isn't the same and my waist is the same and my butt's bigger and my thighs are bigger, like everything," she explained in a YouTube video with her best friend Jordyn Woods.
Kylie is just on the precipice of becoming a billionaire and told Glamour U.K. that passing along her business to Stormi down the line would be "a cool thing to do."
Ultimately, the beauty star knows how to persevere through tough times, including her daughter being "mad" at her. She told the magazine, "Nothing has lasted so long that I haven't gotten through it, so whenever a new bad story or rumor emerges, I know it will pass, too. Everything in life is transient."
Keeping Up With the Kardashians returns this September, only on E!