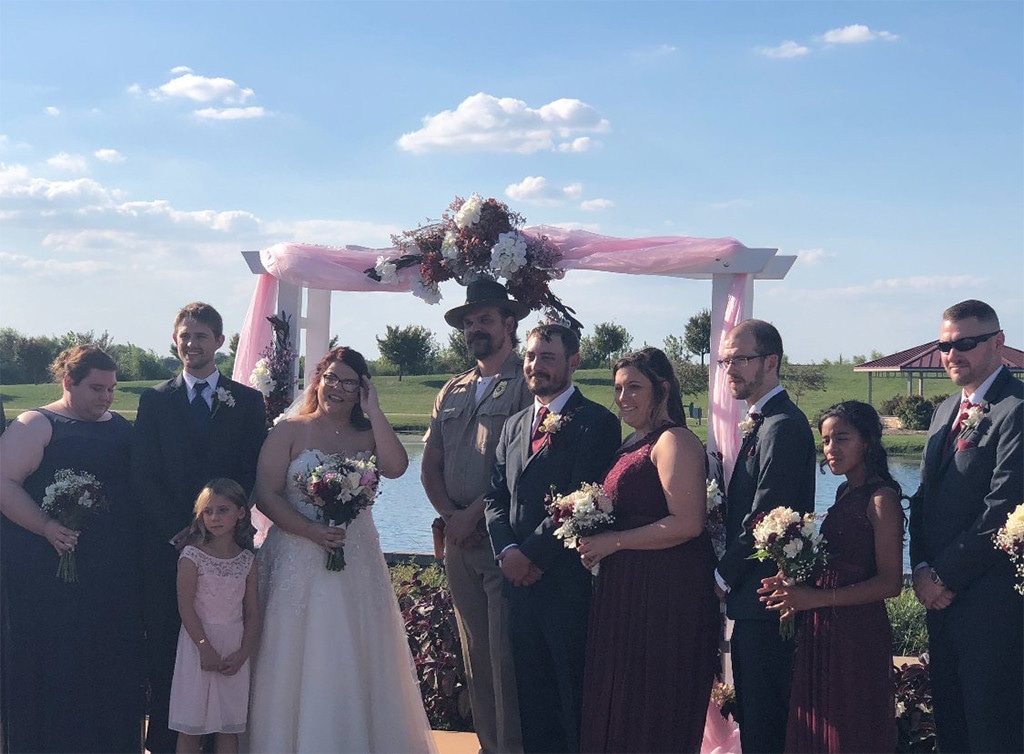 Twitter
Chief Hopper blesses this union!
In January, Stranger Things fan Ericka Millholland from Springfield, Illinois reached out to star David Harbour on social media and asked would take to get him to officiate her wedding to Daniel Rockwood in September. The actor's answer? 125,000 retweets...and the first slice of cake. Well, they got almost 132,000 retweets, so Harbour got ordained and performed her marriage ceremony this weekend—dressed as Chief Hopper, no less!
He posted a photo from the wedding on Twitter on Saturday.
"Hey internet. I know it's been awhile. I retreated. Needed some space. You probably get it. But I've been thinking about ya in the interim. And all your retweets. And so me and some fun folks in Springfield, Illinois made good on our promise we made all those months ago," he wrote.
The bride wore a strapless gown and the wedding was conducted by a lake, in front of an arch adorned with a pink ribbon and white flowers.
While Millholland is a big fan of Stranger Things, she told the Chicago Tribune in January that her then-fiancé has "never actually sat and watched the show," adding, "I'm going to sit down and make him do it."
This is not the first time Harbour has granted a fan's request on social media. In October, he agreed to take senior photos with a California high school student who reached out to him on Twitter.
"Voted most likely to hijack someone's high school senior photos 24 years later," Harbour wrote on Instagram.
Watch:
Millie Bobby Brown Dishes on "Stranger Things" Season 3