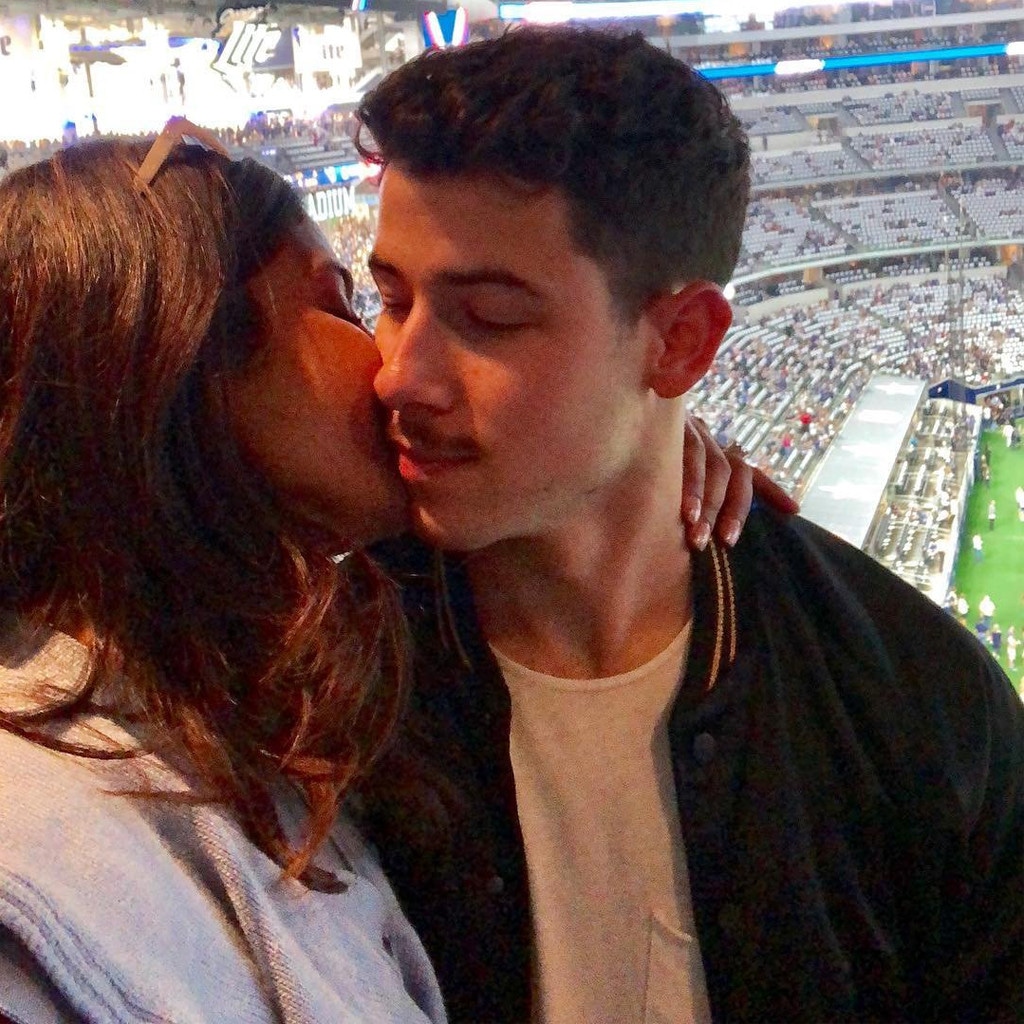 Instagram
UPDATE: Nick Jonas is ringing in his 26th birthday in Dallas, Texas at yet another sporting event. Nick's fiancée Priyanka Chopra shared a photo of her kissing his cheek at a Dallas Cowboys football game. Big brother Joe Jonas posted a video on his Instagram story of Nick eating a hot dog. He also uploaded a photo of Nick in front of a giant Coors Light with the caption, "Hey man, Joe here. Love your friendship & brotherhood. You kick ass. Thanks for being a fan. Love you."
Yesterday, Nick and his friends spent the day at a Los Angeles Angels of Anaheim baseball game where the singer performed a 10-song set afterwards on behalf of the organization Strike Out Slavery.
Happy birthday, Nick!
________
Nick Jonas is having a home run of a birthday weekend.
The singer, who turns 26 on Sunday, spent Saturday at Angel Stadium in Anaheim, Calif., which is where the baseball team the Los Angeles Angels of Anaheim play. The "Right Now" singer posted a photo to his social media accounts of him clad in red Angels apparel getting ready to take a swing at bat. "Baseball is cool," he captioned the picture of him.
Big brother Joe Jonas is visible behind the batting cage.
Nick's fiancée Priyanka Chopra stayed on photo duty during this moment. From the looks of it, the stadium was pretty empty with the exception of Nick's birthday crew.
The birthday entourage must have stayed at Angel Stadium all day because the Quantico actress shared an Instagram photo of a large group of people sitting in a box above the field. "Birthday Hang," she wrote.
Priyanka Chopra/Instagram
In the Instagram, Nick and Priyanka are surrounded by a large group of friends with a few of them, including Joe, inexplicably holding large wads of cash. Perhaps it's due to the Angels game tonight, who are playing against the Seattle Mariners.
The "Jealous" musician is playing a free post-game show tonight in honor of the organization Strike Out Slavery, which fights human trafficking. According to the organization's website, this is his second year performing on behalf of the cause.
Nick and Priyanka have been jet-setting across the world over the past few months, with excursions taking them from India (where they celebrated their engagement) to Mexico and Mammoth Mountain to New York.
Other than showing off his baseball abilities, Nick is also sporting something pretty new: a mustache. Perhaps that's just a temporary birthday look.
Either way, happy birthday, Nick!
(This story was originally published on Sept. 15, 2018 at 8:06 p.m.)