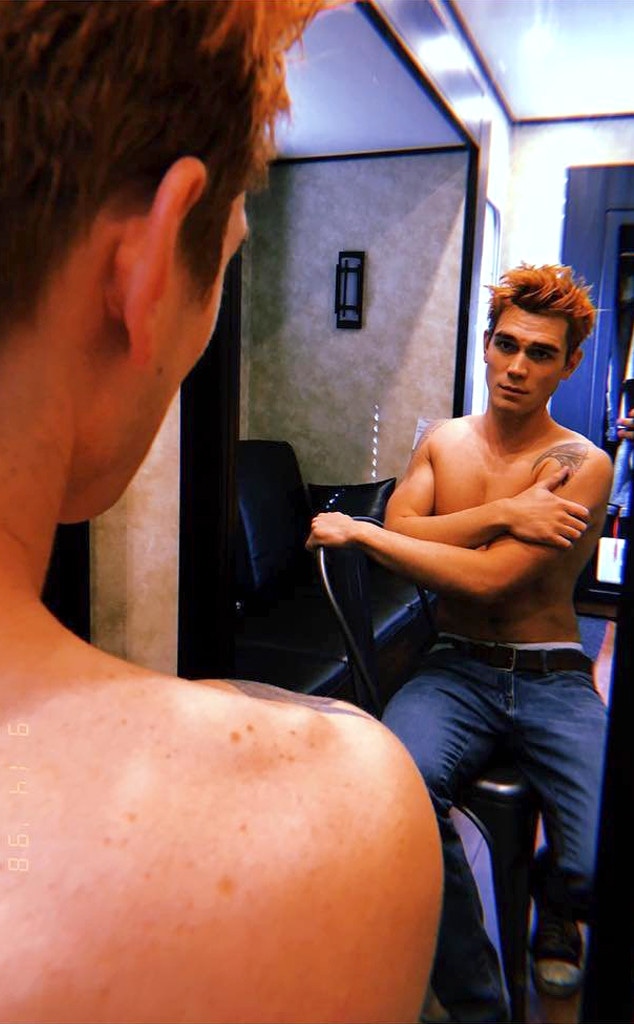 Casey Cott/Instagram
Sometimes life imitates art.
KJ Apa and Cole Sprouse play best friends on Riverdale and clearly have a similar relationship off-screen too. Apa loves trolling Sprouse, which he does quite often on Instagram. Not even Jughead's girlfriend Lili Reinhart is safe from Apa's tomfoolery.
On Thursday, Sprouse posted a picture on Instagram of Reinhart on her 22nd birthday. In the photo, the Betty actress stares into a mirror wearing nothing but black bottoms. Reinhart's arm covers her breasts. Sprouse captioned it, "Both the birthday and the gift. My little muse, happy birthday my love."
Naturally, Apa couldn't let his TV BFF walk away from this that easily.
Casey Cott, who plays Kevin Keller, teamed up with Apa for a new photo shoot. In Cott's Instagram upload, a shirtless Apa sits in a chair staring into a mirror with his hand covering his chest. Cott wrote, "Both the birthday and my gift. My little muse, have a good day my love."
Sound familiar?
Cott even copied nearly the exact same angle that Sprouse had on his photo. In both instances, Apa and Reinhart's shoulders and part of their backs are included in the photo frame.
In June, Apa posted a meme that was a side-by-side of the redhead and Sprouse with the words "KJ Apa and Cole Sprouse when they were actually 17." 
Apa still looks chiseled and toned in the picture, whereas Sprouse looks like he just walked out of the elevator at the Tipton Hotel on The Suite Life of Zack & Cody. "Man... I would have absolutely crushed you at age 17. Crushed," Apa captioned it.
Apa and Sprouse's photography fun is more than just memes and imitations. It turns out Archie is a pretty decent photobomber, too.
The actor shared a picture on Instagram that, at first glance, appears to just be a photo of Sprouse and Reinhart posing uncomfortably in their seats. A more zoomed-in version, however, focuses on Apa making a face directly between his-costar's heads. "No one is safe," he wrote.