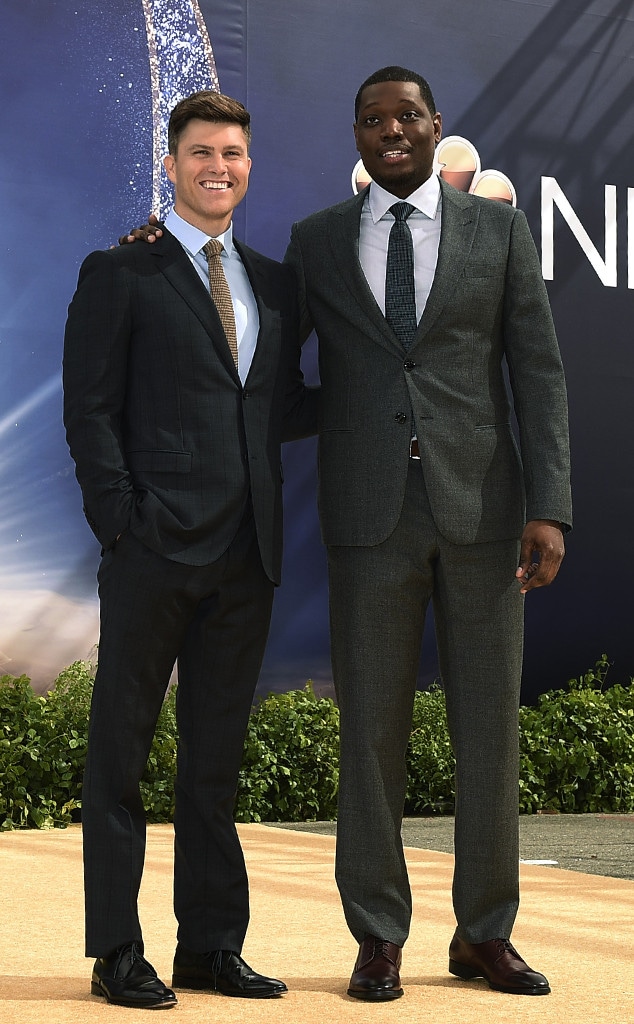 Kevork Djansezian/Getty Images
No, your eyes aren't deceiving you. The 2018 Emmys is really going for the gold. 
The Television Academy is ditching the traditional red carpet for one with a distinctly golden hue—and for a very special reason! Hollywood's biggest and brightest stars will walk across a golden carpet on their way into L.A.'s Microsoft Theater in honor of the highly-anticipated ceremony's 70th anniversary. 
"This isn't as gold as I thought it would be," co-host Michael Che joked while rolling out the carpet ahead of tonight's main event. "I was expecting a much tackier gold, but this is a reasonable gold." 
So what else have Che and his Saturday Night Live counterpart Colin Jost planned to make this year's Emmys its most unique yet? 
"It'll feel like a lot of the SNL family is there," Colin teased in a pre-Emmys interview with E! News, "and obviously a lot of the SNL cast so it will be fun."
Watch:
Michael Che & Colin Jost Wanted to Pass Out What at Emmys?
Of course, the Emmys is all about celebrating the greatest small screen performances from across the past year and to say the competition is stiff would be an understatement. 
Netflix leads the pack with an impressive 112 nods, followed by HBO with 108. Game of Thrones stands to take home 22 Emmy awards, while Saturday Night Live, Westworld and The Handmaid's Tale trail close behind.