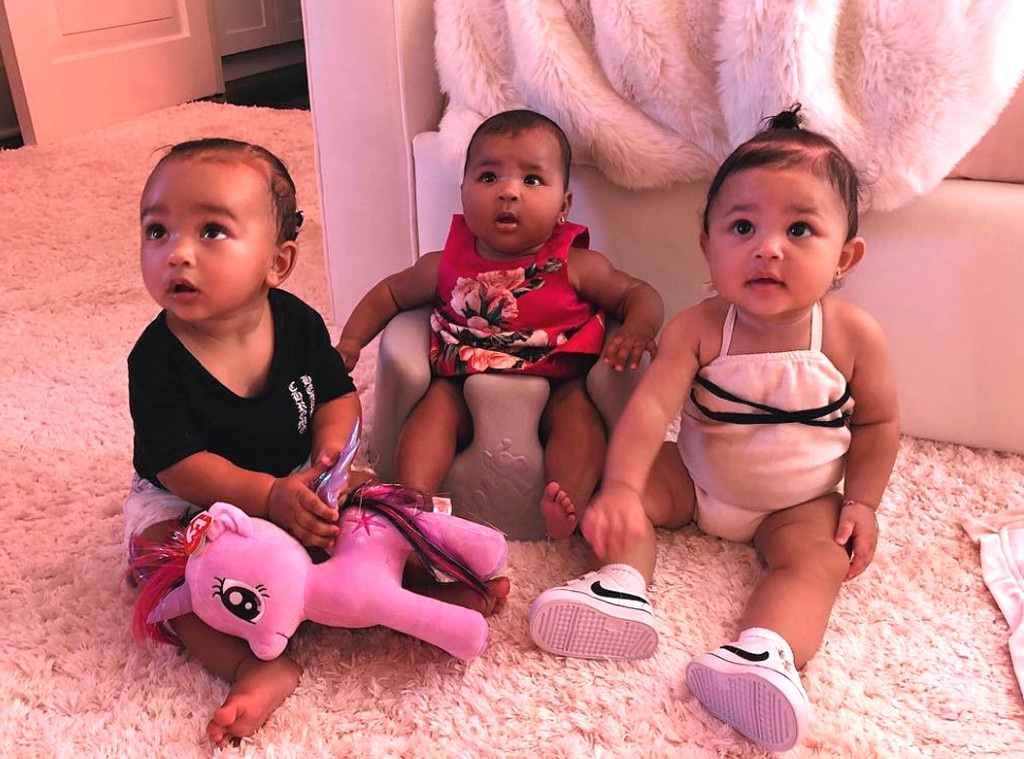 Kim Kardashian/Instagram
Introducing the next generation of Kardashians! 
Much to the delight of fans, Kim Kardashian took to Instagram on Friday with the first-ever photo of her, Khloe Kardashian and Kylie Jenner's little ones all together. The "triplets," as the famous family has dubbed them due to the close proximity in their birthdays, look absolutely precious during a recent playdate. 
Baby True—who was born in April and is the youngest of the trio—sits in a baby seat between cousins Chi, 8 months, and Stormi, 7 months. She sports a red, floral print dress, while Kylie and Travis Scott's baby girl rocks a pair of Nike kicks and Kim and Kanye West's third child keeps it comfy in a black tee. 
The latest aww-worthy snapshot comes soon after Kylie, 21, shared a photo of Stormi and Chi cuddling in matching pink pajamas during a "slumber party." Kylie flooded the comments section with heart eye emojis and Khloe commented "They are beyond." 
Eldest sister and proud aunt Kourtney Kardashian chimed in, "Give me on of them" and grandmother Kris Jenner commented, "DELICIOUS." 
Kim recently told E! News that she and her sisters have grown "even closer" since becoming mothers earlier this year. 
"I definitely feel like we are more connected now, especially that Khloe's back and we're hanging out with all the babies," she gushed. "All the kids want to hang out. It's just a whole different experience now. It's so much fun." 
Explained the E! reality star, "I know that if Kourtney's out of town, then the kids will sleep at my house and we'll plan these fun things where the kids always feel loved. We're always helping each other out."
Cuteness overload!