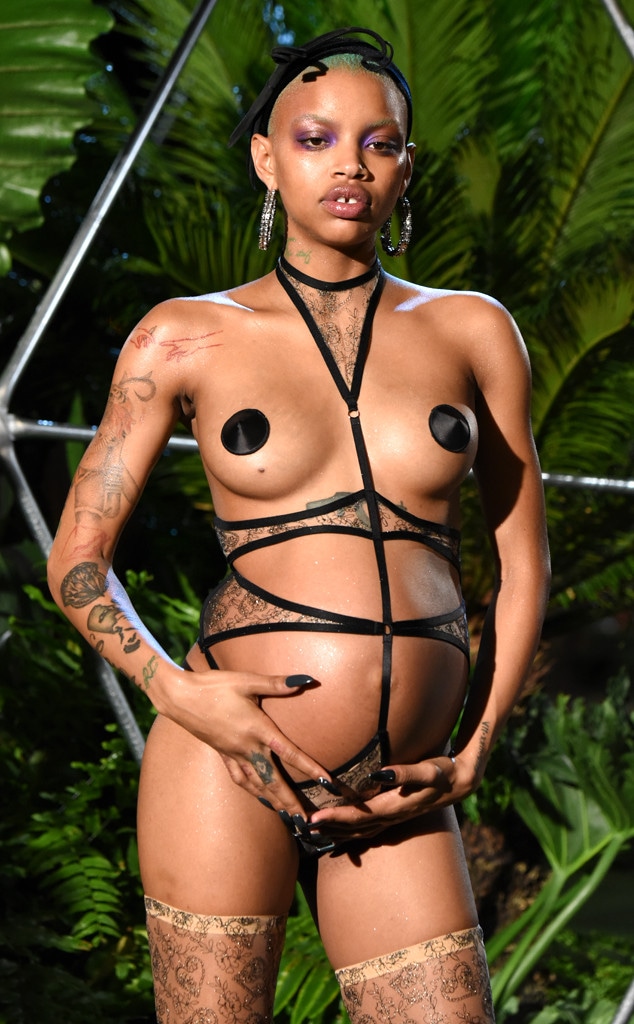 Albert Urso/WireImage
Congratulations to Slick Woods! The 22-year-old model has given birth to her first child with fellow model Adonis Bosso! The duo has welcomed a baby boy named Saphir.
Saphir's arrival comes just hours after Woods walked the runway (and went into labor!) at Rihanna's Savage x Fenty show at New York Fashion Week.
"A lewk, 14 hours of labor, and A king is born," Woods announced her son's arrival on Instagram Friday. "This is the face of a WOMAN in labor, we hold s--t down most of us don't even know how much we're going through, I'm here to say I CAN DO WHATEVER THE F--K I WANT WHENEVER THE F--K I WANT AND SO CAN YOU."
Michael Ostuni/Patrick McMullan via Getty Images
Woods went on to write, "Thank you @qualityresusqueen and the Fenty family for taking such good care of us."
In the comments of the announcement post, Woods is receiving tons of love from her model friends. "SLICK!!!! SENDING U ALL THE LOVE I HAVE!!!! BEAUTIFUL MOMMY!!!!!" Bella Hadid commented.
"CONGRATULATIONS ANGEL," Gigi Hadid wrote. "ANGEL IT WAS SO SPECIAL AND EMOTIONAL TO WATCH YOU!!!!!!!!!!!!!! SAPHIR KNEW IT WAS AN EPIC NIGHT TO ARRIVE !!!! Mamma is a queen. X."
"HOTTEST MAMA IN THE WORLD!!!!!!" Kaia Gerber commented. "Congrats Slick!"
The Savage x Fenty Instagram account also commented on the post, "YESSS!! Things you did: THAT!"
Two weeks ago, Rihanna took to Instagram to share a photo with Woods, captioning the post, "saphir, aunty can't wait to meet you."