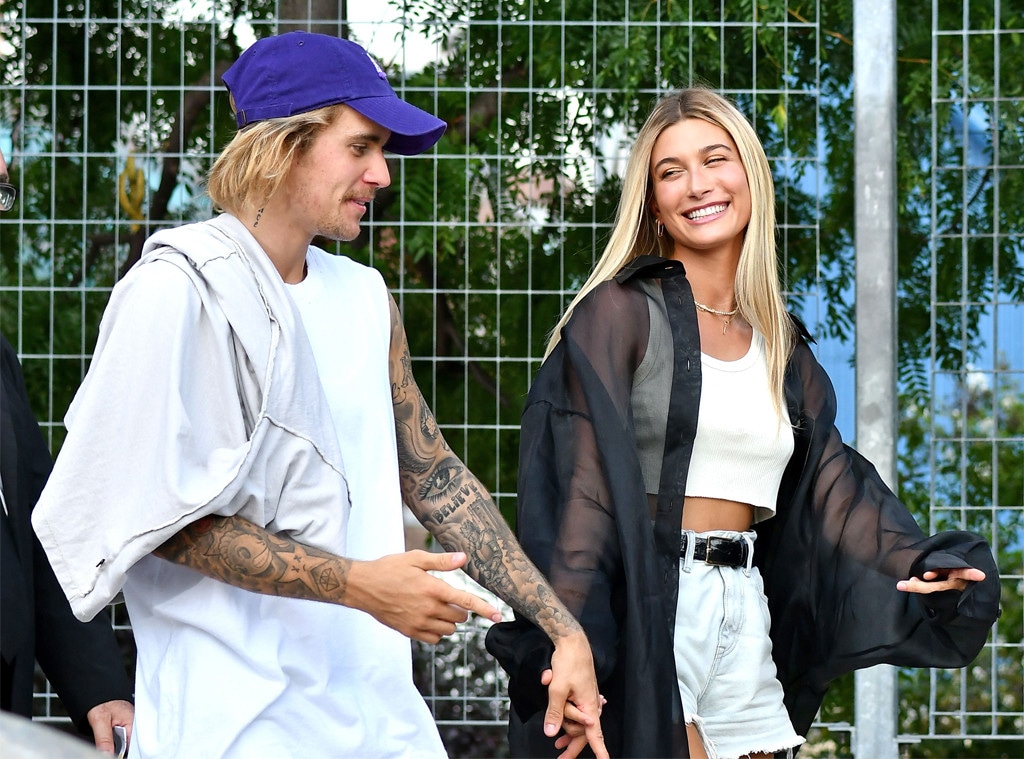 Rodin Banica/WWD/REX/Shutterstock
Despite some speculation, Justin Bieber and Hailey Baldwin did not get married on Thursday, E! News has learned.
That day, the 24-year-old pop star and his 21-year-old model fiancée were spotted inside the marriage bureau of a New York City courthouse, according to TMZ, which reported that Bieber was crying and said to Baldwin, "I can't wait to marry you, baby." Naturally, fans began speculating about whether the couple decided to forgo a big wedding and tie the knot right then and there.
A source told E! News that Bieber and Baldwin did not get married. Another source said the couple was there to obtain paperwork. The type of paperwork was not specified.
If they did pick up a marriage license application, the document, once filled out and submitted to the court, would be valid for up to 60 days. The two must then have a wedding ceremony either there in the office or anywhere in New York State within that time frame in order to be eligible to receive a marriage certificate. In addition, when a couple obtains a marriage license in New York, they must still wait 24 hours before they can have a wedding.
The two got engaged during a trip to the Bahamas in July amid a whirlwind rekindled romance. E! News has also learned that Bieber and Baldwin maintain plans to have a wedding in 2019. They are still looking at venues, one source said.
Baldwin told The Cut in comments posted on Thursday that she has an amazing wedding planner scouting out the perfect spot, preferably on the West Coast. 
"I just picture lights strung everywhere," Baldwin said. "I think having it in the woods would be so beautiful."
It is not unusual for U.S. couples to marry in states other than where they obtained marriage licenses or even abroad; they typically have one wedding with family and friends in their chosen destination and a smaller, official ceremony at a courthouse where the marriage is registered.
Watch:
Justin Bieber Spends Time With Hailey Baldwin's Dad
Baldwin also told The Cut that she has also chosen a wedding dress designer.
"My sister will be my bridesmaid," she added. "I was hers last year. And maybe Justin's little sister as a flower girl. Is 10 too old?"
Baldwin appears to be unbothered by the fact that she is considered to be a young bride.
"My sister was 24 when she got married, and my parents also got married when they were young, too," she said. "I see no reason to wait. When you know it's right, it's right."