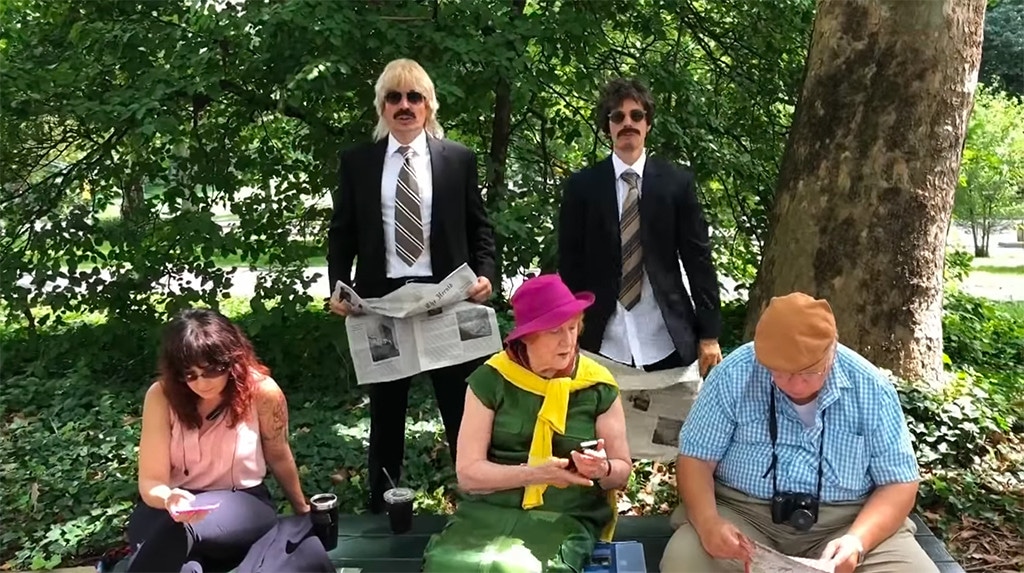 YouTube
A lot of unusual things go down in Central Park, but this takes the cake.
On last night's special episode of The Tonight Show, Justin Bieber and Jimmy Fallon went incognito, disguising their famous faces with dark sunglasses, fake mustaches and bushy wigs. No one was safe from their shenanigans as they roamed the park, interrupted picnics, crept up on strangers and performed a choreographed routine to Bieber's hit single "What Do U Mean?"
Whether they were flossing or photobombing, Bieber and Fallon kept the ruse going for hours until they finally revealed their true identifies at Bethesda Fountain. Fans went wild once their secret came out, and the 24-year-old singer and the 43-year-old host happily took a few selfies.
In the same episode, Fallon interviewed Blake Lively, who was promoting her new movie, A Simple Favor, and Carrie Underwood, who sang "Love Wins" from her new album, Cry Pretty.
Fallon had partnered with T-Mobile to bring fans to New York City for the special event.
"This collaboration represents the ultimate partnership through massive content collaboration and influencer talent, combining a cutting-edge, disruptor brand like T-Mobile with two of the most iconic names in late-night, Jimmy Fallon and The Tonight Show," Linda Yaccarino, chairman of advertising and client partnerships at NBCUniversal, announced in mid-August. "We're bringing T-Mobile customers and our audiences at home the unrivaled experience that only the scale of NBCUniversal can offer by tapping into the comedic genius of Jimmy Fallon."
Next week, on Sept. 19, Night School star Kevin Hart will join Fallon as a Tonight Show co-host.
(E! and NBC are both members of the NBCUniversal family.)