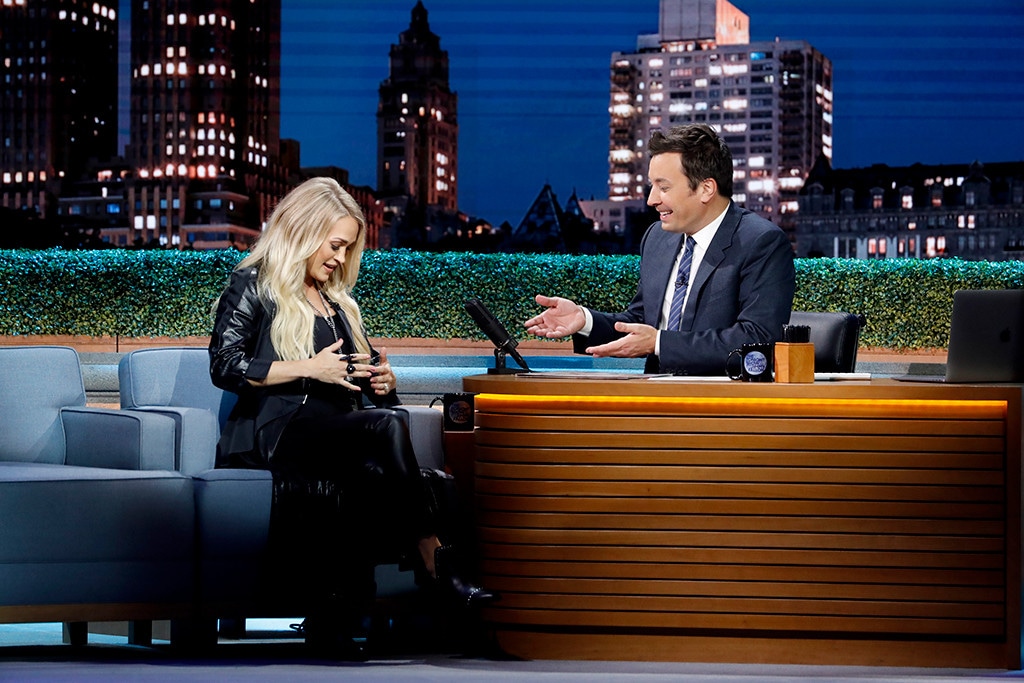 Andrew Lipovsky/NBC
To be clear, Carrie Underwood isn't a stage mom.
But if the country music superstar gets her way, her toddler son Isaiah Fisher will one day follow in her musical footsteps. Underwood was a guest on The Tonight Show's special Central Park episode Thursday, where she talked to Jimmy Fallon about Fisher and her second pregnancy. "He's absolutely amazing," the singer said. "So, we're excited to add to the family."
Underwood said she doesn't think her son "for real" understands what's coming up. "I mean, he'll be really sweet—he'll talk to my belly and kiss my belly. He's the sweetest little boy. But I mean, no kid can really know that their life is going to change. He'll just have to share mommy."
Underwood and her hockey player husband want him to feel involved, so they asked him to suggest some names for his sibling. "He did say Isaiah Michael Fisher, which is, of course, his name—which, of course, would be confusing. We tried to explain that," the "Love Wins" singer said with a laugh. "But he wants to name everything his name because he thinks that's special."
Fallon then asked Underwood if she ever listens to her son sing, to see if he inherited her vocal abilities. "I try. Is that wrong? I'm judging my 3-and-a-half-year-old child to see if he can sing," she said. "If he is not musically inclined, that is fine. I'm excited to find out what he loves and what his passionate about and good at, and I will support that...but I really want him to sing!"
When Fisher does sing, Underwood said, "He wants his songs. He says, 'Can I hear my songs?' Which is usually, like, theme songs. He's kind of been into stuff I grew up watching, like Fraggle Rock and DuckTales. It's all him! We'll discover something when we're trying to find something on YouTube on a plane or something to keep him occupied, and he'll discover the classics."
Watch Fallon and Underwood sing the DuckTales theme song in the video now.
Underwood's new album, Cry Pretty, is available to download and stream everywhere now.
(E! and NBC are both members of the NBCUniversal family.)