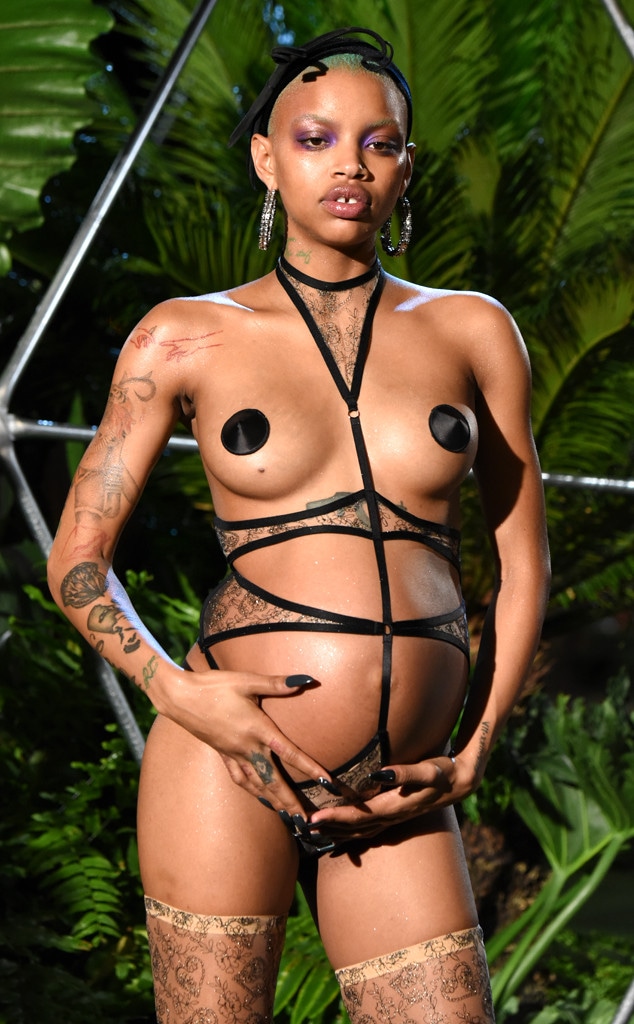 Albert Urso/WireImage
From the runway to the maternity wing! 
Moments after mom-to-be Slick Woods walked in Rihanna's Savage x Fenty show at New York Fashion Week on Thursday night, E! News has confirmed she went into labor. TMZ, who was first to report the news, says the 22-year-old model was taken to the nearest hospital by paramedics as soon as she stepped off the runway. It's unclear if Woods has given birth to her and fellow model Adonis Bosso's baby boy, who she previously shared would be named Saphir. 
And even if Woods was experiencing painful contractions, she didn't let it show as she posed during the jungle-themed show wearing nothing but lace lingerie and pasties
Aside from the apparent excitement backstage, Rihanna's latest collection of size-inclusive intimates is being heralded as one of the more groundbreaking moments from this year's NYFW extravaganza. Models of all different body types and clad in corsets, nighties and bodysuits were cast in the pop star's runway show. 
Rihanna explained why she wanted Slick to model her designs, telling E!'s Zanna Roberts Rassi, "Women are the strongest people on earth. Our bodies alone are made to do so many different things and they're designed in so many different unique ways. If you have the blessing to be able to bring life into this world it should be celebrated as well."
"I'm never going to tell a woman she can't have job with me because I can't have a pregnant lady [modeling] lingerie or makeup," she added. "I'll always celebrate women in all of their journeys." 
Talk about a memorable birth story! And who better to help welcome you into the world than Rih-Rih herself?