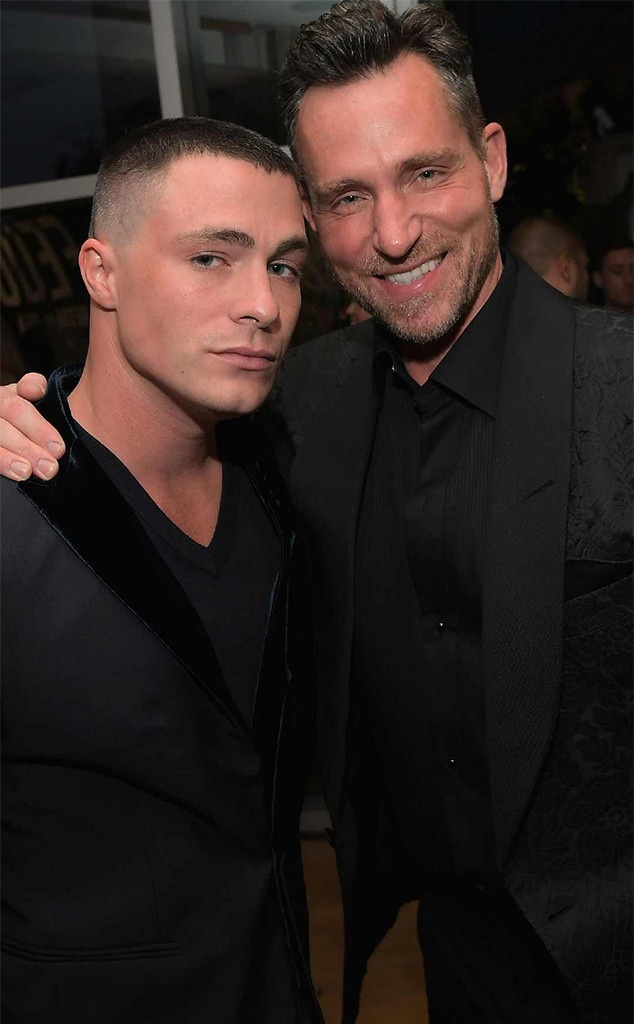 Charley Gallay/Getty Images for Vanity Fair
Are Colton Haynes and Jeff Leatham back together? It's complicated.
In May, the actor filed for divorce from the 47-year-old floral designer after six months of marriage. In July, Leatham visited Haynes in Vancouver, where he was filming Arrow, and celebrated his 30th birthday with him there before the two flew back to Los Angeles together. Both have been seen wearing their wedding rings lately.
"They aren't officially back together but they are trying to figure things out and headed in that direction," a source told E! News on Thursday. "They are spending time together and really want it to work out. They love and care about each other immensely and would love to find a way to make it work. They aren't rushing to make it official and are just taking their time working on their relationship. Things are a lot better and its going well for them."
A second source told E! News that Haynes and Leatham are not dating other people and don't currently live together but have been spending a lot of time at each other's places. The two are continuing to talk and spend time together, and have been since the beginning of summer, the source said, adding that the two have traveled together this season. 
The source told E! News that Leatham never wanted to split with Haynes and "has always kept his foot in the door despite Colton wanting to shut him out at times."
Haynes suffered a devastating loss in March; His mother, Dana Haynes, passed away after battling advanced cirrhosis of the liver and kidney failure. An insider had told E! News in July that Haynes' friends believe he "impulsively ended things with Jeff too soon as a result of his grief and is now considering reconciling."
"Colton has continued to go through rough patches since his mother's death but he is getting better day by day and as he continues healing from his loss. He is realizing that no one will love him like his mother, but no one will love him like Jeff has as well," the second source told E! News on Thursday.
"Colton has recently become more honest with others and himself about having Jeff back in his life," the source said, adding, "Colton is in the best place he has been in in months and has been reconnecting with several old friends and hanging out with his longtime social circle regularly once again."
In July, Haynes said on Anna Faris' Anna Faris is Unqualified podcast, "I'm learning right now. I'm going through something and I'm learning to be more positive and learning that the basic thing is people change. People can become super positive. I have to accept that because I'm a little negative. But if you're happy, you're happy."
"I'm not trying to get emotional but I'm going through some s--t right now," he added. "I'm very candid so I say what I feel and that's life."
Back in April, it was announced that Haynes would return to the CW series Arrow as a series regular after departing the show in 2015.
"Returning to Arrow has been particularly good for Colton and giving him something to look forward to and be excited about," the source told E! News.