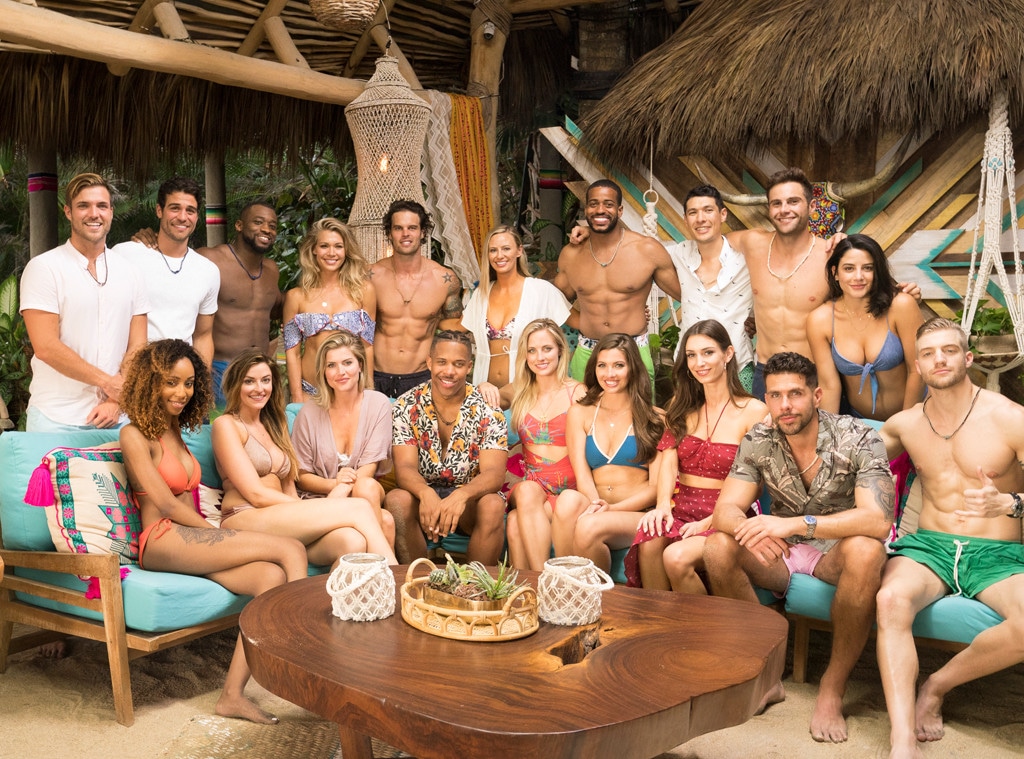 ABC
Scenic ocean vistas, stupidly romantic dates and all the roses, tea lights and all the copious glasses of champagne one could hope—Bachelor in Paradise is literally designed to get attractive people to fall in love with each other during it's ramped up two-week taping window. 
And while that single-minded focus on finding a partner can seem euphoric for those that while away their days on the Mexican beach making out in palapas and exchanging roses, those left on the outside looking in are left to feel more alone than ever, as if being unable to connect with one of eight or so people in a matter of hours means you're destined to be alone forever. 
As a rejected Chelsea Roy said just moments before the realization she was being sent home pushed her into a panic attack, "This process is not easy. There's a lot of pressure. It sucks to be leaving without love because I came in very hopeful for it. I know that I deserve love. Why do I keep failing?" 
Of course, she's not failing. Far from it. For every Jade Roper and Carly Waddell who fly out of Paradise with a sparkly new Neil Lane diamond on their left hand, there are dozens more that leave with little more than sunburns and dampened spirits. (Not to mention couples such as Lace Morris and Grant Kemp whose engagements flame out like so many Bachelor pairs before them.) And many of those brokenhearted hopefuls go on to find what they're looking for—that ever elusive true love—back in the real world where the selection is plentiful and the dates don't come with time limits. (Or helicopters, which is kind of a bummer, but ultimately something you can cope with.) 
Better yet, absent the pressure to propose, like, tomorrow, relationships can unfold at whatever pace they're supposed to happen at. And that, that's where the real magic happens. 
Of course, right now, all of that is probably cold comfort to Jordan Kimball.
The beloved Bachelor in Paradise vet watched his happily ever after unravel in the matter of hours after blogger Reality Steve shared three screenshots allegedly from his fianceé Jenna Cooper. Purportedly texting a mystery suitor about her relationship with the male model, she wrote, "Me and Jordan aren't even together for real. I don't even like him let alone love him."
Hopes dashed, Kimball took to Instagram to share that even though Cooper had denied the claims, he was "removing" himself from their months-long romance. "It seems very real and I got to go with what my intuition says right now," he later shared on the blogger's podcast. "And that the fact I feel like this isn't something that isn't made up.
As he summed up, "It's looking like I got played and once you get played the last thing you want to do is get fooled as well." 
It's doubtless his costar Annaliese Puccini is feeling a little played herself. She had imagined a forever of her own with her Paradise paramour Kamil Nicalek—we're talking marriage, babies, the whole lot—only to be dumped mid-reunion by the real estate agent, who apparently took lessons from the Arie Luyendyk Jr. school of how to break up with people. The season's most hopeless romantic was left crushed and without a place to say during her planned weeklong trip to L.A. (Though thankfully Airbnb stepped in to fill that void, gallantly offering her a "free stay with your best friends.")
Shelter concerns aside, though, as she stammered on the reunion, "I feel, like, just empty." 
The good news: It's a feeling that's likely to fade.  
Consider the story of Alexis Waters, who served mainly as comic relief on Nick Viall's Bachelor season (she later admitted, "I didn't really like Nick") and whose ensuing appearance on Bachelor in Paradise last summer was woefully brief. The good-natured aspiring dolphin trainer dusted herself off, headed back to New Jersey and within no time her show pal Rachel Lindsay was introducing her to the man she now calls "my future husband." 
One year removed from disappointment, she's experiencing all out bliss, tweeting Wednesday, "I can't believe I'm moving in with a boy.....what is life?"
Same goes for Tenley Molzahn, a runner up for Jake Pavelka's heart. Her Paradise romance with Joshua Albers wrapped prematurely but after delving into dating in the real world, a friend of hers set her up with sandal company category manager Taylor Leopold, a person she's described as "the answer to some of my heart's greatest prayers and deepest desires." 
This past April, the duo wed in front of 77 guests in San Marcos, Calif. As the holistic nutritionist gushed to Martha Stewart Weddings, "It was the best night of our lives, beyond anything we could have ever dreamed of."
So, you know, basically as they say, it gets better. And there are countless other stories with similar happy endings. 
Fan favorite Bekah Martinez, who was spurned by Luyendyk actually skipped the stopover in Paradise and is now 20 weeks away from welcoming a baby with boyfriend Grayston Leonard. 
And while they're seven month romance is an eternity by Bachelor standards, she's not expecting him to hit up Neil Lane anytime soon. "It's a horrible idea for us to consider with all of the hormones and the stress we're experiencing," she shared with Pure Wow. "The last thing we need is to consider another commitment on top of what we're already going through...Regardless, we're bound together by sharing this little life."
She's pretty pleased with where their, ahem, dramatic journey has taken them thus far. Her pregnancy is "legitimately a dream come true," she said. "It's the one thing that I've known with certainty for so long. I've gone back and forth on the idea of marriage and relationships, but I've always felt sure that I want to be a mom."  
Entering the pseudo fraternity that is Bachelor Nation provides entree to a large group of attractive 20- and 30-somethings who have already shared their desire to settle down. So many a match has been made off camera at any one of countless events show alumni tend to pop up at. (See: Chris Lambton and Peyton Wright.) And in some cases, time spent on the show sends contestants careening back to old loves or longtime friends. (Exhibit A: AshLee Frazier, who after crying over Sean Lowe and Graham Bunn found a husband in pal Aaron Williams. The duo are now parents to newborn daughter Navy Lee Williams.)
And then there's the case of Wells Adams. 
His first two stints on the soapy summer spin-off led him to a choice bartending gig and one remarkably steamy kiss from pal Danielle Maltby, but nothing resembling lasting love. And yet not long after he packed up his glassware last summer, none other than Sarah Hyland slid into his DMs. 
"They are a couple," an insider told E! News at the time. "Wells like that she is goofy like him and they are always cracking jokes together—it's cute." 
Fast forward a year and he's decamped from his home in Nashville to share her Los Angeles pad and the pair couldn't be happier about their permanent Fantasy Suite setup. "I think it's brought us closer," the Modern Family star said while attending Variety's Power of Young Hollywood event last month. "I don't think it's been long enough to discover pet peeves in each other." 
Show stalwart Chris Harrison is so confident in their coupling—he said he got the lowdown from Adams while in Mexico—that he's already offered up his wedding officiating skills. "They are an amazing couple and are crazy in love with each other. They are both quirky, goofy and funny," the host told E! News at the City of Hope poker tournament. "I don't know when this [engagement] is going to happen, but it will happen. If there is a couple I root for, it's them." 
So it's not so much that love can blossom outside of Paradise's air conditioning-free huts as that it does and it will. And when Kimball finds the next woman who leaves him willing to abandon his thousands of Tinder matches, we're betting Harrison would still be game to pronounce them husband and wife.