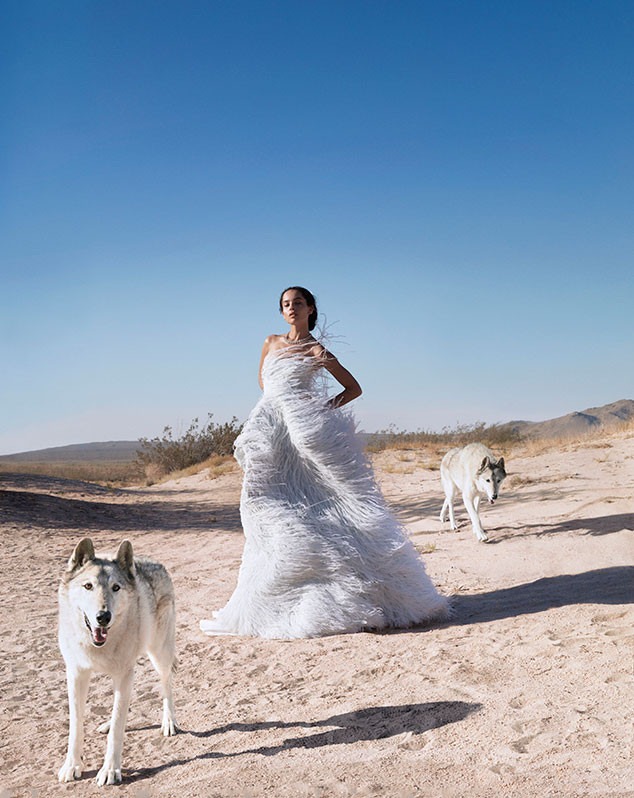 Camilla Akrans
Zoë Kravitz has become one with the wolves. 
As fans may be surprised to learn, the 29-year-old Big Little Liars star grew up around the animals. "My mom loves them," she told interviewer Reese Witherspoon of her famous mama, Lisa Bonet. "When I was a kid, we had a half-wolf, half husky and a malamute. I grew up with these big dogs, and they were my pals. So it wasn't completely foreign to me, which is funny. Now my mom has two wolf dogs. They are like full-on wolves, they live in this big beautiful pen on the property, and she just has this wonderful connection with them."
Thanks to the childhood experience, it sounds like the stylish star felt right at home with her unique co-stars for her Harper's Bazaar October cover shoot. To add to the natural aesthetic of the shoot, Kravitz also went completely unretouched in the photos which, as her famous interviewer pointed out, "would be more frightening than facing a pack of wolves" for some stars. 
However, the lack of retouching brought out Kravitz's fear of something else. "I was a little scared when they told me. What scared me most was that I was scared about it. That made me sad," she said in the magazine interview. As Kravitz has learned, retouching can also spur some larger questions. "I did a cover of a magazine once and noticed that my eyes were this beautiful hazel-green color, which would be great, but they're not that color!," she recalled. "I've seen my hands be changed before. It makes you think, 'What's wrong with my hands? Or my eyes?'"
While she waits for Hollywood to catch on, the actress continues to own her identity for her sake and the sake of others.
"I meet all these beautiful, young brown women with braids who feel a connection to me. I'm sure it feels good to see someone you can connect to in the media," she told Witherspoon. "When I was growing up, almost everyone I saw in a movie was white and blonde and had big boobs. Not that that's not okay, but eventually you wonder, 'Am I alone out here? Am I not desirable or interesting?'"
While she works to end those questions, the star is also fighting for accurate representation in film. 
"I'm not necessarily trying to point the finger at anyone. I just want to make these writers, most of whom are probably white, aware of the things that affect me and likely affect other people as well. I'm trying to speak my mind and shift things so Hollywood can be more conscious about things," she told her co-star. "My biggest pet peeve is when I read scripts that have character descriptions like 'Stacy, 22, perky,' then you get four pages in and see, 'Sarah, 22, African-American,; which makes it clear that everyone else is white."
But, thanks to the efforts of many, things are starting to improve. As an example, Kravitz cited her upcoming role—which was originally written for a man."In the script, it's still a man. I think it's so cool that they didn't feel the need to change it. They just said, 'It's a man, but it'll play the same.'"
As the star perfectly summed up, "I as a black woman with braids and tattoos shouldn't only be able to play a hippie; I should also be able to play a lawyer or a doctor or a comedian or whatever it is! Gay, straight, all the things. We should start opening our minds about what it looks like to be a person living in 2018."
The October issue of Harper's Bazaar hits newsstands September 25.