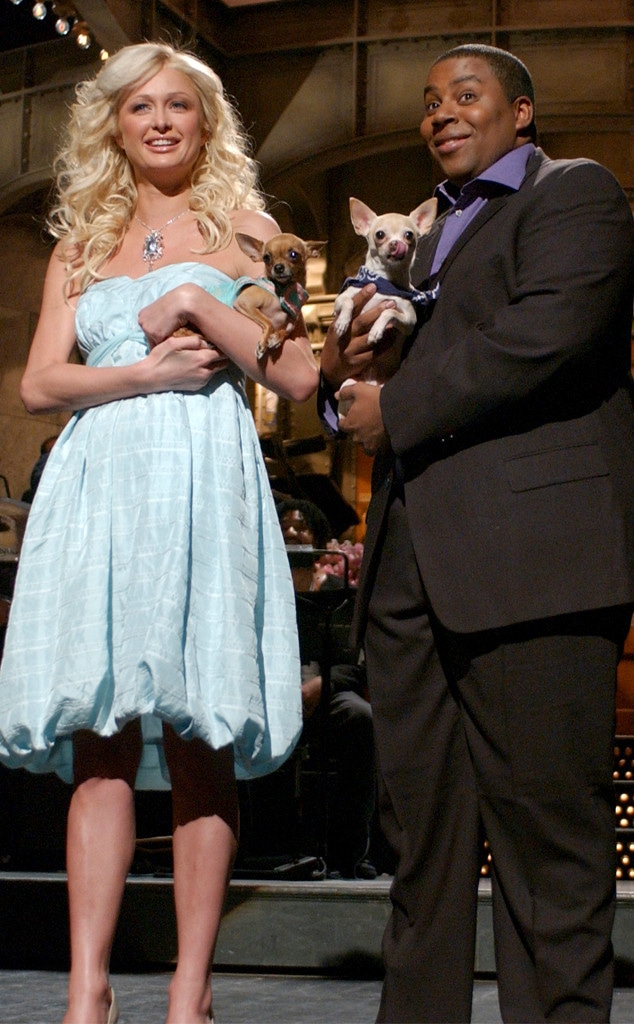 Dana Edelson/NBC/NBCU Photo Bank via Getty Images
Saturday Night Live stars had a bet going on about Paris Hilton when she was a guest host.
The 37-year-old heiress had hosted an episode of the NBC sketch comedy series in 2005, when The Simple Life, her reality show with Nicole Richie, was on the air. Former SNL actress Maya Rudolph insinuated on former co-star Seth Meyers' show Late Night With Seth Meyers on Wednesday that Hilton could not have been less interested in getting to know the cast.
"So no one could really get Paris Hilton, our host, to engage in any personal conversations. We realized she hadn't asked any of us a personal question and [Meyers] said, 'The first person she asks a personal question, I'll give a hundred bucks,'" Rudolph said. "Didn't ask one person."
"No," added fellow SNL alum Fred Armisen, leader of Late Night's house band the 8G Band. "No, right?"
"The whole week," Meyers said. "I thought she did."
"No, she got close and she asked Jodie, 'Is Maya Italian?'" Rudolph said.
Hilton has not commented on their remarks.
Dana Edelson/NBC/NBCU Photo Bank via Getty Images
During the SNL episode in question, the three had starred with Hilton in an sketch about now-President Donald Trump and his family. Then-cast member Darrell Hammond played him, while the heiress played his wife and First Lady Melania Trump and Armisen, Rudolph and Meyers played his children Donald Trump Jr., Ivanka Trump and Eric Trump.