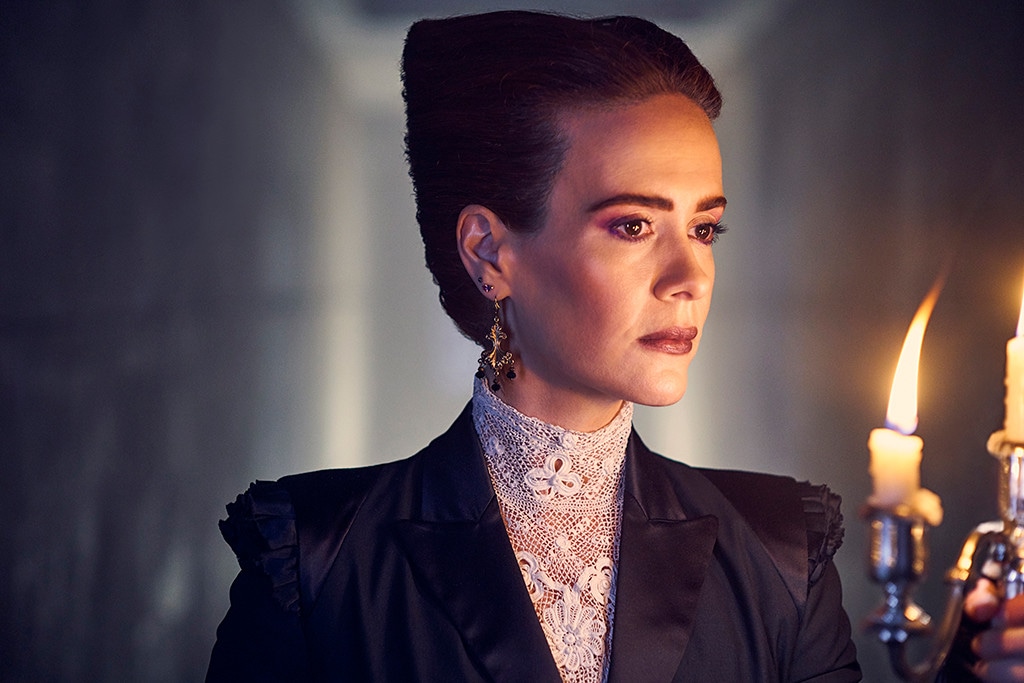 FX
The world has officially ended, and Apocalypse is here. 
We didn't quite know what to expect from this alleged crossover between Murder House and Coven, but we definitely didn't anticipate a kind of YA dystopia taking place after nuclear bombs have wiped most life off the earth. As the bombs went off, we met two teens, torn from their families for their special DNA and sent to live in a creepy bunker, where people are divided into Purples and Greys. The Purples get to live a life of luxury while the Greys have to do all the work, all under the direction and terrifying glares of Ms. Venable (Sarah Paulson) and whatever Kathy Bates' name is. 
Mallory (Billie Lourd) was a Grey, but her socialite/aspiring social media influencer boss Coco (Leslie Grossman), the hair stylist played by Evan Peters, the two teens with special DNA, and Joan Collins were all Purples. 
After one Purple was murdered (and probably made into stew?) for somehow exposing the group to radiation (which would be bad for a stew), we learned that Ms. Venable and Kathy Bates were just making rules up for themselves, and not under orders by their bosses at The Cooperative, who didn't even know what they were up to. And with that, we knew we had absolutely no idea what was going on, nor probably would we at any point. And honestly that's just how we like our American Horror Stories, so we're here for it. 
At one point, the song that had been playing for two weeks straight (since the bombs) switched to a new song, and everyone believed they were in for a rescue. After a kind of comical "Eighteen Months Later," it became clear that no rescue was coming, no new song was going to play, and they were about to run out of food.
Then, someone new showed up. It was Michael Langdon (Cody Fern), the anti-christ baby from Murder House, now all grown up with flowing Connie Britton-esque locks and two horses not long for this world. He explained to Ms. Venable that he knew of a better bunker with enough supplies to last a decade, but he had to first determine who, if anyone, was worthy of survival. 
And so that's where we are. Confused, uncomfortable, with no idea where this is going or if we'll ever see Billy Eichner again. Would Michael Langdon deem us worthy of survival? Are all the ghosts still trapped in the house in the apocalypse? Why did some people pay to join Ms. Venable's outpost, like Coco, while others were dragged there for their DNA? 
Never have we been so anxious for another Wednesday. 
American Horror Story: Apocalypse airs Wednesdays at 10 p.m. on FX.