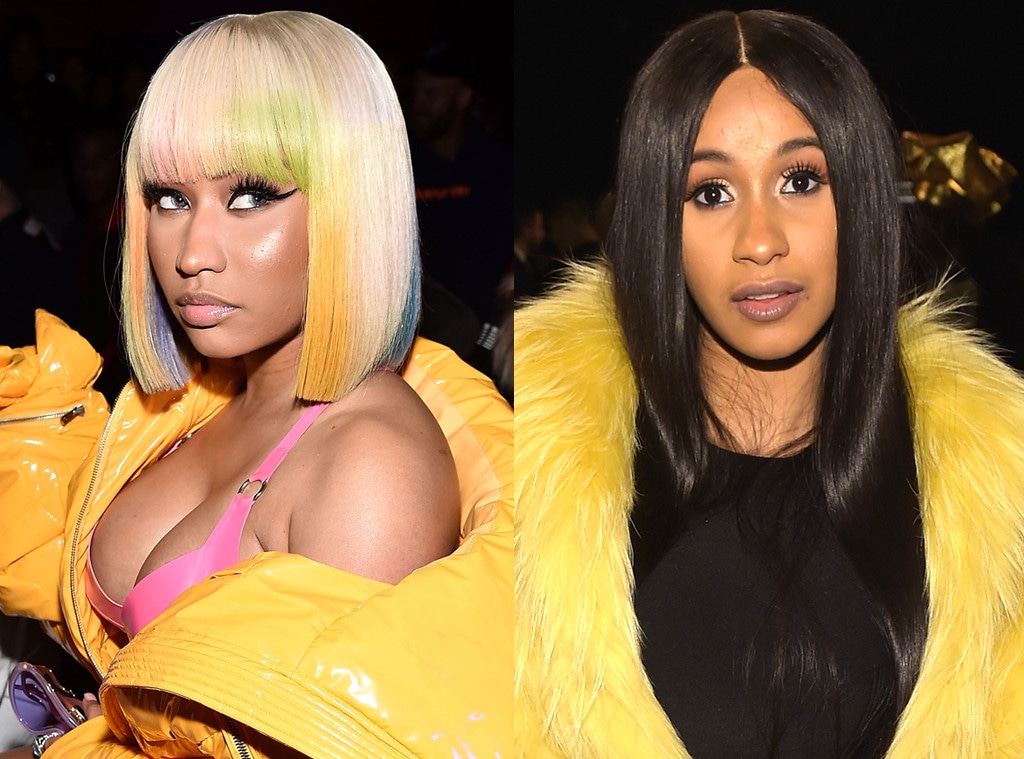 Jason Kempin/Theo Wargo/Getty Images
The Cardi B and Nicki Minaj feud wages on.
Following their fight at fashion week, Cardi B took aim at her nemesis in a thinly-veiled reference on Instagram on Wednesday. "NO LABEL ,NO RADIO PLAY,FRESH OUT OF LOVE AND HIP HOP,ONLY 200K IN MY BANK ACCOUNT ,MY FIRST TOUR !!!nobody can make you feel like you cheated yourself or you don't deserve to be where you at when you KNOW YOU WORKED YOURSELF TO THE TOP," she wrote alongside a video of a crowd singing "Bodak Yellow" in 2016. 
And on Tuesday night, the "I Like it" rapper shared a video of the audience at the On The Run II tour singing along to her chart-topping song, which made people wonder if Beyoncé and Jay-Z were showing support for the artist.
However, on Wednesday morning, Beyoncé seemingly confirmed she was sticking by her girl Nicki by posting a photo of the artist's mug shot in the background of her concert to her website. Or, at least, that's what the Beyhive believes.
It is unclear if Beyoncé's move was intentional since the photo has been featured alongside mug shots of Snoop Dogg, Kimora Lee and 50 Cent, as well as Jay Z's, since the start of their tour. However, this is the first time the star has shared the photo to the official website. One Twitter user pointed this out, writing, "This was her first concert since Nicki was attacked and that pic of Nicki is shown during every show, but now she put it on her website as a message of solidarity."
Admittedly, it is confusing how people could interpret the mug shot as an indication of support, but some believe the picture is used as the backdrop to "99 Problems" because of it's political symbolism. Even Nicki was honored by the use of her photo. In June the rapper wrote, "When Jay asks for your mug shot for his tour backdrop," alongside a photo of the OTR II show. 
The two female rappers have been feuding for quite some time, which all led up to the brawl at the Harper's Bazaar ICONS event at New York Fashion Week. Since then their fight has become a public one, with each rapper making slights at the other. 
Just yesterday, Minaj vented her emotions about the spat on Queen radio for nearly three hours. "The other night, I was a part of something so mortifying and so humiliating to go through in front of a bunch of upper echelon people," she admitted. 
Let's hope this feud simmers down before the Queen Bey herself has to get involved.