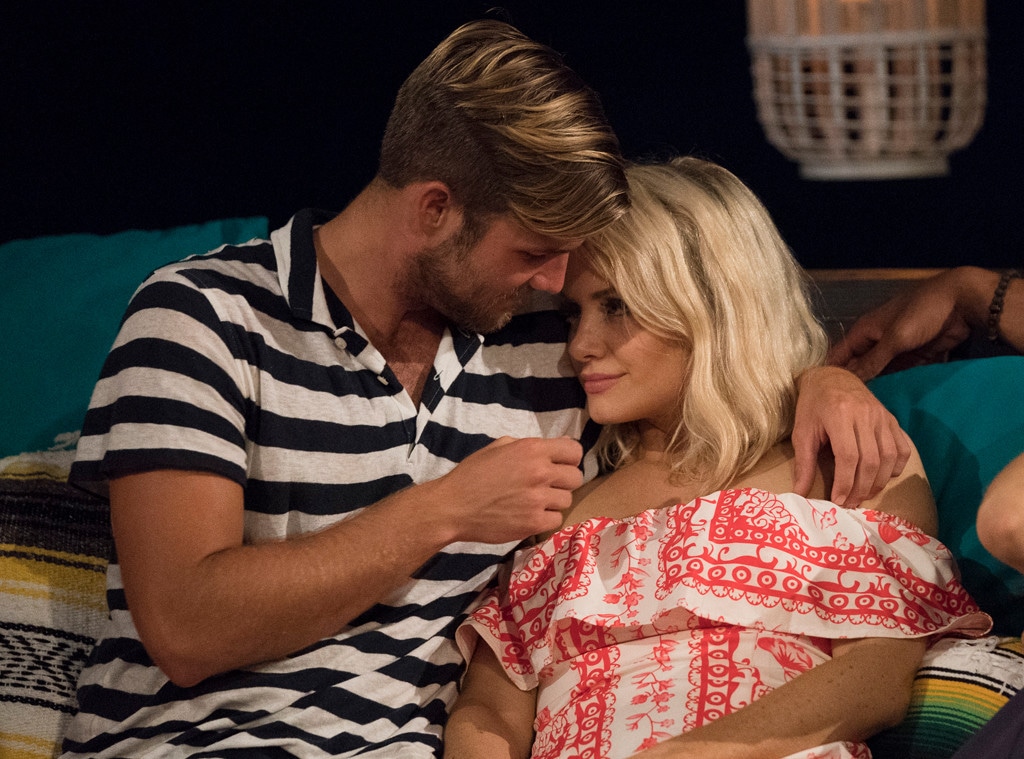 Paul Hebert/ABC
There's trouble in paradise, but Bachelor Nation is here with a life vest.
On Tuesday night's Bachelor in Paradise season 5 finale, Jordan Kimball proposed to Jenna Cooper on the beach in Mexico, and she immediately accepted. On the reunion show following the finale, the couple even told Chris Harrison they have a wedding date in mind: June 9, 2019.
Just hours before the finale aired, Reality Steve published a blog post in which he shares text messages from Cooper's alleged boyfriend—and it's not Kimball. The texts, reportedly from Cooper, have been "vetted" by Reality Steve and "confirmed from her phone number."
Messages from Jenna tell her unidentified boyfriend that she doesn't "even like him let alone love" Kimball, rationalizing her appearance on the show as "all for my business."
Cooper and Kimball have since broken up, despite Cooper showing off her sparkly engagement ring on the reunion show last night. The male model—who remained contentious throughout the season due to some of his antics and outfits (like throwing a large stuffed animal dog into the ocean)—opened up about his broken heart in an Instagram post. He wrote, "When you're in love with even the experiences you've had with them it's something to respect. Being careless with someone that you give your heart to and reach milestones with isn't sensible no matter what the terms may be."
He added that he has "come to terms with a decision to remove myself from the relationship, it breaks my heart to think, feel and fall for this. It's dropped me."
Watch:
"Paradise" Winners Jenna & Jordan Show Off Engagement Ring
If there's anything to bring a Bachelor in Paradise contestant up when they're down, it's support from the vocal and omnipresent Bachelor Nation. Encouragement and comments flowed in on Kimball's Instagram upload. Fellow Paradise contestant and upcoming bachelor Colton Underwood wrote, "Love you Bro."
Bachelor in Paradise success story Jade Roper supported him, too. She added, "Can't imagine what you're going through, sending our love your way, Jordan."
Former Bachelor contestant Bekah Martinez told Kimball, "You are a shining star, Jordan!!! We all love you a ton. You are strong and brave and honest, and you deserve a woman who will see that."
Fellow fan favorite Canadian Kevin Wendt commented, "We got your back. Always."
Paradise bartender Wells Adams typed, "I've always got your back and if you need a drink, I got you."
Nick Spetsas added, "Love you buddy. You're one of the greatest people I know. I always have your back."
Kimball told Entertainment Weekly that he will "never deny" falling in love with Cooper. He told the magazine, "Just because this has happened does not mean that I will discount how I felt for her. I will not try to play it off that it doesn't hurt. I would be doing the love that I felt for her an injustice if I were to say that I didn't feel strongly about this.
He told People in a statement, "I'm weak in the knees and I feel like I have rocks in my stomach."
The model doesn't doubt the  texts, either. He said to People, "I know my Jenna, and I read those texts and in my heart, I know it's her."
Cooper, on the other hand, told the magazine, "I am aware of the allegations being made against me and they are simply untrue. I am choosing to focus on my relationship right now."
Cooper responded in an Instagram post of her own. She shared a selfie and gave her side of the story. She wrote, "I want to start by saying those texts were completely fabricated, and I never sent them to anyone. I did not cheat on Jordan, and I have nothing to hide. I have been extremely open and vulnerable throughout this whole process. I was looking for love, and I found it. I was excited to share this journey with all of you. I am hurt by these fake texts, and that anyone would believe this story so quickly without proof. I have an attorney helping me investigate this hurtful and fraudulent attack on my character. We are evaluating all legal remedies available to punish those responsible."
Bachelor Nation takes loyalty very seriously, and this breakup is clearly no exception.