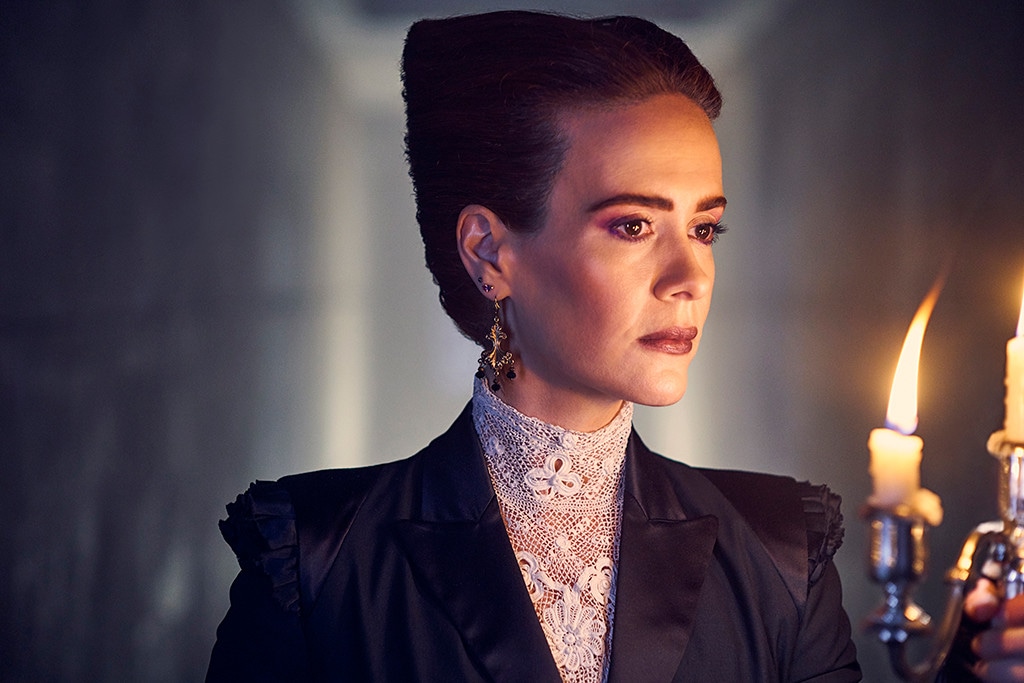 FX
Ready for the world to end?
American Horror Story is about to officially launch their Murder House and Coven crossover with a season called AHS: Apocalypse. Based on the trailer, this year's installment of the horror anthology series seems to feature the characters we already know and love from the first and third seasons alongside some new characters all surviving in a creepy house after the end of the world. That means we not only get three Sarah Paulson characters, and at least two Evan Peters characters, we also get the returns of Jessica Lange, Connie Britton, Dylan McDermott, Taissa Farmiga, and Emma Roberts' iconic portrayal of Madison Montgomery. She told us we didn't see the last of her yet.

If it's been a while since you took in some Coven or Murder House, you might be a little like, "who?" So allow us to help you out with a quick and dirty refresher course ahead of the latest apocalypse.
Murder House
The Harmons
Vivien (Connie Britton): Vivien moved to the so-called Murder House in Los Angeles with her husband Ben and daughter Violet after she suffered a devastating miscarriage and found her husband cheating on her. She tried to revive her sex life with Ben, and then had sex with a man in a rubber suit, thinking it was Ben. It wasn't. That resulted in pregnancy with twins by two different fathers. Vivien died in childbirth, along with a twin, so now her ghost is stuck in the house forever.
Ben (Dylan McDermott): Ben, a psychiatrist, had been having an affair with one of his students, which destroyed his marriage. He worked with Vivien on getting their marriage back on track, only to believe she was going crazy after she was raped and haunted by ghosts. In the end, he was murdered at the request of his (also dead) former student/lover, and now resides forever in the Murder House with his family.
Violet (Taissa Farmiga): Violet, the family's teen daughter, was depressed and often resorted to self-harm. She wasn't dealing with her parents' troubles very well, and was bullied at school. She met and quickly fell in love with a boy named Tate, before discovering he was a ghost and a mass murderer. She accidentally overdosed on sleeping pills and later discovered she was dead and stuck in the house forever.
Jeffrey: Jeffrey was the twin who did not survive, but then was joined by his entire family in the afterlife.
The Langdons
Constance (Jessica Lange): A former resident of the house who was desperate to take it back, Constance presented herself as a friendly/not-so-friendly neighbor. She was actually a murderous psychopath who neglected her children (occasionally having them murdered) and killed their father.
Tate (Evan Peters): Tate was an extremely troubled teen who murdered 15 classmates in a school shooting in 1994. He was then killed in his bedroom (in the Murder House) by a SWAT team, and went on as a ghost to haunt the house, eventually falling in love with Violet (after raping and impregnating her mother with an evil baby). When we last saw Tate, he was determined to get Violet to love him again, despite all the terrible stuff he had done.
Adelaide (Jamie Brewer): Addy was Constance's daughter, a friendly girl with Down syndrome who just wanted to be pretty and to warn the Harmons to get out of the Murder House. She was constantly berated by her mother, and was killed on Halloween in a hit and run accident.
Michael (now played by Cody Fern): Michael was Vivien's surviving twin, fathered by Tate. According to medium Billie Dean Howard, a child created by a ghost and a living person was the Antichrist, and would bring about The End Times. Michael was adopted by Constance after the deaths of his entire family, and when last we saw him, he had suddenly aged several years and had murdered his nanny. Now, it seems he's all grown up and making good on that End Times promise.
Other Characters
Billie Dean Howard (Sarah Paulson): A medium found on Craigslist and hired by Constance to help Tate cross over. She then also showed up on Hotel, hoping to film scenes from her new Lifetime show. It's been confirmed that she will return for Apocalypse.
Moira (played young by Alexandra Breckenridge and older by Frances Conroy): the housekeeper hired by the Harmon family, not knowing she's a ghost who appears as two very different people to both Vivien and Ben. She was murdered by Constance and just wanted to escape the house.
Larry (Denis O'Hare): a former owner of the house and former boyfriend of Constance who helps her murder people.
Hayden (Kate Mara): The student who Ben was having an affair with, and who was pregnant with his baby. Larry kills her with a shovel and buries her in the backyard of the house, leaving her to haunt the Harmons and try to steal their evil baby.
Nora Montgomery (Lily Rabe): The first resident of the house (along with her husband, who built it) and a current ghost stuck inside it. After her child was kidnapped, murdered, and then Frankensteined into a terrifying blood-thirsty creature called the Infantata who now lives in the basement, she's obsessed with getting a new baby. Tate makes a deal with her (that he eventually goes back on) that she'll get one of Vivien's babies, so when the first twin is stillborn, she steals him. Ghost Vivien eventually gets him back.
Coven
The series' third season followed a coven of descendants of the Salem witches in New Orleans as they fought to see who would become the next Supreme, the most powerful witch of them all.
Fiona Goode (Jessica Lange): Fiona was the reigning Supreme as of the start of the season (who had actually killed the Supreme before her). She had cancer, believing it was because a new Supreme was about to rise up. She died at the end of the season in her daughter's arms.
Cordelia Foxx (Sarah Paulson): Fiona's daughter and the headmistress of Miss Robicheaux's Academy for Exceptional Young Ladies. She spent most of the season trying to have a baby while also trying to get out of her mother's shadow. She is currently the Supreme Witch, and ended the season by advertising the school and the existence of witchcraft to the entire world on TV. 
Zoe (Taissa Farmiga): Zoe was a new arrival to the school after discovering that when she has sex with a guy, it kills him. She helped her new friend Madison resurrect a frat boy, Kyle, who tried to save Madison from a gang rape, but they end up having to put him together with parts from multiple boys so she can have a boyfriend she can actually be with. Zoe accidentally killed herself by transmuting to the top of a gate, but was resurrected by Cordelia as her final Supreme test. She is currently alive, a member of the witches' council, and as far as we know, still with Kyle.
Madison Montgomery (Emma Roberts): A spoiled former child star with the power of telekinesis. She was killed once by Fiona when it was thought that she was the next Supreme, but then was resurrected. She was later killed again by Kyle for refusing to bring Zoe back as part of the Supreme test, and last we heard, she was dead and buried. However, she appears to be alive once again in Apocalypse, and is bringing back her iconic "Surprise, Bitch" meme. 
Misty Day (Lily Rabe): A Stevie Nicks-obsessed witch with the power of resurrection. She died several times throughout the season, usually able to bring herself back. In the end, she couldn't get herself out of the nether realm during the test for the Supreme, and was stuck reliving horrible childhood memories. Once again, she appears to be back for Apocalypse (along with Stevie Nicks).
Queenie (Gabourey Sidibe): A human voodoo doll who also completed the tests for the new Supreme. She ended that season alive and as a member of the witches' council. However, she traveled to Los Angeles to be on The Price Is Right (with an enchanted ticket from Cordelia) and made the mistake of staying at the Hotel Cortez, and was killed in season five. But once again, she's back! Apparently all bets are off in the apocalypse.
Nan (Jamie Brewer): Nan was a badass young witch with the main power of clairvoyance, but who was gifted in other areas as well. She was murdered by Fiona and Marie as a sacrifice after she found out what they were up to. No word on whether Brewer will be back for season eight. 
Marie Laveau (Angela Bassett): Essentially the Supreme of the Voodoo world, Marie was an extra powerful and immortal Voodoo queen enlisted by Fiona to help her become immortal as well. At the end of the season, she was dismembered, and her immortality was revoked.
Myrtle Snow (Frances Conroy): Myrtle was the head of the witches' council and very devoted to the coven. She was burned at the stake for murdering the rest of the witches' council, with her famous last words being "Balenciaga!" And now she's back somehow for season eight!
Delphine Lalaurie (Kathy Bates): LaLaurie was a serial killer from the early 1800s who murdered slaves and did unspeakable things to them. She was immortal and part of Fiona's obsession with youth, but had her immortality revoked upon killing Marie, and so she died when Queenie stabbed her.
Kyle (Evan Peters): After he broke up the gang of frat boys raping Madison, he was hailed a hero by Zoe and Madison, but still died in the accident Madison created that killed the rest of the frat. He was then put back together with parts from various boys, and fully resurrected by Misty to become Zoe's actual boyfriend. He loved her so much that when Madison refused to bring her back to life, he killed Madison himself.
American Horror Story: Apocalypse premieres Wednesday, Sept. 12 at 10 p.m. on FX.