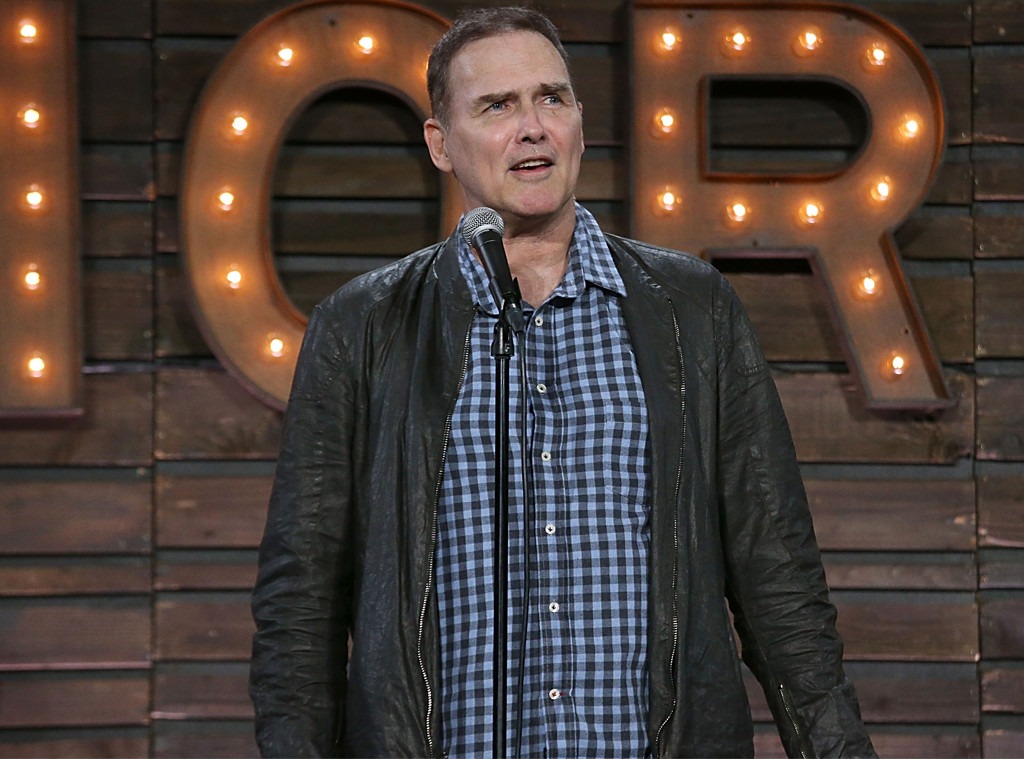 Gary Miller/Getty Images
The Tonight Show made a last-minute cancellation. 
While stand-up comedian and SNL alum Norm Macdonald was originally scheduled to appear on the late-night show on Tuesday night, the network confirmed that would no longer be the case. 
"Out of sensitivity to our audience and in light of Norm Macdonald's comments in the press today, 'The Tonight Show' has decided to cancel his appearance on Tuesday's telecast," a show spokesperson told E! News in a statement.
Early Tuesday, The Hollywood Reporter published an interview with Macdonald, who is currently promoting his upcoming Netflix talk show, Norm Macdonald Has a Show. In the interview, the comic commented on the #MeToo Movement, stating, "I'm happy the #MeToo movement has slowed down a little bit. It used to be, 'One hundred women can't be lying.' And then it became, 'One woman can't lie.' And that became, 'I believe all women.' And then you're like, 'What?' Like, that Chris Hardwick guy I really thought got the blunt end of the stick there." 
In response to a question about someone admitting wrongdoing, MacDonald continued, "The model used to be: admit wrongdoing, show complete contrition and then we give you a second chance. Now it's admit wrongdoing and you're finished. And so the only way to survive is to deny, deny, deny. That's not healthy—that there is no forgiveness. I do think that at some point it will end with a completely innocent person of prominence sticking a gun in his head and ending it. That's my guess. I know a couple of people this has happened to."
When asked by THR who he knew, Macdonald answered with Louis C.K. and Roseanne Barr, both of whom he has worked with in the past. C.K. admitted to sexual misconduct in November 2017 after several women came forward with allegations against him. Barr's offensive tweets about Valerie Jarrett sparked the swift cancelation of the rebooted Roseanne in May, for which Macdonald was reportedly supposed to write for. 
"Well, Louis [C.K.] and Roseanne [Barr] are the two people I know. And Roseanne was so broken up [after her show's reboot was canceled] that I got Louis to call her, even though Roseanne was very hard on Louis before that. But she was just so broken and just crying constantly," Macdonald continued to THR. "There are very few people that have gone through what they have, losing everything in a day. Of course, people will go, 'What about the victims?' But you know what? The victims didn't have to go through that."
The star further told THR that Barr "is certainly not a racist. That's just crazy." 
The 58-year-old later issued a statement on Twitter regarding his comments. "Roseanne and Louis have both been very good friends of mine for many years. They both made terrible mistakes and I would never defend their actions," he told followers Tuesday evening. "If my words sounded like I was minimizing the pain that their victims feel to this day, I am deeply sorry."
(E! and NBC are both part of the NBCUniversal family.)