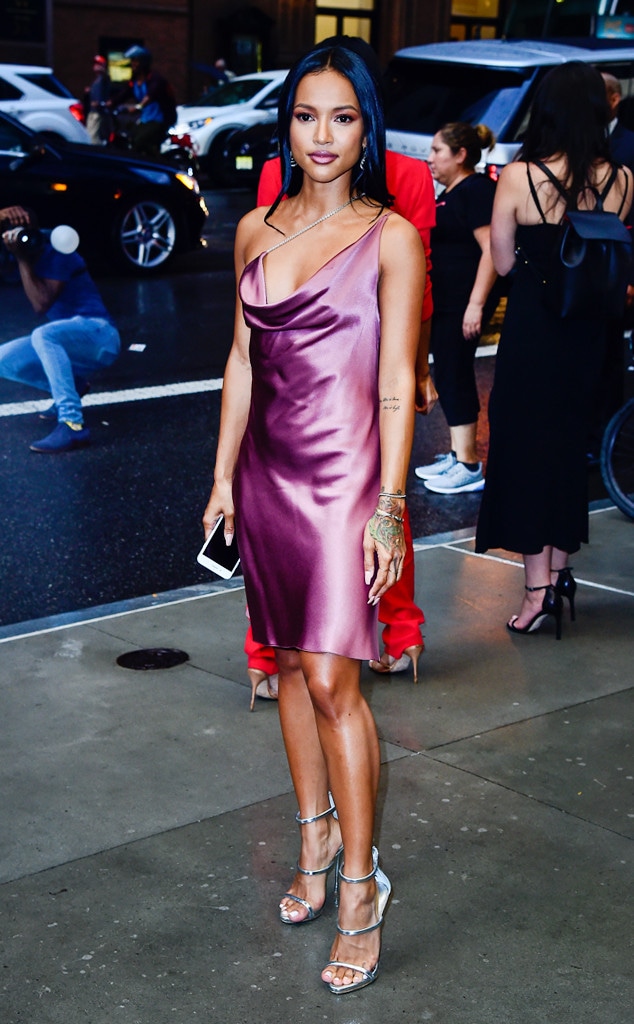 Raymond Hall/GC Images
In the wise words of Béyonce, "Always stay gracious, the best revenge is your paper."
For Karrueche Tran, it's a little more than a cushy bank account. The best revenge comes in the form of success, happiness and cameras documenting it all. Based on her New York Fashion Week appearances, the Claws star is serving revenge for breakfast.
Remember when the actress came onto the scene on 2010? Then, she was a personal shopper and stylist, whose budding fame centered on her relationship with pop star Chris Brown. After the media frenzy surrounding Chris and his ex, Rihanna, her public identity was tied to being a significant other. No one knew much about her besides her obvious beauty and famous romance. 
Then, her relationship took a turn for the worst. Headlines with her name commonly discussed the status of their on-again-off-again relationship. Break up and make ups, which are hard for anyone, were public. Then, with viral Twitter feuds, the toxicity of their involvement became a popular topic of conversation.
In 2015, everything changed. In February, the couple was spotted wearing matching fur coats in the front row of the Michael Costello Fall/Winter 2015 runway show, looking like #couplestylegoals. Then, after Chris had a child with another woman, Karrueche called it quits. 
"I feel hurt because the man I loved betrayed me," she told Iyanla Vazant. "I will never again let a man disrespect me. I want my voice to be heard…I want to clear it up and tell my story and tell my side."
She did...with vengeance. By June 2017, after multiple encounters with her ex, she filed a permanent restraining order against Chris. She picked up more modeling and acting gigs, won three back-to-back "Outstanding Digital Daytime Drama Series" Emmys for her role in The Bay, and managed to look amazing the entire time. 
She's evolved out of the shadows of her past and has been successful in asserting her value beyond her relationship status. And, once she put her career first, it seemed everything else fell into place. Now, she has a new love, Victor Cruz.
Jared Siskin/Patrick McMullan via Getty Images
"We've been hanging out and getting to know one another," she told Ebony in February. "My main priority is always work, but he's a gentleman. He's a sweet guy and he's really nice. We're taking it slow, but yes!"
Fast forward to this week, Karrueche is a VIP, sitting front row with her gentleman-like boyfriend—talk about a comeback.
Yet, this isn't the only reason she's winning big. Keep scrolling for six reasons the Hollywood star won the week!