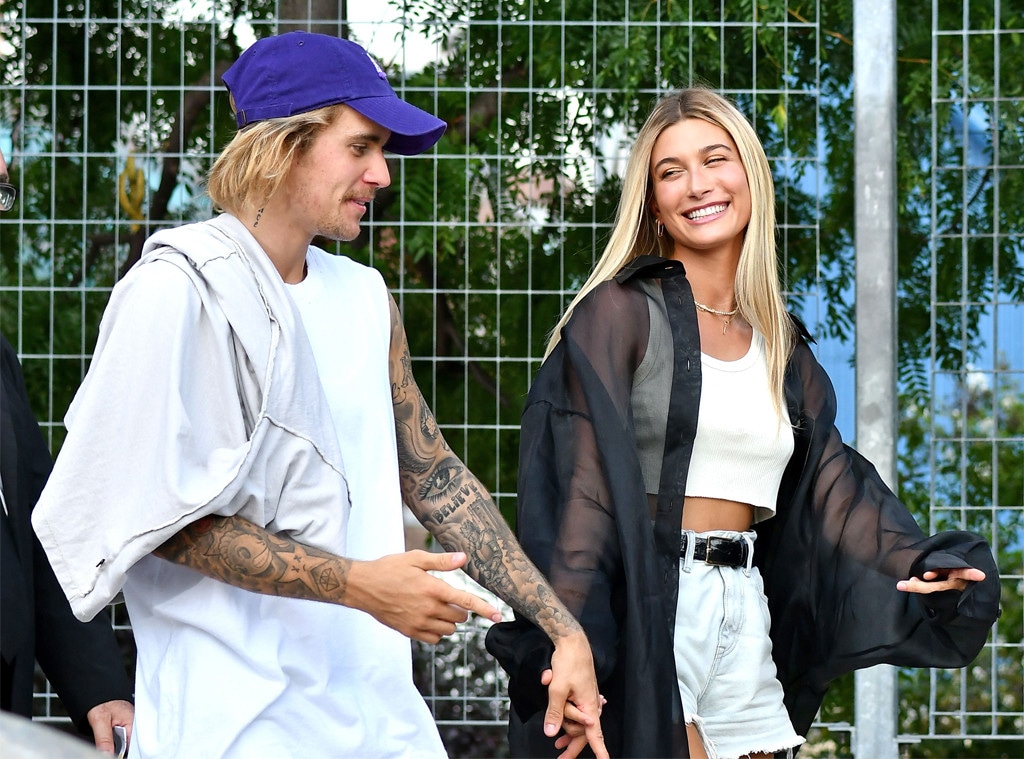 Rodin Banica/WWD/REX/Shutterstock
Hailey Baldwin is being "really choosy" with modeling jobs in order to spend more time with family, including her fiancé, Justin Bieber.
The 21-year-old model sat front row at Carolina Herrera's New York Fashion Week show on Monday, where she was asked about comments her uncle, Alec Baldwin, recently made about her engagement. During an interview with etalk at the 2018 TIFF, Alec said, "People who get married young, and they are very young, I want them to just spend time with each other. Obviously, he in particular has this crazy superstar career."
Alec has lived his life in the public eye for many years, so he knows all about trying to navigate fame and family.
"When you're married... Like right now, I'm quite a bit older than both of them but I got married recently a few years ago," Alec continued. "And my wife and I had four kids in four and a half years. We have a lot of little kids. The thing is, all the work I do now is based on my family."
He went on to share, "There's movies I got offered where they say 'Come leave town for five weeks. No we can't travel your family with you, we don't have that in the budget'. And I pass, because I don't want to be away from my family. And I hope that they realize that! If you want to have a successful marriage, you have to be together. You gotta stay together."
When asked about her uncle's comments on Monday, Hailey—the daughter of Stephen Baldwin—told WWD, "I hadn't heard this yet, so you're actually the first telling me. But that sounds like very sound, solid advice. He's just trying to look out for me."
In response to his advice about putting family before work, Hailey replied, "It's smart, and it's important. You have to always put family above work, no matter what."
While Hailey has been in attendance at several New York Fashion Week shows, she's being selective about which shows she walks in. She explained to WWD, "I've tried to be really choosy with fashion week going forward, just because I want to have the time to spend being relaxed and being with family — and my fiancé."
Hailey and Justin got engaged back in July while on vacation in the Bahamas. "The proposal was a very happy moment and Hailey was taken off guard," a source told E! News at the time. "Her face was in shock but you could tell they are both so in love."
While the couple received a lot of love on their engagement, there was, as expected, some negativity on social media about their relationship. But, Hailey recently told Australian magazine Stellar that she's "beyond excited" about the engagement. When asked about the media attention surrounding their rekindled romance and how it's impacted her, she shared, "I don't think it's affected me really. I have learned to just try my best to ignore the negativity at this time so that I can enjoy this season of my life."
Earlier this month, ahead of New York Fashion Week, Hailey flew to Shanghai to walk in Tommy Hilfiger's TommyNow Icons show, where she proudly showed off her engagement ring on the runway. Days later, Hailey was back in New York City, where she attended John Elliot's presentation with the "Baby" singer.