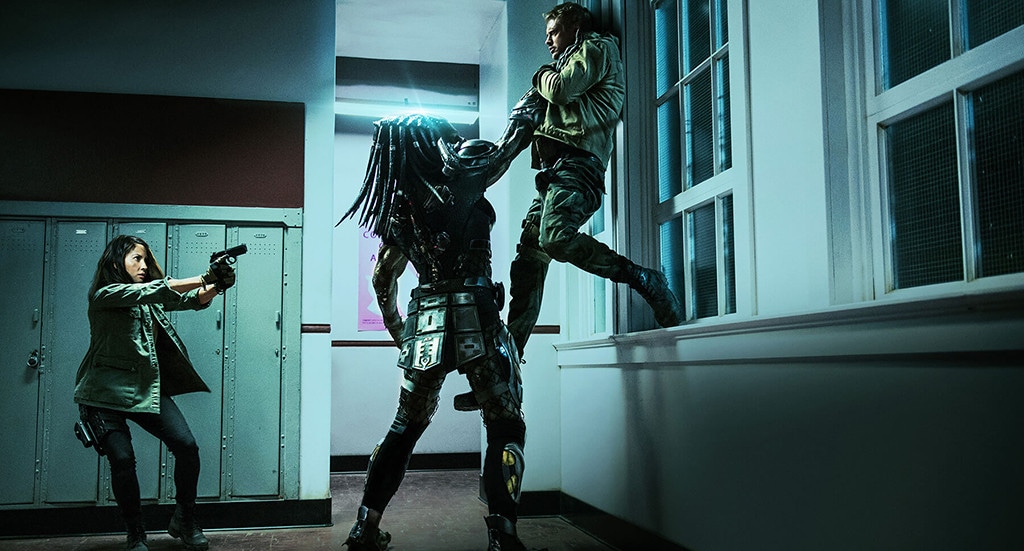 Twentieth Century Fox Film Corporation
Olivia Munn doesn't just talk to the talk—she walks the walk.
Last week, the actress revealed in an interview with The Los Angeles Times that she had successfully lobbied 20th Century Fox to cut a scene in The Predator featuring actor Steven Wilder Striegel, a registered sex offender and longtime friend of the film's director Shane Black. Striegel served six months in jail after he pleaded guilty in 2010 to two felonies—risk of injury to a child and enticing a minor by computer—after facing allegations he had tried to lure a 14-year-old "distant relative" into a sexual relationship through the internet.  In a statement last week, a Fox rep said, "Our studio was not aware of Mr. Striegel's background when he was hired. Several weeks ago, when the studio learned the details, his one scene in the film was removed within 24 hours. We were not aware of his background during the casting process due to legal limitations that impede studios from running background checks on actors."
In a group interview Saturday with co-stars Augusto Aguilera and Keegan-Michael Key, Munn told Variety she notified the studio Aug. 15, but claimed Fox "was silent" for two days. "I did have to reach out again and say, 'I don't feel comfortable presenting at the MTV Video Music Awards'—and I was presenting with Keegan—'unless this guy was out of it.' I'm not saying they weren't working on it behind the scenes; I just didn't hear anything about it. But I'm happy that they did, obviously, because I'm proud of the work we did in this movie. We all worked really, really hard, and I wouldn't be able to morally stand behind a movie that had this guy in there."
Initially, Black told The Los Angeles Times he "personally chose to help a friend" by casting Striegel in three films, believing the actor was "caught up in a bad situation versus something lecherous." On Thursday, Black issued another statement, saying, "It has sadly become clear to me that I was misled by a friend I really wanted to believe was telling me the truth when he described the circumstances of his conviction. I believe strongly in giving people second chances, but sometimes you discover that chance is not as warranted as you may have hoped."
Twentieth Century Fox Film Corporation
Munn said she was disappointed Black never reached out to her directly. "I think an apology has to happen privately—not just publicly," she told Variety. "I believe in his apology that he said he apology to everyone past and present that he's put in that situation, and that would be me, but I didn't get that apology. I read about it online like everyone else." The experience has been eye-opening, she added. "There's a point when you're in it, everybody from the top down, they just want you to keep quiet and do anything to help the movie. They're doing some Jedi mind trick, like, 'These aren't the people you're looking for," and I'm like, 'That's not working on me!'"
The cast attended the film's premiere at the 2018 Toronto International Film Festival Thursday, but Black has avoided press since then. After she was criticized for continuing to promote the movie, Munn tweeted, "I'm contractually obligated. And from what I'm experiencing, I think they'd prefer I not show up. It would make everyone breathe easier. Also, I worked really hard on this film, as did the rest of the cast and crew. Now that the scene is deleted I think audiences will love it." After the premiere, she tweeted, "Thank you to everyone who came out tonight and showed so much support. Wish I could've done red carpet interviews, but I was ushered past and told we didn't have time."
On the red carpet that night, Key addressed the controversy for the first time publicly. "I think the studio 100 percent did the most appropriate thing. Yes, I do. I think that they made a decision that was appropriate to the circumstance, and we're all responsible for our behavior," the actor told Variety. "They did the most appropriate thing, I think, given the circumstances."
Twentieth Century Fox Film Corporation
Munn was aghast when co-stars Boyd Holbrook, Key and Trevante Rhodes appeared to give Black an ovation at the premiere. "I looked back and I see the guys standing up, and I was just confused, because I hadn't heard from them during the day. Everybody else was sitting down—it wasn't like this massive standing ovation for him," she told Vanity Fair. "I felt it was still appropriate to clap and cheer, but to actually make that gesture to stand up, especially in this moment...and privately I knew that no one reached out to me to say, 'Are you O.K.?' It did feel bad." Munn had reached out to her co-stars about Striegel weeks prior, but she said none of them wanted to publicly support her or condemn his casting. "I wanted them to not be blindsided the way I was blindsided, and I encouraged them to put out a statement once the L.A. Times reached out to us. I was surprised that none of them did...That's their prerogative."
The next day, Munn called in sick for a scheduled press junket.
Suffice to say, it's been an enlightening—and disheartening—promotional tour.
"The reality is that there will be people who wear Time's Up pins and say they support Time's Up," Munn said, but "there will be people in Time's Up who aren't really down with the cause."
Twentieth Century Fox Film Corporation
Munn resumed her promotional duties Saturday, where Aguilera, Holbrook, Thomas Jane, Key and Jacob Tremblay completed group interviews with multiple outlets. After Munn finished a group interview with Aguilera and Key for Variety, the remaining cast members—who were not present for the taping—were ushered out of the studio. In a statement Saturday night, a Fox rep said, "Each of our cast members fulfilled their promotional obligations and attended their interviews today in line with our expectations. There are always last-minute scheduling shifts."
After Variety, Munn continued to The Hollywood Reporter, joined by only Tremblay. In a sperate solo interview, she recalled to the trade, "It was really important to me to have the scene deleted. When the press found out, they asked for a statement; I gave a statement. I found out those details like everybody else did. It was shocking and disturbing. Now when I'm being asked about it, I don't know how to lie about it. I don't know how to pretend. I don't know how to skirt around the issue. I just know how to be honest about it. It's a very lonely feeling to be sitting here by myself when I should be sitting here with the rest of the cast."
(Afterward, Key's publicist issued a statement, saying, "Keegan was never booked to do an interview with The Hollywood Reporter. His last interview was scheduled after lunch, which he completed. He was always departing TIFF early so he could be home to spend the Jewish holiday with his wife. Furthermore, Keegan reached out to Olivia privately last week to let her know how proud he was of her and echoed that sentiment in many interviews since then.")
Speaking to Vanity Fair, Munn was clearly upset. "I kind of feel like I'm the one going to jail. I didn't go to jail. I didn't put this guy on our set. I had this scene deleted. Thank God, honestly, that there is social media. It's the fans and news outlets that's confirming it to me that what I did was the right thing. If I didn't have that feedback, I'd kind of go a little crazy thinking, 'Why am I being treated like this?'" the actress, 38, revealed. "That's not OK, to feel like the bad guy."
Twentieth Century Fox Film Corporation
Despite feeling isolated, Munn said she has no regrets about speaking out publicly. "Getting a convicted sex offender out of a movie that has global reach is extremely important, but the reality of what I've had to go through in this process of just finding out, it's a crazy thing," she said. "It's like I stumbled upon something and now I'm being chased by everyone and isolated."
In a series of tweets, co-star Sterling K. Brown offered his support Sunday. "I'm sorry you're feeling so isolated, my dear," he told Munn. "And I'm sorry you've been the only one to speak up publicly. I was not at #TIFF so I didn't have an opportunity to be there with you. There are two main issues as far as I see it. First, what is and is not forgivable? That's gonna vary from individual to individual. You and [Black] may differ when it comes to that issue. I don't have all the details regarding his friend's crime, but I know it involves a minor, and he spent time in jail."
"With regards to forgiveness, I leave that to the individual. What I take issue with, (and I believe Shane addressed this in his apology), is that we all have the right to know who we're working with! And when someone has been convicted of a crime of a sexual nature involving a child, we have the right to say that's not okay! Our studio was not given that opportunity, and neither was our cast. Especially [Munn], who was the only member of the principal cast who had to work with him. I so appreciate that you 'didn't leave well enough alone,' and again, I'm sorry you feel isolated in taking action. Thank you to [20th Century Fox] for taking quick action in deleting the scene," he tweeted. "I hope you don't feel quite so alone. You did the right thing."
Twentieth Century Fox Film Corporation
Munn has also received celebrity support from actors Terry Crews and Thomas Sadoski.
Speaking to The Los Angeles Times Saturday, Rhodes said, "I wasn't disappointed in Shane. I was disappointed in the situation, and I'm happy that Liv spoke up." Aguilera, who joined Munn and Rhodes for the group interview, added praised his co-star's "courage" for speaking out publicly.
While Munn doesn't accept Black's apology, she said, "I felt the support from online and the news—everybody was very encouraging and made me feel really good—but it was a very lonely, lonely time for me that day. I don't care if it's my movie. I don't care if this movie was going to give me $100 million—it's not worth being quiet over that. My silence is not for sale."
Holbrook issued a statement of his own, via Instagram, Monday. "I want to start by apologizing for this statement coming late in the current conversation. I do not take any of what has gone on lightly, and I want to speak from the most honest and genuine place possible. I have stated before, and I will state it again, I am proud of Olivia for the way that she handled a difficult and alarming situation, and I am grateful that Fox took the information seriously and took action swiftly. It is true that I pulled out of a small amount of press on Saturday, as this type of social commentary is new to me and given the nature of the originating crime, I felt further discussion could cause unwanted trauma and pain, neither of which I wanted to incite to the anonymous young woman. I now realize that my understanding of the situation was not the full picture and the last thing I want is for Olivia to ever feel abandoned or alone," Holbrook said. "We are in the midst of a very crucial and important time and it is imperative that we keep listening."
The Predator opens nationwide Sept. 13, 2018.
(Originally published Monday, Sept. 10, 2018 at 7:05 a.m. PDT)