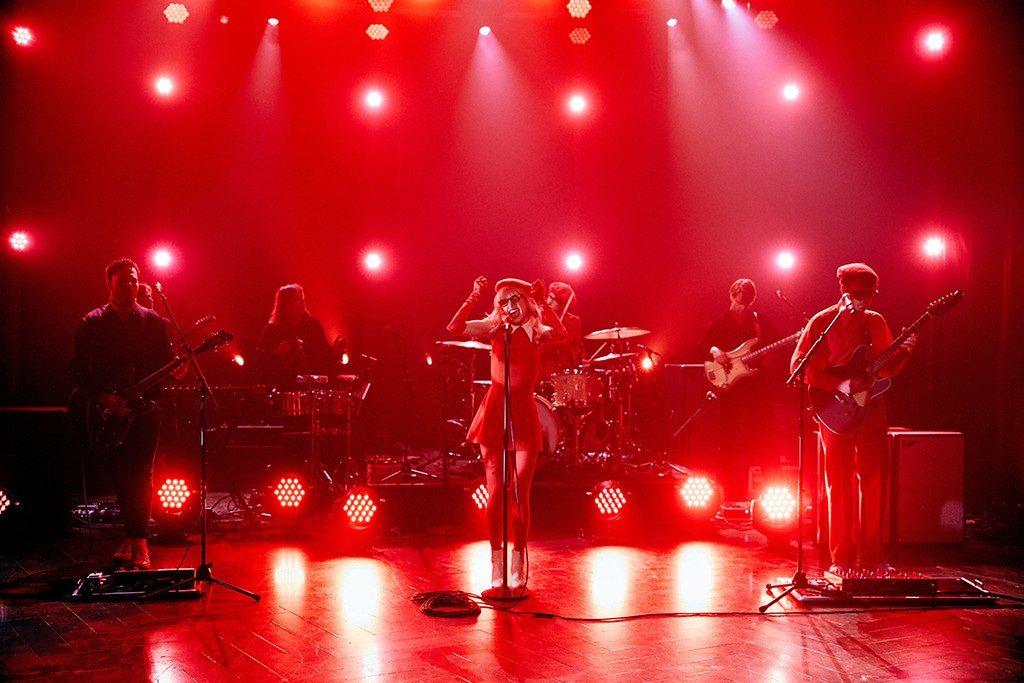 Terence Patrick/CBS
It's the end of an era.
When Paramore performed at the Nashville Municipal Auditorium Friday, frontwoman Hayley Williams announced the band would be playing its earliest hit, "Misery Business," for the final time. "Tonight, we're playing the song for the last time for a really long time. This is a choice that we have made because we feel that we should. We feel like it's time to move away from it for a little while," she said, appearing slightly nervous. "This is happening. We're gonna play it."
Before launching into the song, Williams said, "This is to every bad decision that led us here. This is to all the embarrassing things we might have said. But we owned up to it, and we grew."
Over time, the band has received criticism for this particular lyric: "Second chances, they don't ever matter, people never change / Once a whore, you're nothing more, I'm sorry that'll never change." In 2015, Williams distanced herself from the song on Tumblr. "'Misery Business' is not a set of lyrics that I relate to as a 26-year-old woman. I haven't related to it in a very long time. Those words were written when I was 17...admittedly, from a very narrow-minded perspective. It wasn't really meant to be this big philosophical statement about anything," she wrote. "It was quite literally a page in my diary about a singular moment I experienced as a high schooler."
(Williams did not sing the offending lyrics on the last night of the band's After Laughter Tour.)
Last year, in celebration of the 10th anniversary of band's hit album Riot!, Williams addressed the backlash to the song. "The thing that annoyed me was that I had already done so much soul-searching about it, years before anyone else had decided there was an issue. When the article began circulating, I sort of had to go and rehash everything in front of everybody. It was important, however, for me to show humility in that moment," she told Track 7. "I was a 17-year-old kid when I wrote the lyrics in question, and if I can somehow exemplify what it means to grow up, get information and become any shade of 'woke', then that's A-OK with me."
"The problem with the lyrics is not that I had an issue with someone I went to school with. That's just high school and friendships and breakups. It's the way I tried to call her out using words that didn't belong in the conversation. It's the fact that the story was setup inside the context of a competition that didn't exist over some fantasy romance," Williams said, adding,
"What I couldn't have known at the time was that I was feeding into a lie that I'd bought into, just like so many other teenagers—and many adults—before me. The whole, 'I'm not like the other girls' thing—this 'cool girl' religion. What even is that? Who are the gatekeepers of 'cool' anyway? Are they all men? Are they women that we've put on top of an unreachable pedestal?"
As she previously explained on Tumblr, she's not "ashamed" of the lyrics. And as Williams later told Track 7, "For whatever reason, I believe I was supposed to have written those backwards words and I was supposed to learn something from them...years later. It's made me more compassionate toward other women, who maybe have social anxieties, and toward younger girls who are at this very moment learning to cope and to relate and to connect. We're all just trying our damnedest. It's a lot easier when we have support and community with each other."
Williams added, "Vulnerability helps lay the foundation for all that."