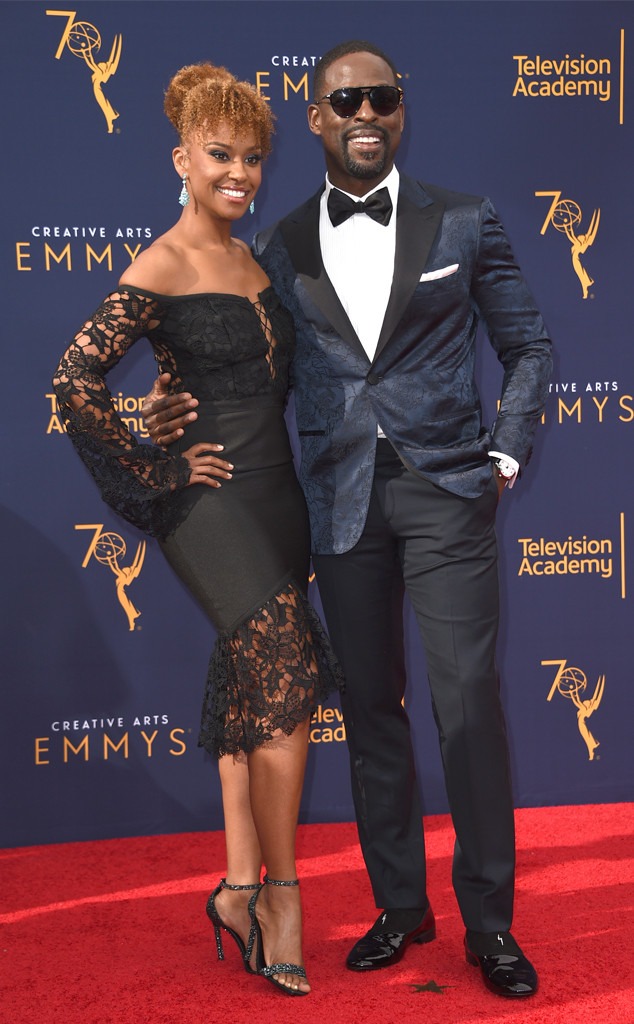 Richard Shotwell/Invision/AP
The 2018 Creative Arts Emmys are finally here!
The annual ceremony honors outstanding artistic and technical achievement across a variety of television genres. Like last year, the award show is being presented across two consecutive nights—Saturday, Sept. 8 and Sunday, Sept. 9.
Several celebrities attended the event at The Microsoft Theater in Los Angeles to celebrate the work of their peers. Sterling K. Brown, Neil Patrick Harris, Jane Lynch and Sarah Drew were just a few of the stars to hit the red carpet. The Fuller House stars also attended and brought most of their TV family members, including John Stamos, Lori Loughlin, Candace Cameron Bure, Bob Saget and Jodie Sweetin.
To see all of the winners announced so far, check out the list:
Watch:
RuPaul Snags 3rd Creative Arts Emmy Trophy
Outstanding Casting For A Comedy Series 
The Marvelous Mrs. Maisel (Amazon Studios)
Outstanding Casting For A Limited Series, Movie Or Special 
The Assassination Of Gianni Versace: American Crime Story (FX Networks)

Outstanding Casting For A Drama Series 
The Crown (Netflix)
Outstanding Character Voice-Over Performance 
Family Guy, "Nanny Goats" (FOX)

Outstanding Animated Program
Rick And Morty, "Pickle Rick" (Adult Swim) 
Outstanding Short Form Animated Program 
Robot Chicken, "Freshly Baked: The Robot Chicken Santa Claus Pot Cookie Freakout Special: Special Edition" (Adult Swim)

Outstanding Sound Mixing For A Limited Series Or Movie 
Genius: Picasso, "Chapter One" (National Geographic)

Outstanding Makeup For A Limited Series Or Movie (Non-Prosthetic) 
The Assassination Of Gianni Versace: American Crime Story (FX Networks)
Outstanding Hairstyling For A Limited Series Or Movie 
The Assassination Of Gianni Versace: American Crime Story (FX Networks)
Outstanding Cinematography For A Limited Series Or Movie 
Genius: Picasso, "Chapter One" (National Geographic)
Outstanding Commercial 
The Talk, P&G, My Black Is Beautiful
Outstanding Short Form Comedy Or Drama Series 
James Corden's Next James Corden (CBS)
Outstanding Actor In A Short Form Comedy Or Drama Series 
James Corden's Next James Corden (CBS)
Outstanding Actress In A Short Form Comedy Or Drama Series 
Break A Hip, Vimeo, Shut Up, Charlie Productions
Christina Pickles as Biz
Outstanding Guest Actress In A Comedy Series 
Tiffany Haddish, Saturday Night Live (NBC)
Outstanding Single-Camera Picture Editing For A Comedy Series 
The Marvelous Mrs. Maisel (Amazon Studio)
Outstanding Single-Camera Picture Editing For A Comedy Series
The Marvelous Mrs. Maisel (Amazon Studios)
Outstanding Multi-Camera Picture Editing For A Comedy Series
Will & Grace, "Grandpa Jack" (NBC)
Outstanding Cinematography For A Multi-Camera Series
Will & Grace, "A Gay Olde Christmas" (NBC)
Outstanding Special Visual Effects In A Supporting Role
The Alienist, "The Boy On The Bridge, (TNT)
 
Outstanding Original Main Title Theme Music
Godless (Netflix)
Outstanding Music Composition For A Series (Original Dramatic Score)
Game Of Thrones, "The Dragon And The Wolf" (HBO)
Outstanding Music Composition For A Limited Series, Movie Or Special (Original Dramatic Score)
March Of The Penguins 2: The Next Step (Hulu)
Outstanding Guest Actor In A Drama Series
This Is Us, "A Father's Advice" (NBC)
Ron Cephas Jones as William
Outstanding Stunt Coordination For A Drama Series, Limited Series Or Movie
Game Of Thrones (HBO)
Outstanding Stunt Coordination For A Comedy Series Or Variety Program
GLOW (Netflix)
Outstanding Music Supervision
The Marvelous Mrs. Maisel (Amazon Studios)

Outstanding Fantasy/Sci-Fi Costumes
Game Of Thrones, "Beyond The Wall" (HBO)

Outstanding Production Design For A Narrative Period Or Fantasy Program (One Hour Or More)
Game Of Thrones, "Dragonstone" (HBO)
Outstanding Production Design For A Narrative Contemporary Program (One Hour Or More)
The Handmaid's Tale. "June" (Hulu)
Sound Mixing for a Comedy or Drama Series (Half-hour) and Animation
Barry (HBO)
Sound Mixing for a Comedy or Drama Series (One Hour)
Game of Thrones (HBO)
Sound Editing for a Comedy or Drama (One Hour)
Stranger Things (Netflix)
Production Design for a Narrative Program (Half-hour or Less)
GLOW (Netflix)
Sound Editing for a Comedy or Drama Series (Half-hour) and Animation
Atlanta (FX)
Outstanding Guest Actress In A Drama Series
The Handmaid's Tale (Hulu)
Samira Wiley as Moira
Outstanding Sound Editing For A Limited Series, Movie Or Special
Black Mirror, "Black Mirror: USS Callister" (Netflix)
Outstanding Single-Camera Picture Editing For A Limited Series Or Movie
Black Mirror, "Black Mirror: USS Callister" (Netflix)
Outstanding Single-Camera Picture Editing For A Drama Series
The Handmaid's Tale (Hulu)
Outstanding Creative Achievement In Interactive Media Within A Scripted Program
Westworld (HBO)
Outstanding Original Interactive Program
NASA JPL: Cassini's Grand Finale (YouTube)
Outstanding Contemporary Costumes
The Assassination Of Gianni Versace: American Crime Story, "The Man Who Would Be Vogue" (FX)
Outstanding Children's Program
The Magical Wand Chase: A Sesame Street Special (HBO)
Outstanding Makeup For A Single-Camera Series (Non-Prosthetic)
Westworld (HBO)
Outstanding Hairstyling For A Single-Camera Series
Westword (HBO)
Outstanding Cinematography For A Single-Camera Series (Half-Hour)
Christian Sprenger, Atlanta (FX)
Outstanding Cinematography For A Single-Camera Series (One Hour)
Adriano Goldman, The Crown (Netflix)
Guest Actor in a Comedy Series
Atlanta, "Alligator Man" (FX)
Katt Williams as Willy
Outstanding Television Movie
USS Callister: Black Mirror, "House of Tomorrow" (Netflix)
Outstanding Writing For A Variety Series
Last Week Tonight With John Oliver (HBO)
Outstanding Directing For A Variety Series
Don Roy King, Saturday Night Live (NBC)
Host: Donald Glover
Outstanding Writing For A Nonfiction Program
Anthony Bourdain, Anthony Bourdain: Parts Unknown (CNN)
Southern Italy
Outstanding Picture Editing For A Nonfiction Program
Anthony Bourdain, Anthony Bourdain: Parts Unknown (CNN)
Lagos
Outstanding Cinematography For A Nonfiction Program
Jane (National Geographic)
Outstanding Costumes For Variety, Nonfiction Or Reality Programming
RuPaul's Drag Race (VH1)
Outstanding Lighting Design/Lighting Direction For A Variety Special
Jesus Christ Superstar Live In Concert (NBC)
Outstanding Production Design For A Variety, Reality Or Reality-Competition Series
Saturday Night Live, Host:  Bill Hader (NBC)
Outstanding Production Design For A Variety Special
Jesus Christ Superstar Live In Concert (NBC)
Outstanding Choreography
Mandy Moore
Outstanding Short Form Variety Series
Carpool Karaoke: The Series (CBS)
Outstanding Sound Mixing For A Variety Series Or Special
Jesus Christ Superstar Live In Concert (NBC)
Outstanding Technical Direction, Camerawork, Video Control For A Limited Series, Movie Or Special
Jesus Christ Superstar Live In Concert (NBC)
Outstanding Directing For A Documentary/Nonfiction Program
Jane (National Geographic)
Outstanding Documentary Or Nonfiction Series
Wild Wild Country (Netflix)
Outstanding Structured Reality Program
Queer Eye (Netflix)
Outstanding Unstructured Reality Program
United Shades Of America With W. Kamau Bell (CNN)
Outstanding Picture Editing For A Structured Or Competition Reality Program
Queer Eye (Netflix)
Outstanding Original Music And Lyrics
Saturday Night Live, Host: Chance the Rapper (NBC)
Song Title: Come Back Barack
Outstanding Narrator
Sir David Attenborough, Blue Planet II (BBC America)
Outstanding Music Direction
Gregg Field, Tony Bennett: The Library Of Congress Gershwin Prize For Popular Song (PBS)
Outstanding Interactive Program
Last Week Tonight With John Oliver (HBO)
Outstanding Creative Achievement In Interactive Media Within An Unscripted Program
CONAN Without Borders (TBS)
Outstanding Short Form Nonfiction Or Reality Series
Anthony Bourdain: Explore Parts Unknown (CNN)
Outstanding Informational Series Or Special
Anthony Bourdain: Explore Parts Unknown (CNN)
Outstanding Makeup For A Multi-Camera Series Or Special (Non-Prosthetic)
Saturday Night Live, Host: Tina Fey (NBC)
Outstanding Technical Direction, Camerawork, Video Control For A Series
Saturday Night Live, Host: Donald Glover (NBC)
Outstanding Sound Editing For A Nonfiction Program (Single Or Multi-Camera)
Anthony Bourdain: Explore Parts Unknown (CNN)
Outstanding Variety Special (Pre-Recorded)
Dave Chappelle: Equanimity (Netflix)
Outstanding Casting For A Reality Program
Queer Eye (Netflix)
Outstanding Directing For A Reality Program
Nick Murray, RuPaul's Drag Race (VH1)
Outstanding Host For A Reality Or Reality-Competition Program
RuPaul, RuPaul's Drag Race (VH1)
Outstanding Variety Special (Live)
Jesus Christ Superstar Live In Concert (NBC)
Outstanding Lighting Design/Lighting Direction For A Variety Series
Saturday Night Live, Host: Kevin Hart (NBC)
Outstanding Picture Editing For Variety Programming
Ryan Barger, Last Week Tonight With John Oliver (HBO)
Outstanding Technical Direction, Camerawork, Video Control For A Limited Series, Movie Or Special
Jesus Christ Superstar Live In Concert (NBC)
Outstanding Documentary Or Nonfiction Special
The Zen Diaries Of Garry Shandling (HBO in association with Apatow Productions)
Exceptional Merit in Documentary Filmmaking
Strong Island (Netflix)
Outstanding Picture Editing For An Unstructured Reality Program
United Shades Of America With W. Kamau Bell (CNN)
(Originally published on Saturday, Sept. 8, 2018, at 8:01 p.m. PDT.)