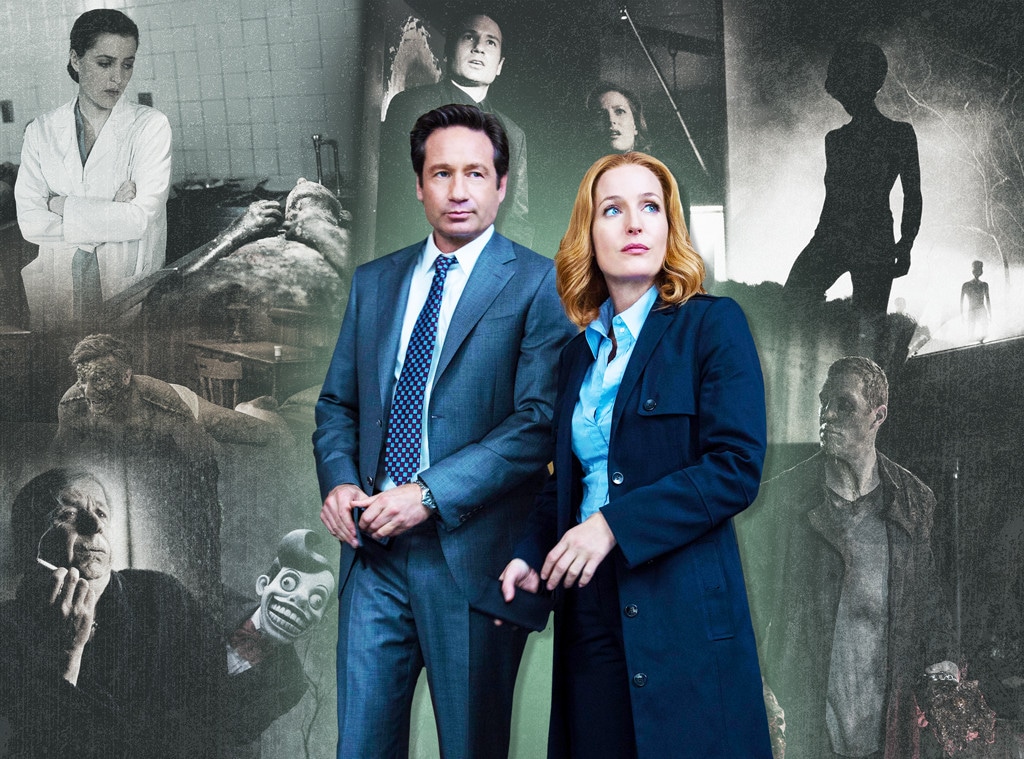 FX; Melissa Herwitt/E! Illustration
Twenty-five years ago, September 10, 1993, the world met Special Agents Fox Mulder and Dana Scully when The X-Files premiered on Fox. TV was forever changed.
The X-Files, which has produced 218 episodes and two movies, became a pop culture icon. Starring Gillian Anderson and David Duchovny, The X-Files wasn't a ratings hit off the bat. The series pulled in numbers that would be impressive nowadays, but back in 1993? They were fine.
"I remember being more concerned with, 'Are people really going to be interested in seeing a show about aliens?' That was my question. It wasn't something I was necessarily interested in," Duchovny told E! News during a visit to the set of the first X-Files revival season in 2015.
Slowly but surely, the show picked up steam, reaching new heights in season five and with the The X-Files: Fight the Future, the first movie, in 1998. Suddenly it was Mulder's and Scully's world and we were just living in it.
The X-Files was in its heyday when the internet was, well, becoming the internet. Fans congregated around the series. They dove into the conspiracy storyline, they dissected the monsters of the week and they even developed their own language about the show (never forget ATTHS) and really became attached to Mulder, Scully, and the relationship between the two.
"Well, it's hard to separate my feelings for the show and the character from my career and my life because it was such an impactful thing. It took me from an early job to this phenomenon. I have nothing but appreciation for the impact of it on me, and the character I think is a lasting one. This guy who wants to believe, I think that resonates with people," Duchovny said.
The "phenomenon" spanned 25 years, 11 seasons (two that took place nearly 15 years after the original run wrapped) and two major motion pictures. The impact the show left—and continues to leave—on viewers is something Duchovny and Anderson have grappled with over the years.
"I know intellectually, and I've heard it for years, 'fan, fan, fan, fan,' but there's something different that's in the air with this, where it has, it sparked something," Anderson said about the show and its fans in 2015. "It's awakened something in people that I think even they're surprised by in a way. There's something different. You think, 'Yeah, there's been other things. There's been this, there's been that.' There's something very specific about this and all aspects of it."
"It" being the series and the characters at the heart of it all. The X-Files became much more than two FBI agents investigating strange occurrences. Viewers bonded over the series, over their love of the two characters that also developed love for one another. The believer and the skeptic, and the trust and understanding they developed over the years was special. It wasn't about whether Mulder and Scully would hook up, it was about Mulder and Scully being there for each other. The show, specifically Scully, inspired women to go into law enforcement and to pursue careers in STEM (science, technology, engineering and math). Yes, the Scully effect is real.
While promoting the second event series in 2018, Anderson said her relationship with both Scully and the pairing of Mulder and Scully, changed over the years. When she started the show at 25 years old, she said she had no idea what to expect, she wasn't familiar with American television, including how seasons work and the nature of reruns.
"I mean, I was really, really naive. And so, it was all such a big whirlwind. And then, at the time that we became as popular as we became, that was its own…it was intense for a period of time. And coming to reconcile what that meant for me and my personal life and these characters," she said.
It was being tasked with looking at old episodes by Fox that really sparked something in Anderson, she said. "Every time I'm asked to reflect, I have a completely different and new perspective on what it was and what it meant and a new understanding of what it might have meant for other people. And this year, in doing that at Fox's request, I feel like for the first time I truly understood how special and unique the dynamic was between Mulder and Scully. It's taken me a while."
Rewatching old scenes helped Anderson understand the chemistry fans latched onto in the early days, she said, noting they were "unique" and "almost old-fashioned" in the intimacy between Mulder and Scully.
"You know, some of these shows, the original shows feel like…they could be in the '40s or something. It's the weirdest thing. And I feel like just this year, I've developed a whole new appreciation for the uniqueness of what people always ask me about and referred to, 'What about your chemistry,' and, you know, 'You got chemistry'…It's special."
"I feel like—my feelings about it have changed, you know, drastically over the years. But I'm so grateful. I'm so grateful. I mean, I think, you know, some actors get stuck with characters that they could take or leave or they're not that crazy about, and...to have the opportunity to play somebody as extraordinary a character, as iconic a character as Scully and to be in this duo is a very special thing, indeed," she added.
The X-Files will be remembered for several reasons. The monster-of-the-week episodes that scared the living hell out of you (while providing a spotlight for up-and-coming talent in-front of and behind the camera), the, at times, truly bonkers alien conspiracy storyline, and for the dynamic duo that is Mulder and Scully.
The chemistry between the two FBI agents/sometimes lovers crackled on screen for the last 25 years. It's something that cannot be replicated. It's just there between Anderson and Duchovny. Fans will get to experience all of that, and the legacy will continue to live on now that the series is still on TV (BBC America) and streaming on Hulu—and that's the only way The X-Files should continue to live on.
In 2016, the Fox series returned to huge numbers with series creator Chris Carter at the helm. As more episodes aired the audience eroded, which is normal, but so did the quality of stories. Yet the show returned again for 10 new episodes with new writers and directors involved and The X-Files, once again, started to break new ground and feel like the show fans fell in love with 25 years ago. However, Anderson made it clear the last revival season would be her last. She said she wanted to explore other parts—and that's fine. It's more than fine.
It's been 25 years of stories. It's time to let Mulder and Scully rest and let The X-Files' legacy be just that, a legacy, one future generations can discover and embrace.