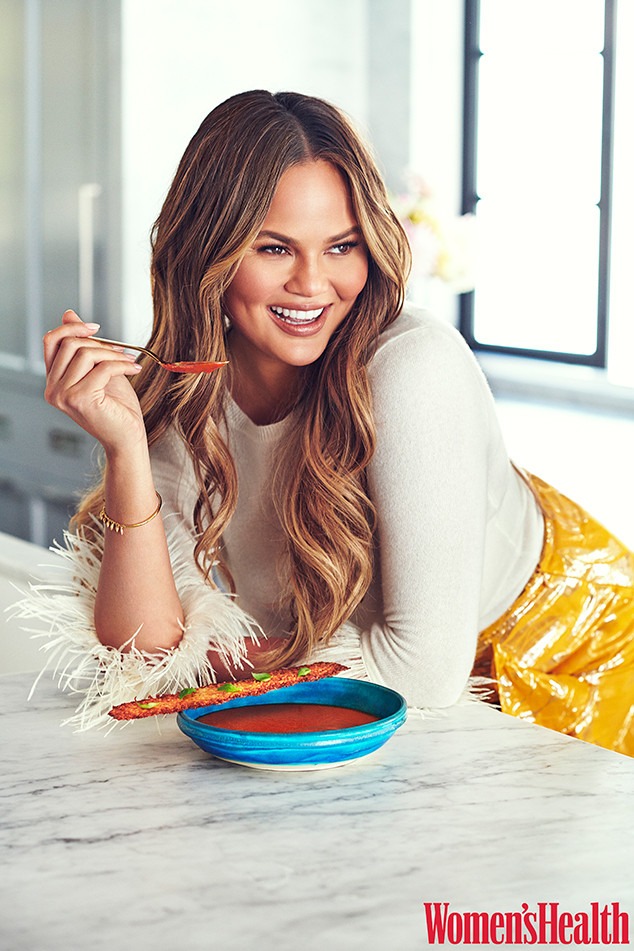 Eric Ray Davidson for <i>Women's Health</i>
Chrissy Teigen isn't afraid to tell it like it is. 
The Lip Sync Battle host opened up about how her body has changed since giving birth to two kids in her new interview with Women's Health.
"With your second, you just, like, pop 'em on," she said while breastfeeding her son, Miles. "I look at my boobs and I'm like, 'What the heck happened?' They face outwards now. They're like giant disks. I don't even know how to hide them. I forget that people are still like, 'Whoa!' And I don't mean to shove my boob in their faces."
She also revealed she's recently been cleared to start exercising and having sex again.
"It doesn't matter who you are—even if you're a sexy R&B crooner or an ex–swimsuit model, you're just tired! We still have that passion for each other, but are we doing it randomly in a dressing room? No!" she quipped, referencing her husband John Legend. "We'll get back into it again. But it is funny: If he performs somewhere, and I go, I'm like, 'Oh, he's sexy.' We'll probably have sex that night."
Eric Ray Davidson for <i>Women's Health</i>
Teigen's journey hasn't always been easy. The cookbook author started her career as a model and graced the cover of Sports Illustrated in 2014. However, she has no desire to return to those days.
"Honestly, I don't ever have to be in a swimsuit again," she told Women's Health. "Since I was 20 years old, I had this weight in my mind that I am, or that I'm supposed to be. I've been so used to that number for 10 years now. And then I started realizing it was a swimsuit-model weight. There's a very big difference between wanting to be that kind of fit and wanting to be happy-fit."
Just two years later, she and Legend welcomed their first child: a daughter named Luna. However, it wasn't easy transitioning into motherhood. In 2017, Teigen opened up about her experiences with postpartum depression. She also told Women's Health she was "drinking too much" after giving birth to her first child.
"I wasn't eating as much because I was full from drinking," she told the magazine. "I wasn't being good to my body. I remember being so bruised from nothing." 
As a result, Teigen started taking an antidepressant. She also traveled to Bali for a wellness retreat, where she really focused on her mental health.
"It's like, what could be more important than mental health?" she said. "What's more important than being proud of yourself and doing the best you can for your body?"
Still, Teigen knows it can be easy to focus on unrealistic beauty standards. That's why she gets upset when she sees people, especially those she knows, feeding into these notions with diet products or exercise fads.
"I know they're Facetuning, Photoshopping—and even I'm getting down on myself!" she said. "Imagine the girl who's out there scrolling and feeling like she isn't good enough."
To read Teigen's full interview, check out Women's Health.