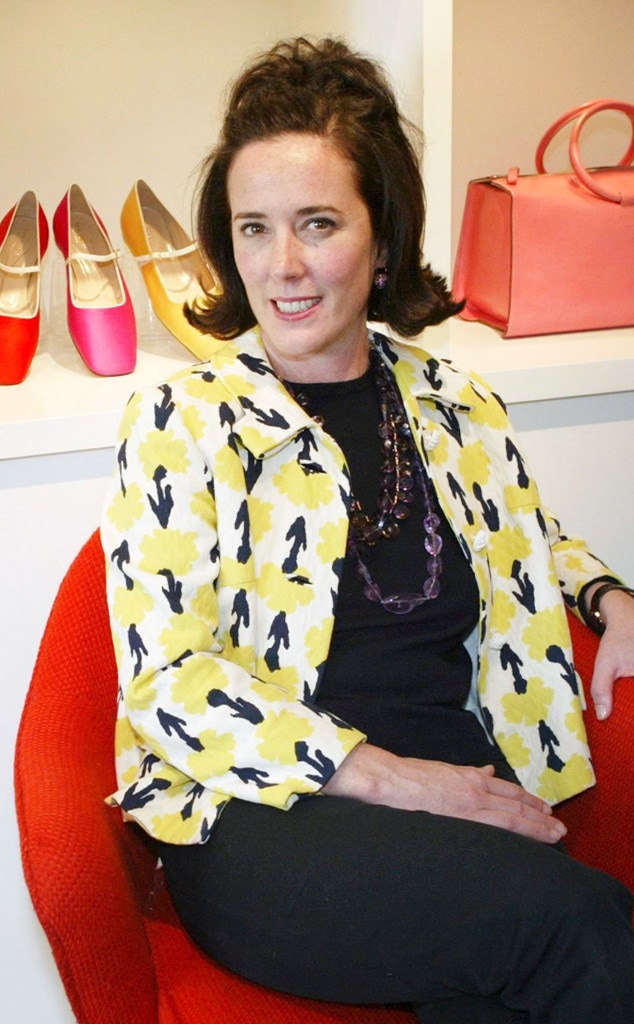 Bebeto Matthews/AP/REX/Shutterstock
Just three months after Kate Spade's tragic death, her friend, Elyce Arons, spoke to ABC News about their friendship and the late designer's legacy.
While the world knew the fashion icon as "Kate Spade," Arons called her by a different name: Katy.
"I have a really hard time calling her Kate because that came about through the business," Arons told ABC News' Paula Faris in an interview that aired on Thursday's episode of Good Morning America, "but I had known her for so much longer than that."
The two formed a friendship while studying at the University of Kansas. However, it wasn't until Spade transferred to the University of Arizona that she met her husband, Andy Spade.
The couple then launched her eponymous brand, Kate Spade, in 1993. Arons worked with the duo from the very beginning and recalled their first store opening.
"It was like a 250-square foot store," she said. "It was tiny."
Spade grew the company into a fashion empire. According to Forbes, the couple sold 56 percent of their brand to Neiman Marcus in 1999 for $34 million and then the remaining shares to Neiman in 2006 for a reported $59 million. Coach completed its acquisition of the brand in July 2017 for $2.4 billion.
Despite all of this success, Arons knew Spade was struggling. After the designer's suicide, her husband revealed she had "suffered from depression and anxiety for many years" and had been "actively seeking help and working closely with her doctors to treat her disease."
"It was tough because she didn't always say it," Arons said about her late friend's battle with depression. "You know, she'd be sad and then one minute later she'd make a joke. We talked every day, and most of the time she was very happy. But I don't know if anyone can understand the depths of depression of another person." 
Spade's spouse had described the suicide as a "complete shock." Arons admitted she's also wondered "why?"
"I have thought and thought and thought about it, but I think it was probably one moment of despair of deep sadness that she felt while she was alone," she said. "And I can't answer what that was."
However, Spade's legacy continues to live on. Before her death, Spade launched the brand Frances Valentine with her husband and Arons. According to ABC News, the name Valentine came from her father's side and the late designer legally changed her name to "Kate Valentine Spade" two years ago.
"Katy—she had this need to create and this was it," Arons told the news outlet.
Arons also said several fans of Spade's work wrote in and professed how the fashion icon had "changed their lives." Many asked for her team to keep her designs and spirit alive, as well.
"That's what we're going to do," Arons said. 
Now, Arons works with a small staff of about 10 people and refers to Spade's original sketches and sources of inspiration to ensure the brand reflects the late designer's vision.
"We miss her every day," she said. "Her spirit is here." 
The line of handbags and accessories includes a tribute bag called the "Kate" and part of the proceeds from the bag benefit the Boys and Girls Clubs of America—an organization Spade supported during her lifetime.
Reflecting on what Spade would say to Arons if she were still here, the friend joked she would probably tell her to "take a vacation." Taking a more serious tone, Arons then added, "I think she would be thrilled. I think she would be really happy. To continue to make other women happy."
As for what Arons thinks Spade would say to her personally, she said, "I'm OK. She'd say, 'I'm OK. Don't worry about me.'"
Watch the video to see the full interview.
If you or someone you know needs help, call 988 to reach the Suicide and Crisis Lifeline. You can also call the network, previously known as the National Suicide Prevention Lifeline, at 800-273-8255, text HOME to 741741 or visit SpeakingOfSuicide.com/resources for additional resources.