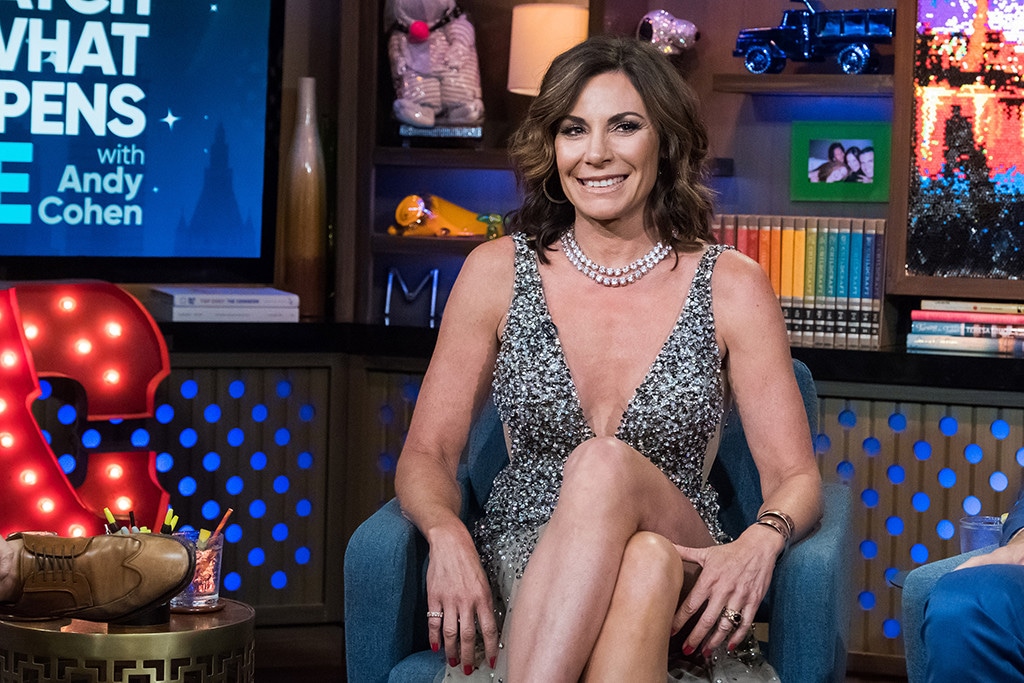 Charles Sykes/Bravo
After Luann de Lesseps was sued by her ex-husband and kids this summer, fans started to question her relationship with her offspring.
But on Wednesday's episode of Watch What Happens Live With Andy Cohen, the Countess set the record straight and said "everything is great with the kids."
"There was a big hiccup about me wanting to get a house upstate and not being in the Hamptons," she said. "So, I decided to keep the Hamptons home and I'm getting a house upstate in any case. So, it all worked. It all worked out, and the kids are great."
In fact, The Real Housewives of New York City star said she spent Labor Day with her children and that they had a "fantastic" time.
E! News also caught up with Luann on Wednesday at the opening of Bluebird London in New York. During the interview, the reality star described the situation with her kids as "resolved" and once again stated she was keeping the house in the Hamptons and buying a house upstate.
"Not bad for a girl who's 51 days sober," she said.
The lawsuit was brought forth by Luann's adult children, Noel de Lesseps and Victoria de Lesseps, as well as by her first husband, Count Alexandre de Lesseps. According to court documents obtained by E! News, the family members claimed the reality star broke a stipulation in her 2009 divorce settlement.
"This action arises from Defendant's breach of a Stipulation of Settlement and related Judgment of Divorce by her failure to create a trust for the benefit of her children, her conversion of the trust's corpus and her present threat to abscond with money derived from the potential sale of the trust corpus and use it to purchase, for herself alone, a luxury home in upstate New York," the documents stated.
As E! News previously reported, Luann purchased a house in Sag Harbor for $3.1 million back in 2013. However, according to the court documents, Luann never set up a trust for her children after purchasing the Hamptons home.
"Defendant has never, since her purchase of the Premises, created the Trust or conveyed to her children, in Trust, an undivided one-half interest in the Premises," the documents stated.
In addition, the documents claimed Luann "threatened" to "list for sale, sell or mortgage" the house for more than 50 percent of its current value and use the proceeds from the sale to buy a house in upstate New York.
As a result, Luann's children and ex asked the court to issue an order requiring her to establish a trust. She was also asked to convey to her children "an undivided one-half interest" in the Hamptons house "and render an account as trustee for her children, and petition for judicial settlement of same, on notice to Plaintiffs." 
This isn't the first time Luann has discussed the lawsuit. Back in August, she told People the lawsuit was "not about the children; it's about the ex." 
"Yeah, I have a little problem, driven by the ex-husband, who I'm not happy about right now, OK?" she said at the time. "And I'm resolving it as quickly as possible." 
She echoed similar sentiments during her recent interview with E! News.
"Everything is good between us," she said on Wednesday. "You know, the ex husband—that's a whole other story.
Watch:
Luann de Lesseps Has Resolved Issues With Kids But Not Ex-Husband
News about the lawsuit broke just a few days before de Lesseps returned to rehab. The reality star had previously checked into rehab following her December 2017 arrest.
However, Luann told E! News she's since tried to lead by example by overcoming her obstacles.
"Putting yourself first and when you get knocked down you stand back up. There is no other choice in life," she told E! News at her August cabaret show. "And words are one thing, but showing people is another. It was so important for me to show my daughter that, through all the trials and tribulations that I've had, that you gotta keep it moving. Move forward; don't spend too much time thinking about the past. I feel like it's better to just keep on going forward."
(E! News and Bravo are both part of NBCUniversal).