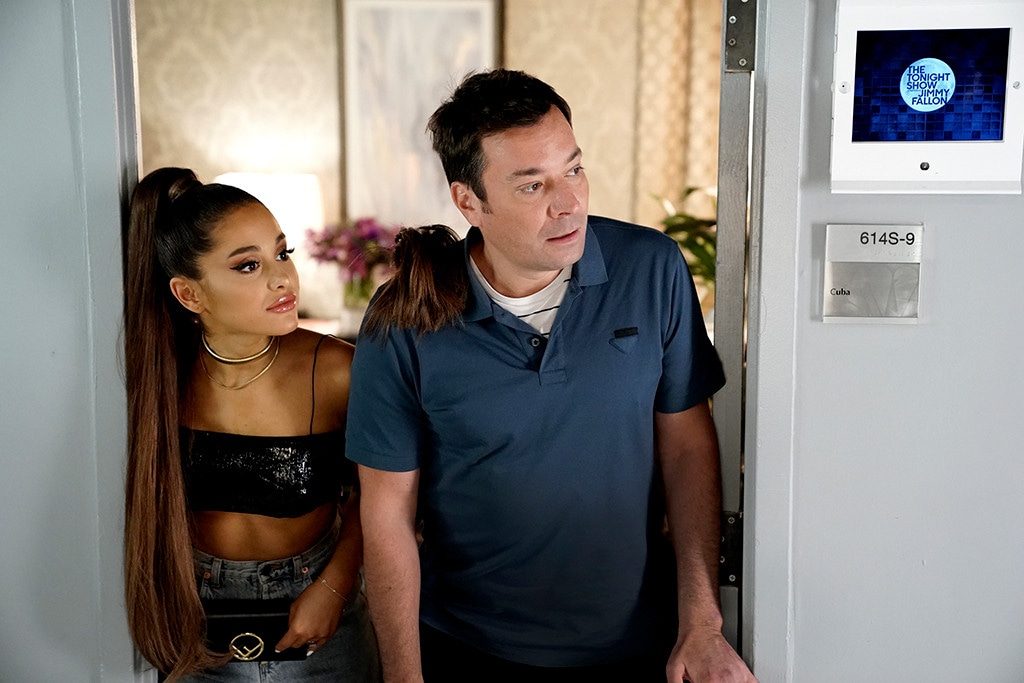 Andrew Lipovsky/NBC
Ariana Grande has given the term "haircare" a whole new meaning!
As Jimmy Fallon discovered on The Tonight Show Wednesday, the 25-year-old "God Is a Woman" singer's hair has a mind of its own. In a pre-taped sketch, the host entered her dressing room for a quick chat, where he learned her trademark ponytail is actually sentient.
Grande's ponytail made its presence known when it moved across the room, opened the mini fridge and handed Fallon a can of La Croix. As he looked on in disbelief, Grande sneezed and received a tissue from her ponytail. Acting as if nothing was out of the ordinary, Grande's ponytail answered her phone and then autographed Questlove's copy of her album, Sweetener.
"Ariana! Wait, wait, wait!" Fallon interjected. "When did this thing with your hair start?"
"I mean, I've like always worn it in a ponytail," the pop princess said, shrugging her shoulders.
Before she could explain any further, a mugger stole a woman's purse in the hallway—but, of course, Grande's ponytail was there to save the day. Before Fallon could jump in, she said, "I got this." After catching the thief and returning the woman's purse, Grande simply said, "Sick."
Fallon, naturally, was awestruck. "That was amazing!" he said.
Grande's ponytail then revealed it can also speak, saying, "Thanks, Jimmy. High-five?"
The Tonight Show Starring Jimmy Fallon airs weeknights 11:35 ET on NBC.
(E! and NBC are both members of the NBCUniversal family.)