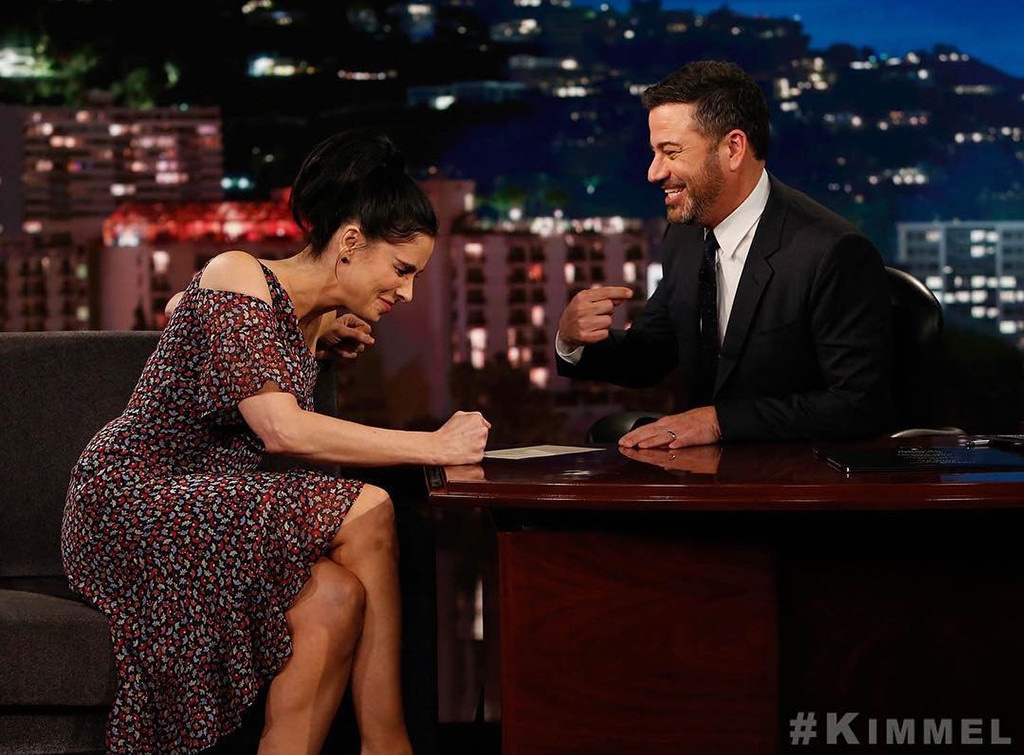 ABC
If only all celebrity exes could get along as well as Jimmy Kimmel and Sarah Silverman.
Last night, the Jimmy Kimmel Live! host invited his ex-girlfriend to appear on his show to promote her own talk show, I Love You, America. Just as she's done in prior appearances, Silverman made it her mission to make Kimmel squirm. After he asked about her love life, she teased, "What's going on with me dating-wise? I'm waiting for this tryst with you to be over!"
Kimmel has been married to his show's co-head writer, Molly McNearney, for five years, but Silverman joked he'll ultimately get back with her. "I mean, OK, Molly is cute. She's bright, she's funny, she's blonde—whatever! But come on! You've got the kids, you've got the marriage...all right. Work it through!" she told him. "You think she's going to wipe your ass when you're old?"
"I don't do it now," Kimmel quipped, "so why would she?"
"It's not fair! She gets, like, new woke Jimmy," Silverman added. "I had Man Show Jimmy."
Silverman said she hasn't dated anyone since seriously she broke up with Michael Sheen last Christmas. "As you know, he moved back to the U.K. His life is really there, and my life is really not there. But I love him to pieces. But if he's in town and we're both single, we will make love," he said. "But he dated someone for a beat during that time when we hung out, and we were just bros. I'm good at separating that, you know? I can't imagine you as a sexual being anymore."
"Really?" Kimmel asked. "You don't have to make the yuck face!"
"I really, really thought about it," Silverman said, demonstrating her thinking face. "But you're handsome! You look gorgeous! You look like a model. You're doing your beard on what, a two?"
"We have the same setting," Kimmel joked. "It's one of the things we have in common!"