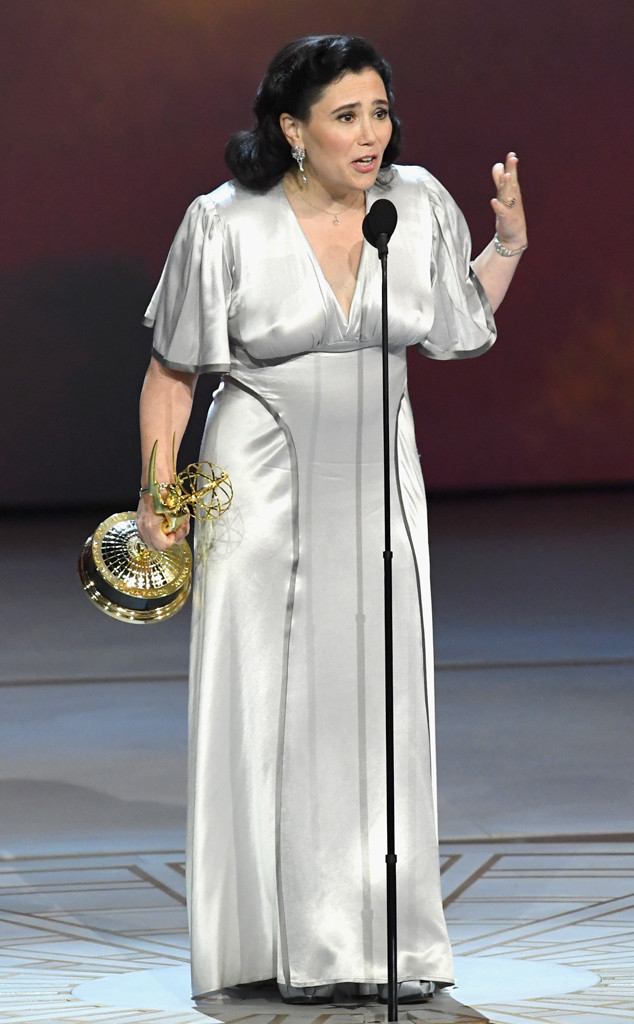 Kevin Winter/Getty Images
It's time to shimmy!
The Marvelous Mrs. Maisel's Alex Borstein won the award for Best Supporting Actress in a Comedy Series at the 2018 Emmys.
Before getting up to accept her award, Borstein first made her guest hold her violet purse. She then untied part of her dress, which turned out to be just a long-sleeve covering made of the same material and shimmied down the aisle.
Borsetin's dress has a special meaning for the actress. She told Glamour on the red carpet that it was her wedding dress from 20 years ago. "The marriage didn't last but the dress did and I wanted to give it new life so now it's my Emmys dress. That's the truth," she said.
Borstein began her speech revealing not who, but what, she was wearing. Or, rather, what she wasn't wearing. "I went without the bra. What a platform," she said in her acceptance speech.
The Family Guy star continued with some sage advice for fellow women in the audience. "Ladies, when you use a public restroom, sit down. If you sit, we can all sit. Stop peeing on the seat."