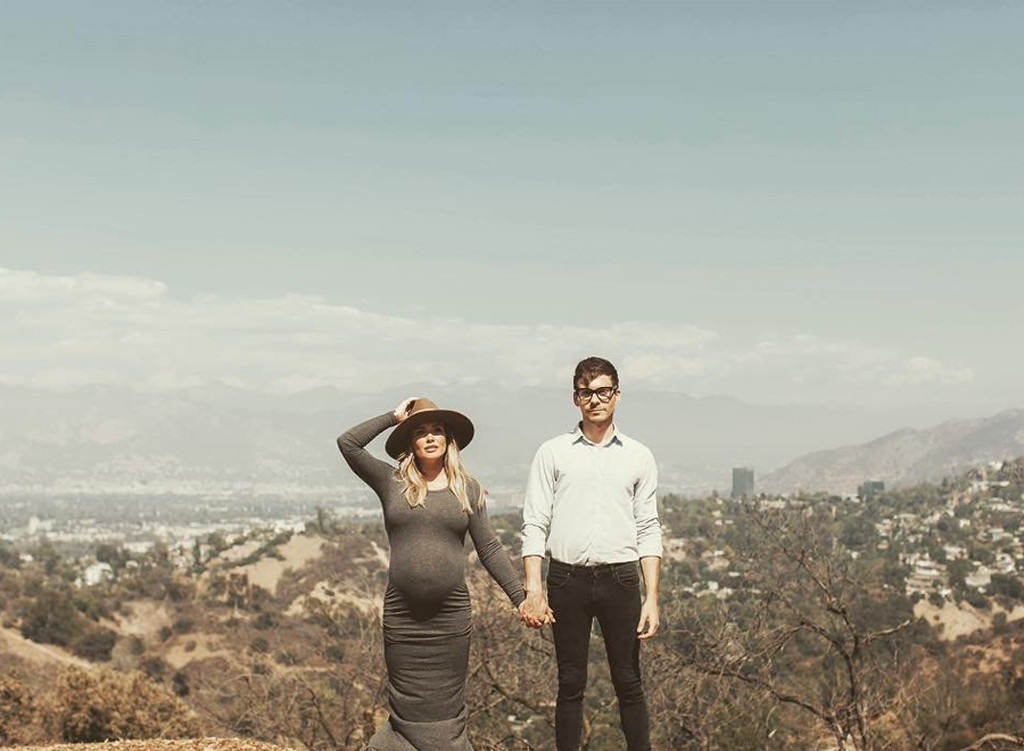 Laura Moll
Hilary Duff is gearing up to give birth to her second child, a baby girl. 
But before that happens, the Younger star organized a sweet photo shoot with her 6-year-old son, Luca Comrie, and her boyfriend, Matthew Koma. The actress uploaded the two separate pictures to Instagram. In the photo with Luca, Duff sits on her knees with her feet behind her holding onto her belly while she smiles and looks up at her son. The 6-year-old looks at the camera laughing and he climbs a giant brown chair. Luca wears yellow shoes, jeans and a blue shirt wheras his mom opts for a tight grey dress, baby bump on full display.
The second picture of Duff and Koma could essentially pass as an album cover. Duff wears the same dress as the picture with Luca and a big hat, while Koma's aesthetic melds with the hip Instagram filter. He wears a light blue shirt tucked into black skinny jeans. She had a playful caption for the photo itself. "And this photo is making papa bear and I look a lot cooler than we are," she wrote.
The Lizzie McGuire star is due any day now. In June, the actress announced she and Koma "made a little princess of our own and we couldn't be more excited!"
A few weeks ago, Duff shared a photo on her Instagram story baring her baby belly and expressed how eager she was to meet her little baby girl. "Babbbby! Hurry it on up damnit," she captioned it.
Duff has shared a number of photos and updates throughout her pregnancy. In July, the actress posted a picture of herself in a bra and underwear and wrote about the changes her body has been going through. "The boobs are big the belly is big the body is big. Man.. pregnancy is hard. Giving love to all mamas who make it look effortless... this journey is hard as hell and also incredibly special," she composed.
She continued, "Lovely to have a little life inside and to day dream of all the new adventures to come buuuut almost impossible to get my own shoes on..sick of getting up 9 times a night to pee and looking at this weird body in the mirror that is not my own at the moment. Women are so bad ass."
It's a big change for Luca, too. Duff has talked openly about her son's reaction to the pregnancy and her own ups and downs with motherhood. Last week, Duff shared on Today that Luca was "on the fence" about baby no. 2, but she believes that "everything will be fine when she arrives."
She mentioned she and Koma are "ready" and "excited" for the newest addition to the family.
Duff spoke to InStyle about one incident with Luca that was particularly heartwarming for the mom. "It was just one of those mornings where everything that could have gone wrong, was wrong, and we were running late. I was burning the toast over and over again, and I think I had literally been through three pieces of toast. He was finishing his homework, and it was just crazy, and I was like, 'Oh my God, I just suck right now.' And I said it out loud," she told the magazine.
She regretted saying that aloud, but Luca reassured her with kind words of his own. "He said, 'You don't suck, you're the best mommy. You're doing the best you can do. And I really like burnt toast,'" she explained.
Duff has no fears about Luca's abilities to be a big brother. She told InStyle, "He's such a sweet kid and has such a gentle soul, so I know he's going to be great with her."