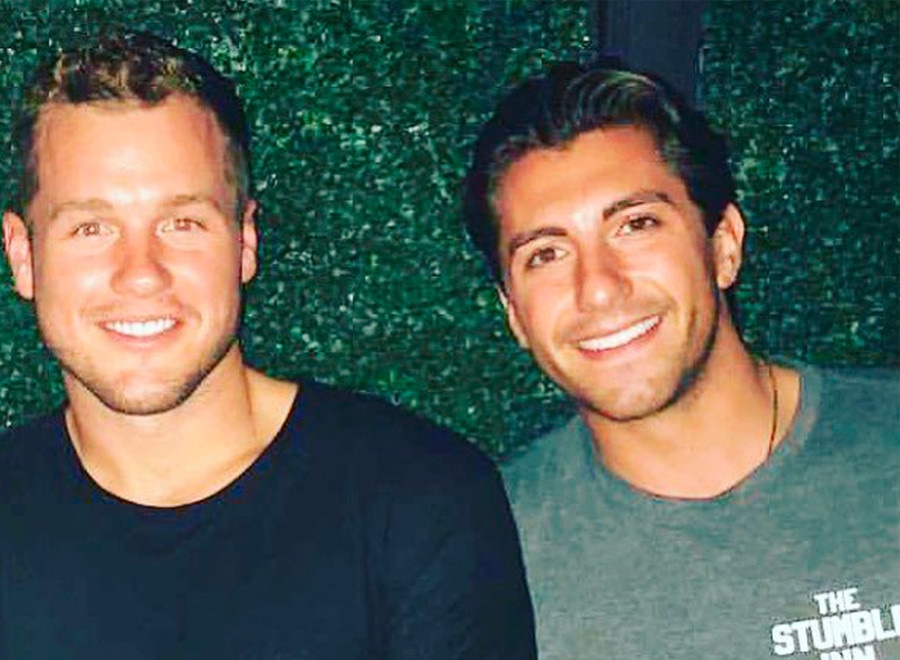 Instagram
Bros before rose(s).
Bachelor Nation has had a wild week, and it's only Wednesday. On Tuesday, ABC announced that Colton Underwood would become the next leading man on The Bachelor, beating out fellow favorites including "Grocery Store" Joe Amabile, Blake Hortsmann and Jason Tartick. 
Devoted members of Bachelor Nation rooted for Tartick, who made it to the final 3 in Becca Kufrin's season but was ultimately sent home in Thailand before the fantasy suite date. Many believed him to be a shoe-in for the next Bachelor, what with his perfect hair and all. Tartick opened up to E! News about what the entire process meant to him and how he feels about the next season of The Bachelor.
Underwood and Tartick were allies throughout the show, which he emphasized to E! News. "Colton is like a brother to me. We were in the limo night one and we hit it off. He's just a really good guy and we became really good friends. We supported each other through the journey and it's not always the easiest journey," he said.
The Buffalo, N.Y. native explained he and Underwood are "still to this day" very close friends and expressed enthusiasm for his former contestant. "I'm very happy for him and his journey to find happiness. I think he's going to do a great job as the Bachelor," he said.
As proud as the senior corporate banker is for his friend, he undeniably expressed some disappointment about not being picked as the new Bachelor. "This was an opportunity I would've liked to have had simply because I wasn't sure that it would work the first time around but I did find love in a place I really wasn't certain I could," he revealed to E! News. "I was so open to giving The Bachelor an opportunity [for me] to find that person. I thought that it would put me in the best position to find my person, my one."
So if Tartick isn't the next Bachelor, is he handing out any roses to his own special ladies?
"I haven't dated at all," he told E! News. "But I'm certainly willing to start."
As for when that start date is, Tartick suggested it will probably be "sooner rather than later." Plus, he said he's had "full time to absolutely recover" from his breakup with Kufrin. 
Although a popular stop for former Bachelor and Bachelorette contestants is spinoff series Bachelor in Paradise, Tartick didn't want that experience just yet. "The turnaround time was just too quick. Mentally I'm not going to do it unless I am in a position to find my person and that's the only reason I would do it," he explained.
Last week, E! News spoke with Kufrin about her life post-Bachelorette and who she thought should be occupying some time in the Bachelor Mansion. Her choice, incidentally, was Tartick. "He's such a sweetheart," she told E! News. "I want all of those guys to find somebody like what I found in Garrett [Yrigoyen], but Jason will always have a soft spot in my heart."
Back in Bachelor land, Underwood expressed how "excited" he was to start the journey to find love again. "Third time's the charm!" he told Michael Strahan on Good Morning America where the announcement was made.
Ultimately, Tartick will be rooting for his former pro-football player pal: "I think that Colton will do a great job."