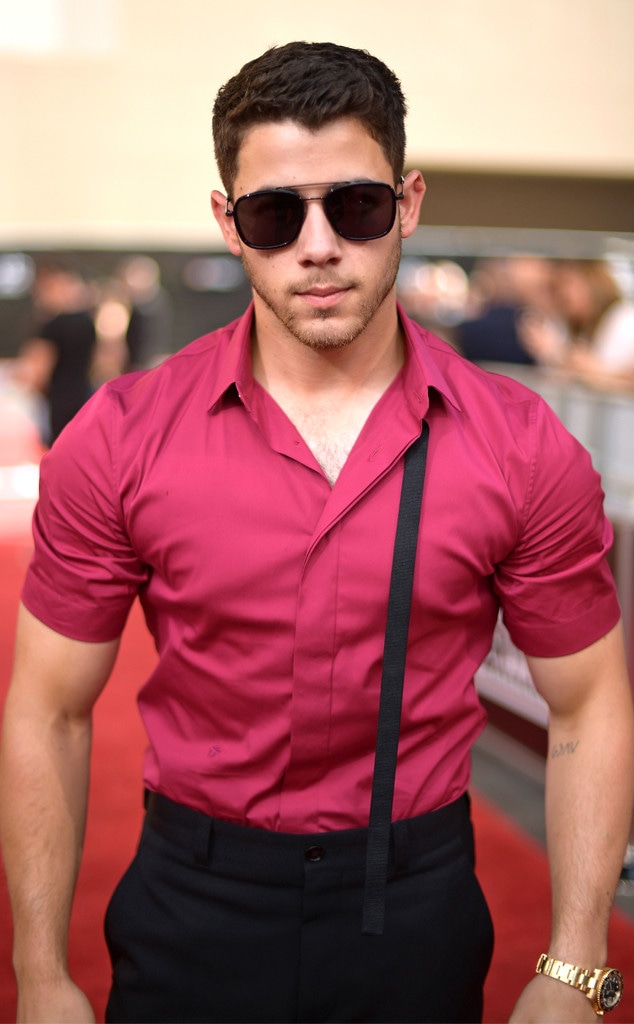 Matt Winkelmeyer/Getty Images for dcp
In the book of Nick Jonas, the Jonas Brothers was always meant to be just a chapter.
When you think of the singer and actor, chances are his famous boy band group with brothers Joe Jonas and Kevin Jonas quickly comes to mind.
But long after "Burnin' Up" hit Radio Disney and Camp Rock premiered on Disney Channel, Nick and the guys have evolved in more ways than one. Kevin is a father and husband while Joe is the front man to DNCE.
As for Nick, the newly engaged Hollywood star continues to prove on his 26th birthday that he's the ultimate trailblazer of the popular trio.
It started at just seven years old when Nick secured a Broadway musical role in Les Misérables and Beauty and the Beast. Fast-forward to 11 when he wrote his first song that eventually turned into a record deal with Columbia Records at just 12 years old. And on September 5, 2005, Nicholas Jonas was released proving he was way ahead of the music game.
Watch:
Nick Jonas Clears Up Jonas Brothers Reunion Rumors
The front-page headlines, media scrutiny and fandom didn't really begin until the Jonas Brothers came into the picture. But in October 2013, the group announced an indefinite hiatus to pursue personal projects.
That's when Nick really stepped up to the Hollywood plate and proved he was going to be more than just another boy band member.
In addition to landing the lead role in the Broadway production of How to Succeed in Business Without Really Trying, Nick knew he had to redefine himself.
"The challenge was, 'How do we educate people on who I am as a 21-year-old guy, as opposed to the 16-year-old kid they are familiar with?'" he recalled to American Way.
As we learned from other stars, the transition from boy to man is a marathon and not a sprint. But over time, Nick began switching his sounds with his solo albums. He secured roles on the small screen that allowed to share a different side of himself. And yes, he took off his clothes for Flaunt magazine.
"There are songs on my record that I want people to have sex to, and songs people can listen to when they're pissed off. And I think that's the beautiful thing about music: that in those moments, you hear it and it elevates the scenario," he shared with the publication after posing in Calvin Klein boxer briefs.
While the photos may have grabbed the attention of some fans, it was his talents on and off stage that continued to keep fans intrigued.
Courtesy of Los Angeles Angels of Anaheim
2017 was filled with firsts for the A-list star who had his first role in a major blockbuster titled Jumanji. He also wrote his first song for a movie soundtrack. The track in question? Ferdinand's "Home" that ultimately became Golden Globe nominated.
"I'm really fortunate to not have to choose so far in my career. Besides designating a certain amount of time for each project, there hasn't come a situation where it was one or the other," Nick previously recalled to the Tribune News Service. "The music, I'm somewhat flexible because I create my own schedule there. And on the film side, I can work my music around film and television."
He added, "On a creative level, I think they really complement each other."
And before you put Nick into a certain box or expect him to follow a certain path, chances are he's going to surprise you in more ways than one.
When attending the 2018 Met Gala, Nick spent $2.75 to swipe his Metrocard and take the subway to the Metropolitan Museum of Art. And despite a Dolce & Gabbana suit and a glam team including Marissa Machado and Avo Yermagyan helping him out for fashion's biggest night, Nick is keen on doing life his way.
After all, not every artist can perform at EDC after attending the Billboard Music Awards one weekend and then head to the Stagecoach Music Festival to perform with close friend Shania Twain.
Through it all, Nick has managed to avoid dramatic headlines that plague child stars. He credits his "really close family" that includes a mom who "wouldn't let me fall off like that."
And it may not sound unique, but a strong work ethic goes a long way no matter what industry one finds themselves in.
"I always think I'm going to be fired the first day of a new job. Every time I start a new film or TV show or anything, my first reaction is, 'Ah, I'm going to get fired from this.' But it's part of the thing," he shared with the Tribune News Service. "It either destroys you or makes you great. You gotta lean toward letting it make you great, but not losing your mind in the process."
Spoken like a true trailblazer if we do say so ourselves!